When we say young we mean 'young at heart'.80 For Brady follows the story of four 'young' fangirls of New England Patriots who try every possible way to attend the Super Bowl event of their favorite player, Tom Brady.
The group of fangirls consists of four 80-something ladies who decide to finally go after their dream of attending a Super Bowl game. The concept is enough to sell the story, but if you are still not convinced, wait till we reveal the star cast of the movie.
If you are looking for a light-hearted comedy with a slice-of-life genre this might be it! The story is definitely American to its core but the fact that it was inspired by a real-life story definitely gives it an upper hand.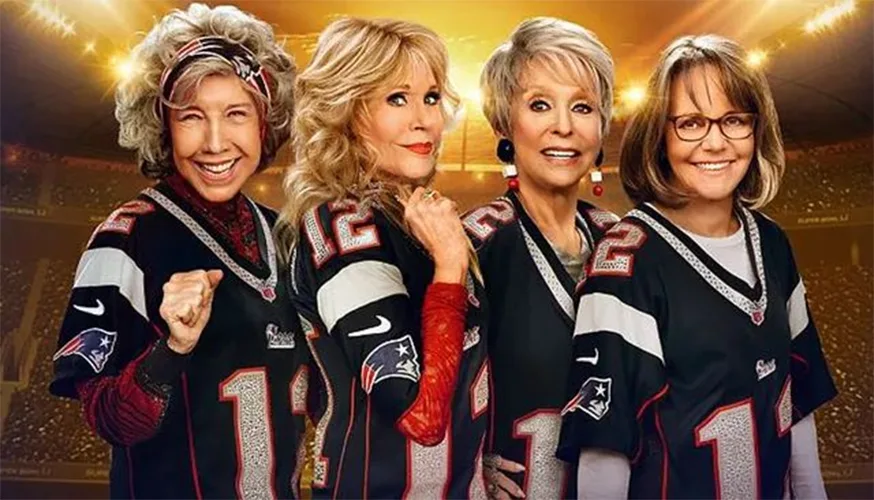 Star Cast of 80 For Brady
Jane Fonda, Lily Tomlin, Sally Field, and Rita Morena play the characters of Trish, Lou, Betty, and Maura respectively. The veteran actresses proved that their charm has still not faded on-screen; in fact, it has aged like a fine wine. The movie also has seven times Super Bowl champion Tom Brady, who plays himself and has an interactive role with the audience.
Also read: Top 20 Movies Like The Beach Girls: Find Similar Films
80 For Brady Plot Summary
The movie is inspired by the real-life story of a group of octogenarians who found comfort in stanning their favorite footballer, Braddy. The Oscar-winning veterans definitely did justice to the characters and will make you feel the emotions of old age no matter what side of 80 you are on.
Trish, Lou, Betty, and Maura are friends who started fangirling over New England Patriots and particularly their quarterback, Tom Brady, in 2001 when Luo successfully completed her chemotherapy. Years later while planning a Super Bowl watch party, Luo suggests that they should all experience the Super Bowl in person at least once. But lack of finances hinders their way.
Just when they are about to give up on their dream, a local radio show announces a competition for free tickets, and the group succeeds in winning. What follows is a wacky and messy struggle to attend the actual event in Houston.
Once they reach Housten, they indulge in various NFL experiences, one of which is a chicken wings eating competition hosted by Guy Fieri himself. Betty wins the competition but misplaces her bag with their tickets because no adventure can start if you are careful enough, duh!
Trish runs into a former NFL player, Dan O'Callahan, and gets a chase to introduce herself. The biggest challenge they have to face now is to recover the tickets somehow. In an attempt to give this opportunity everything they have got, the group decides to attend a party where they try edibles and later pretend to be Lady Gaga's backup dancers. And they definitely got some moves. Though they do not succeed in finding the lost tickets, they somehow get into the Super Bowl event.
The group gets a chance to watch the game in the VIP box suite with Dan and also meet their favorite player Brady personally. The whole New England Patriots team feels grateful when they hear the story of the old-age fans and thank them for their love and support.
The movie ends with the friends sitting on a beach four years later with Brady and having a heartfelt conversation about their retired lives.
Also Read: A Complete List of Kevin Costner's Baseball Movies
80 For Brady Review
80 For Brady is definitely a feel-good movie with a star cast who are guaranteed to not disappoint you with their performance. Tom Brady's acting could have been a bit more convincing, but we can give him the concession of not being an actor by profession.
The movie is not a flawless piece, but it will definitely win your heart. The genuine and warm chemistry of the actors can be felt, and the way the plot allows each and every character to shine on their own is remarkable.
It is safe to say the film depicts the true meaning of "A man growing old becomes a child again." It has the kind of quirky comedy which is so bad it feels good. Overall it is a fun movie with some life lessons here and there and is a must-watch at least once.
80 For Brady Trailer
Here is the official trailer of the movie:
80 FOR BRADY | Official Trailer (2023 Movie)
Where to Watch 80 For Brady
80 For Brady had its theatrical release on February 3 this year and is no more available in theatres. But worry not. We have got you covered. The movie is now available on certain OTT platforms for streaming and download.
Paramount made the movie available on its paid streaming platform, Paramount Plus. The movie is available to rent on Amazon Prime Video, Google Play Movie, Apple TV, and YouTube.
Don't forget to dim the lights and grab your favorite snacks before finding your comfy spot and hitting the play button.
Related Posts: