It's a bird, it's a plane, it's the new Superman! Soon after the news of David Corenswet replacing Henry Cavill for James Gunn's Superman was out, fans have been curious about their new Superman. To help all of your curious minds we have covered the actor and the must-watch David Corenswet movies and TV shows till now.
Even before proving himself in the red cape, he has earned much approval for his looks. Traditionally Superman is depicted as a handsome young man with an alluring vibe while also looking nerdy in his Clark Kent avatar. Corenswet seems to check all the boxes in terms of how the superhero should look. You will be thrilled to know that Corenswet has always wanted to play Superman on screen with his own special touch to the character.
The fans are already excited and have shared some fan art on social media which has received immense love.
Also Read: Top 10 Peter Sellers Movies: That Are Must-Watch
2 1 R U M O R S:
S U P E R M A N

David Corenswet as Superman in the DCU
•
This is my series where I use my art and imagination to bring life to casting rumors and fan favorite castings that make their way online.
•#21xfour #21rumors #davidcorenswet #superman #supes… pic.twitter.com/74zLvj2Gkb

— 21XFOUR (@21xfour) May 14, 2023
Another Day Where David Corenswet Is Our Superman.

God Is Good 🙏🏾 #SupermanLegacy pic.twitter.com/fq7s1yn9l3

— TheTruth"Intro King"31 (@Truth31The) July 1, 2023
A fan art of how #DavidCorenswet gonna look as #SuperMan. I guess this will be the first time when a #SuperHero casting will not get much hate. What you guys think 🤔 ?#SupermanLegacy pic.twitter.com/A1gr7uVPnX

— DesiNerd (@iamDesiNerd) June 27, 2023
David Corenswet Biography
Before we dive into the David Corenswet movies and TV shows let's get an idea of who our new Superman is beyond his filmography. Born and raised in Philadelphia, Pennsylvania, Corenswet laid a strong foundation for his acting career by starting off as a theatre artist. The artistic genes run in his family as his maternal grandfather, Edward Packard, was the concept creator of the book series 'Choose Your Own Adventure.'
After graduating in fine arts and doing theatre, the actor made guest appearances in various TV shows and also starred in some short films like Michael and Clyde, Following Chase, and Project Pay Day. David Corenswet is not a new name in the industry and has already established himself as one of Netflix's favorite bae since the release of Look Both Ways and The Politician.
Not much is known about the actor yet as he keeps his personal life private. There have been no rumors of him dating anyone till now and his social media is also full of his professional updates.
If you are still worried if your favorite superhero character is in safe hands, we have listed the best David Corenswet movies and TV shows so you can be assured of his credibility as an actor and get an idea of what he brings to the table.
The Politician
The Netflix comedy-drama series was released in 2019 and was an instant hit with its storyline and gorgeous star cast. The Politician gave David Corenswet the big break and made him a household name internationally. The series is currently streaming on Netflix and has 2 seasons so far.
The Ryan Murphy series is set in a fictional high school, Saint Sebastian. The story revolves around the character of Payton Hobart, played by Ben Platt, who has dreamt of becoming the President of the United States since childhood. To get a step closer to his dream he has to compete against the extremely good-looking and popular student president of Saint Sebastian, River Barkley, played by David Corenswet.
IMDb Rating: 7.5/10
Watch the trailer for The Politician:
Hollywood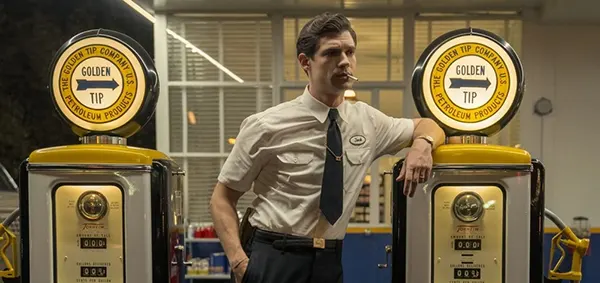 Set in what was known as the 'Golden Age of Hollywood', the Netflix miniseries comprises of 7 episodes. Ryan Murphey has very well captured the post World War 2 era and the actors have very well portrayed the rawness of struggling actors at the time.
David Corenswet can be seen playing Kack Castello an aspiring actor who shifts to Hollywood in hopes of making it big through his acting talent. The series also stars Darren Chris, Laura Harrier, Dylan Mcdermott, Joe Mantello, Jeremy Pope, Holland Taylor, and Jim Parsons. The series was well received by the audience and the critics and was nominated for the 72nd Primetime Emmy Awards in 12 different categories.
Inside Goof: After working with Ryan Murphy in The Politician, Corenswet has signed off the role of Jack Castello without any audition.
IMDb Rating: 7.5/10
Check out the trailer for Netflix's Hollywood:
Also Read: Must-Watch List of John Turturro Movies and TV Shows
Pearl
The 2022 slasher film is the second installment in the X Film series. Pearl serves as the prequel story and takes you to the origin story of the titular villain. The movie premiered at the Venice International Film Festival in 2022. It stars Mia Goth as Pearl and David Corenswet as the projectionist.
The plot revolves around the seemingly gloomy life of Pearl who has to take care of his ailing father under the supervision of her overbearing mother. In her desperate attempts to escape the miserable life, she resorts to a local cinema theatre and decides to become a chorus girl. But what follows is a series of criminal mishaps as Pearl starts showing signs of mental instability.
IMDb Rating: 7/10
Here is the trailer for the movie Pearl:
Look Both Ways
Look Both Ways is a romantic comedy released on Netflix in 2022. The series offers viewers two stories in one. Sounds confusing? The series focuses on two alternate realities based on Lili Reinhart's character, Natalie's pregnancy test. She is torn between the choice of motherhood and pursuing her dream career in Los Angeles.
The movie diverges into two storylines, one shows Natalie's life if her pregnancy test is positive and the other one if her test is negative. In the first universe, she is in her hometown in Texas with Gabe, played by Danny Ramirez, embracing motherhood. In the second alternate, she is thriving as a professional animator in LA and is bonding with her good-looking colleague, Jake, played by David Corenswet.
IMDb Rating: 6.3/10
Enjoy the trailer for Look Both Ways:
We Own This City
The HBO crime drama miniseries, We Own This City, is about the real riots that took place in 2015 in Baltimore. The riots and social uneasiness begin when Freddie Gray, a young Black man dies in police custody under suspicious circumstances.
When the situation goes beyond the limits of Baltimore police commanders, they are left with no option but to turn to Sergeant Wayne Jenkin and his elite Gun Trace Task Force. David Corenswet plays the character of David McDougall, a veteran officer of the Narcotics Task Force.
IMDb Rating: 7.6/10
Watch the trailer for We Own This City:
Affairs of State
The 2018 movie, Affairs of State, is one of David Corenswet movies and TV shows which saw him in a political avatar. The movie also stars Mimi Rogers, Grace Victoria, Thora Birch, Adrian Grenier, and David James Elliot. The movie explored the dark and dirty side of politics with Corenswet's character of Michael Lawson.
Michael is willing to go to extreme extents to take part in Senator Bainee's White House Campaign. He resorts to having an affair with the Senator's wife as well as his daughter for his personal gains only to realize he went too deep into the pools of danger.
Also Read: Top 20 Mimi Rogers Movies List and Her Most Memorable Roles
IMDb Rating: 4.7/10
Check out the trailer for Affairs of State:
Moe & Jerryweather
This one is from the struggling days of David Corenswet back in 2014. He wrote, produced, and acted in this sketch comedy series which was uploaded on YouTube. The series stars Corenswet and Adam Langdon as a comic duo who set out to reinvent television. Both the actors graduated together from Juilliard and worked together on their very first project.
IMDb Rating: 8.6/10
Here is the trailer for Moe & Jerryweather:
The Sunlit Night
If you are looking for a rom-com minus the cliche storyline, The Sunlit Night might just be perfect for you. Though the movie does not star Corenswet in the lead role, the storyline is worth adding to the best of David Corenswet movies and TV shows.
The movie is set in the picturesque land of Norway and revolves around the lives of two very unlikely people who bond with each other. The lead character of Frances is played by Jenny Slate and Yasha is played by Alex Sharp. Corenswet plays the small role of Scott Glenn.
IMDb Rating: 6.1/10
Watch the trailer for The Sunlit Night:
Conclusion
Though currently there is not much to discuss the young actor's career, the fact that he has been cast as the new Superman is proof enough that Hollywood has acquired a new asset. All the David Corenswet movies and TV shows have seen him getting deep into each of the characters and doing justice to each one no matter how small of a role it is. The 2025 movie Superman: Legacy will sure be the first big project of the actor and fans can't wait to see him don the red cape.
Also, check Out: