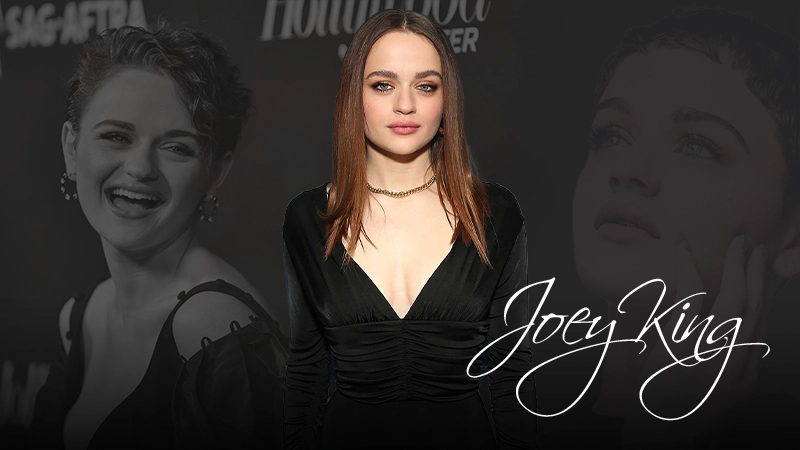 Starting her career at the age of 7, Joey King is one of the best actresses in Hollywood. Even though her roles were initially a bit smaller but as she grew she started to appear in more prominent and influential positions.
There are some exceptional movies and TV shows credited to her name like The Conjuring, The Kissing Booth, Bullet Train, The Act, and many others. And now she has recently starred in Hulu's dark action comedy, Princess. So if you are here looking to find out more about her works, here are the best Joey King movies and TV shows.
The Princess, 2022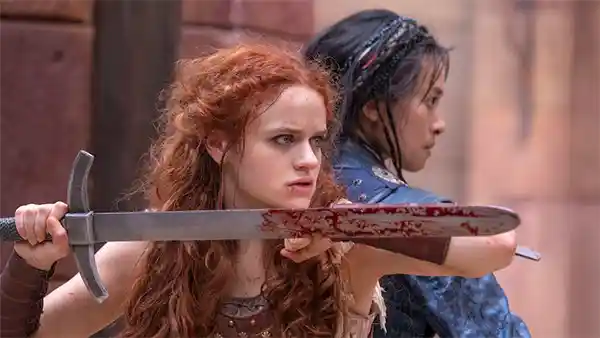 Now that we have already mentioned it, let's start with this one only. The Princess is a period-action thriller set in medieval times that is ruled by the King, Ed, and the queen, Alex. They have two daughters, the elder one being the princess, Joey King, and Violet, the younger one.
Now since the couple didn't bear any sons who could carry on their kingdom and become the next King, the king decides to wed his elder daughter to the callous son of a diplomat, Julius. However, the princess isn't ready to marry Julius. So to marry her forcefully, she is locked in the highest tower of the castle. But soon she finds out that her soon-to-be husband is trying to snatch the reign of her father which she has to protect now.
| | |
| --- | --- |
| IMDb Rating- 5.7/10 | Rotten Tomatoes- 62% |
Watch The Princess Trailer Now-
The Kissing Booth, 2018-2021
This one's my favorite, a Netflix original movie franchise started in 2018 with a blast. Starring Joey King and Jacob Elordi in the lead role. The duo already sounds like fire, doesn't it? The movie is about a high school girl, Elle, who has never even been kissed before and has a huge crush on the brother of her best friend.
At the school festival, she finally finds herself kissing her crush. But this is quite against the rule according to the friendship pact with Lee, her best friend, that none of them can be found involved with each other's family members. This is one of her best shows and that's why we have listed it in Joey King Movies and TV Shows. The movie has two more sequels, released in 2020 and 2021, which I'm sure you are going to love.
| | |
| --- | --- |
| IMDb Rating- 5.9/10 | Rotten Tomatoes- 15% |
Watch The Kissing Booth Trailer Now-
Radium Girls, 2018
This one is about two sisters Bessie and Jo working at an American Radium where they paint watch dials. Things take a different turn when Jo falls sick and Bessie finds out that the cause of her illness was the same as the cause of the death of their eldest sister.
Jo being exposed to radium and therefore being contaminated with radiation poisoning at their workplace is diagnosed with syphilis.
Based on a true story, Radium Girls is a story of two sisters fighting against American Radium for not providing a safe environment for the employees.
| | |
| --- | --- |
| IMDb Rating- 6.3/10 | Rotten Tomatoes- 79% |
Watch Radium Girls Trailer Here-
Bullet Train, 2022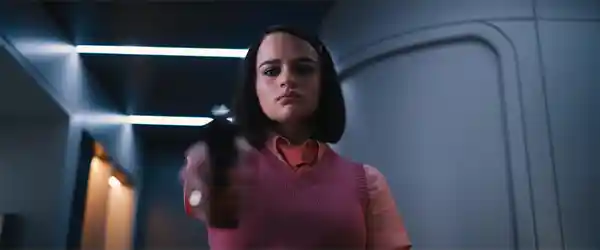 From minor roles in Joey King movies and TV shows to starring alongside Brad Pitt, King really came a long way. The movie is about an American operative who has the code name of 'Ladybug' and is assigned a task to retrieve a bag full of cash from a bullet train traveling to Kyoto.
However, on the way, Ladybug is encountered by a young assassin, Joey King, a Mexican Assassin, and a British assassin who are also chasing the same bag of cash. Though Joey King had already starred in various movies before this one, Bullet Train was a big push for her career.
| | |
| --- | --- |
| IMDb Rating- 7.3/10 | Rotten Tomatoes- 53% |
Watch the Bullet Train Trailer-
Going in Style, 2017
Well, Brad Pitt isn't the only big star Joey King has starred with, she also appeared with the famous Morgan Freeman and Micheal Caine. The movie is a blend of heist, drama, and comedy that follows the lifeline of three buddies whose pensions become non-existent when the company they worked for is purchased by someone else.
Their situation worsens when Willie finds out that he needs a kidney transplant and Joe discovers that soon he, his daughter, and granddaughter will be thrown out of their house.
After witnessing a robbery at a bank, they become inspired and plan something illegal.
| | |
| --- | --- |
| IMDb Rating- 6.6/10 | Rotten Tomatoes- 47% |
Click Here For Going in Style Trailer Now-
Fargo, 2014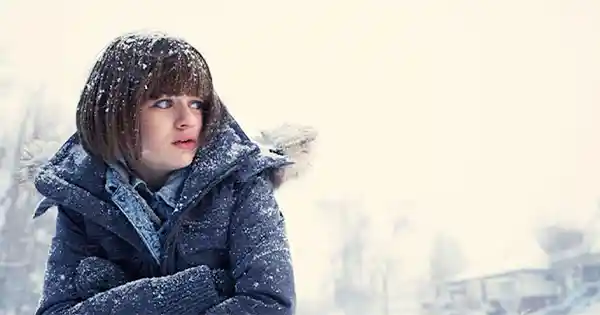 The show is based on a 1996 film of the same name. In Season 1, the show is about the relationship between the two characters; Lorne and Lester. The two met at a hospital and became involved in a series of crimes.
The next aspect of the show is about the police deputy who's behind a man. Even though there are many Joey King movies and tv shows before this one under her name, this one surely became one of her best performances.
| | |
| --- | --- |
| IMDb Rating- 8.9/10 | Rotten Tomatoes- 93% |
Watch Here Fargo Trailer-
The Act, 2019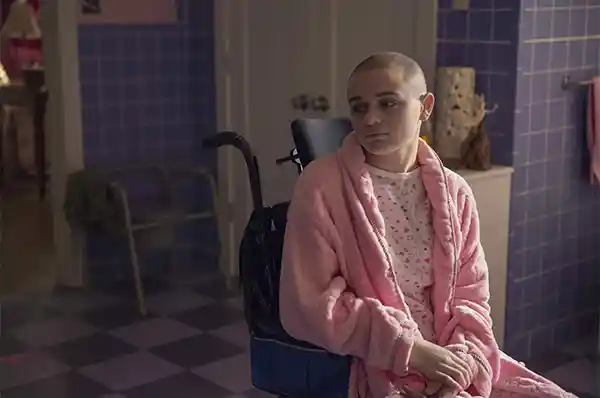 And here's my second favorite, The Act 2019 is certainly one of the best true-crime TV shows, after Monster: The Jeffrey Dahmer Story, of course. Joey King plays Gypsy Blanchard, the daughter of Dee Dee Blanchard. Dee Dee was accused of abusing her daughter for several years and even fabricating disabilities to make her appear like a child.
The show portrays the toxic relationship between Gypsy and Dee Dee and how their relationship came to a tragic end after a while. The Act was the very first project in which Joey King received a nomination for an award and truly her performance was brilliant.
| | |
| --- | --- |
| IMDb Rating- 7.9/10 | Rotten Tomatoes- 88% |
Watch The Act Trailer-
White House Down, 2013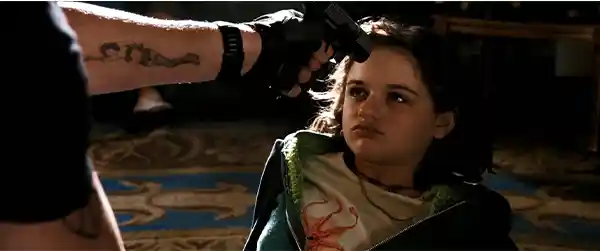 Veteran John tries to impress his daughter, Emily, (Joey King) by deciding to interview for the secret services and buying them a pair of tickets to the White House tour where the interview is also conducted. Even though in the interview, John is being told that he is not qualified for the role, he doesn't let this ruin his day and decides to bring Emily for the tour.
However, a man disguised as a janitor places a bomb in the White House, now John has to save his daughter, the president, and himself, of course, when the military has seized the White House.
| | |
| --- | --- |
| IMDb Rating- 6.3/10 | Rotten Tomatoes- 62% |
Watch The White House Down Trailer Now-
The Conjuring, 2013
Well, who isn't aware of this movie franchise? No one. The story is about Ron and Lilly who moved to a secluded farmhouse with their five children in Rhode Island. But what started as a blissful new family home turned into a series of horrific events for the family.
Now to subdue the situation, the family invites the renowned paranormal experts; Lorraine and Ed to investigate the matter.
| | |
| --- | --- |
| IMDb Rating- 7.5/10 | Rotten Tomatoes- 86% |
Click for The Conjuring Trailer Now-
The In Between, 2022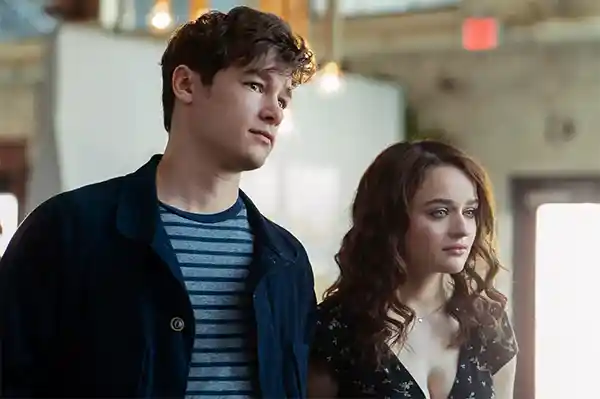 Another masterpiece dropped by Netflix recently starring Joey King is The In Between. The movie is about Tessa and how she doesn't believe that she is capable of getting her own love story just till she meets Skylar, an utmost romantic guy.
However, Skylar is killed in a car accident, and only after a while of that Tessa try to connect with Skylar as she feels he is trying to connect with her from the afterworld.
| | |
| --- | --- |
| IMDb Rating- 5.9/10 | Rotten Tomatoes- 64% |
The In Between Trailer-