The movie adaptation of detective novels by Robert B. Parker gained worldwide recognition, creating a successful franchise consisting of nine films till now. The Jesse Stone franchise has been an audience favorite as it takes you on a thrilling journey of the titular detective, Jesse Stone, played by Tom Selleck. If we follow the Jesse Stone movies in order, the first installment was released in 2005, which laid the foundation for our troubled investigator.
Jesse Stone movies have everything from action to drama to romance; hence feels like a perfect package for a binge-watch session. Since it has been years since the release of the first movie, it might be hard to catch up with the franchise so we are listing all the Jesse Stone movies in order of release date.
Jesse Stone Movies in Order of Release Date
Jesse Stone: Stone Cold (2005)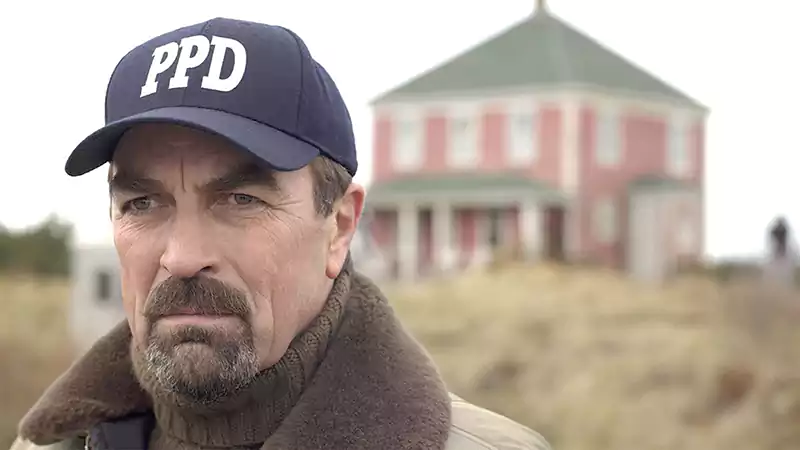 I'm not sure if the makers intentionally tried to add the element of a pun to the title, but I would like to believe so just for fun. Stone Cold is where it all started when the quiet town of Paradise witnesses mysterious murders. While Stone is already handling a rape case, he starts to connect the murders, and now his nights are sleepless as they can get. The movie is not your regular serial killer mayhem movie; instead keeps you on your toes as the killer just takes a few minutes to get their job done.
The movie sheds a little light on Stone's past, and we know that he is divorced and had to leave his position in the LAPD due to his habit of substance abuse. His current job as Police Chief is the only position he could get with his messed up track record, but he is determined to be honest with his job. Being the first released among the Jesse Stone movies, Stone Cold prepared the viewers for what was to come.
| | |
| --- | --- |
| IMDb Rating: 7.1/10 | Rotten Tomatoes Rating: 67% |
Jesse Stone: Night Passage (2006)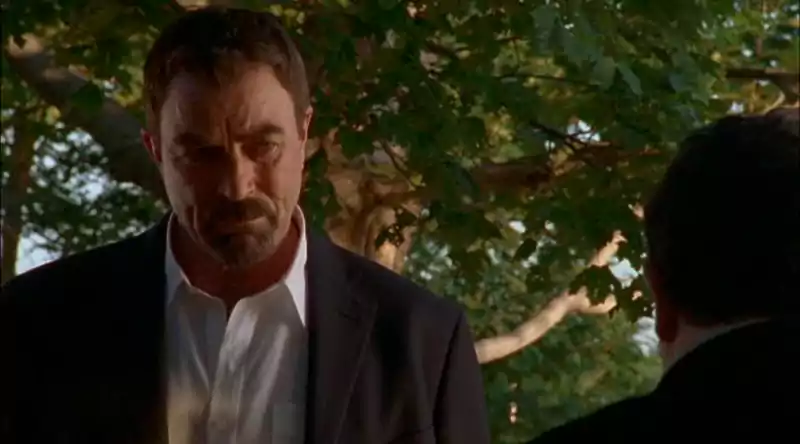 The 2006 release marks the second release for the Jesse Stone franchise but is based on the first novel by Robert B. Parker. The movie gives a glimpse of Stone in Los Angeles as he is being relocated to a small town called Paradise due to his drinking habits. The corrupt council leader of the town hires him as the chief of police as he feels Stone won't be a threat to his criminal activities given the latter's past record. (But boy, he is about to be wrong.)
We see Stone bonding with his new colleagues as he is trying to adjust to his new job in the new town. He has an old dog with him named Boomer (am trying hard not to crack a Boomer joke here). As the group tries to investigate a complicated murder, Stone decides to invite more chaos in his personal life when he starts seeing someone, and the relationship takes a purely physical form.
| | |
| --- | --- |
| IMDb Rating: 7.2/10 | Rotten Tomatoes Rating: 66% |
Jesse Stone: Death in Paradise (2006)
Looks like Stone finally realizes he needs help rather than just getting drunk all the time and hence decides to consult a psychiatrist, Dr. Dix. When a teenage girl is murdered, the story shifts focus from his personal life to professional life, and you can expect to see more action.
The third release among the Jesse Stone movies in order is based on the 2001 novel of the same name. Stone has to step up his game if he wants to get his hands on the criminal this time, as the case seems more complex than what it looks like. But with his first clue in his hands, Stone and his colleagues are more likely to be closer to the case.
| | |
| --- | --- |
| IMDb Rating: 7.1/10 | Rotten Tomatoes Rating: 66% |
Jesse Stone: Sea Change (2007)
After the 2006 release saw an action-filled professional life for Stone, Jesse Stone: Sea Change had him a more relaxed life on the professional front. He admits to his psychiatrist that his drinking habits tend to get worse when he has no case to solve. As a result, he asks his new colleague to dig into some unsolved cases from the past.
Luther, one of Stone's colleagues, is still in a coma after being shot in the last film and Molly is absent due to her family issues, Stone feels alone in his professional life. He unintentionally invites trouble when he starts to dig deep into a case involving a mobster. Among all the Jesse Stone movies, this one clearly saw a sea of changes as the title indicates.
| | |
| --- | --- |
| IMDb Rating: 7.1/10 | Rotten Tomatoes Rating: 68% |
Jesse Stone: Thin Ice (2009)
As the title suggests, we see Stone walking on thin ice when he decides to go undercover to investigate his close friend's fatal accident. As usual, he goes against everyone's warning against his decision. Stone once again causes trouble for himself when he sleeps with the Internal Affairs investigator.
Jesse Stone: Thin Ice features yet another heart-touching case of a dead child whose mother is keen on getting the child's death reinvestigated as she believes the child is not dead. But Stone decides against his emotions this time as he feels the case will have an ugly outcome. This Jesse Stone movie can be called an emotional mess as it features a distressed Stone who feels lost.
| | |
| --- | --- |
| IMDb Rating: 7.1/10 | Rotten Tomatoes Rating: 60% |
Jesse Stone: No Remorse (2010)
Stone's life once again takes a twisted turn when he is suspended from the position of chief of police of Paradise. He clearly cannot deal with his leisure time well as he resorts back to drinking heavily. As a result, his colleagues are concerned and decide to take him in for assisting in a new case as no matter what our man is never missing out on an opportunity to dig some graves.
| | |
| --- | --- |
| IMDb Rating: 7.2/10 | Rotten Tomatoes Rating: 52% |
Jesse Stone: Innocents Lost (2011)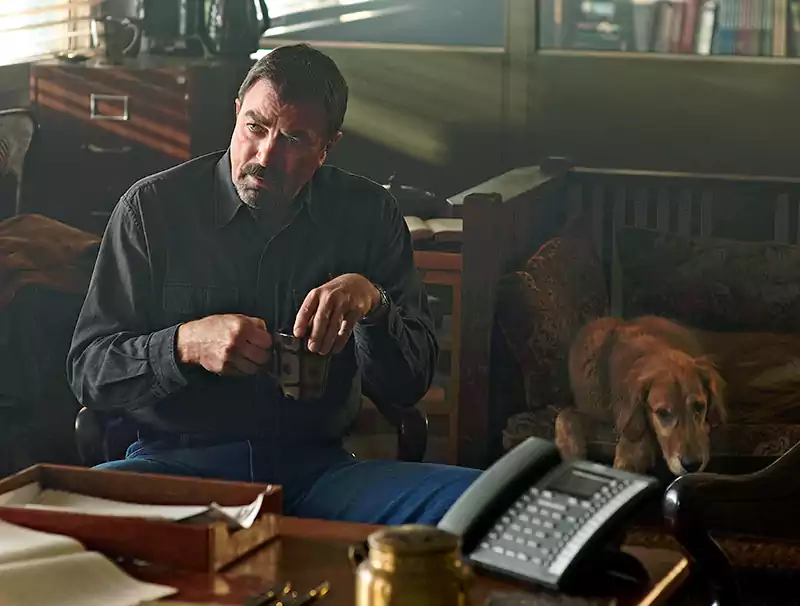 No one can stop Jesse Stone from solving cases and hence after losing his job as the chief of police, he has full-fledgedly started working as a private investigator. The seventh installment of Jesse Stone movies in order had issues with the budget and hence Selleck himself came up as an investor for the project.
The movie explores Stone's newfound life as a private investigator while also highlighting the struggles of his old colleagues with the new cocky chief inspector. Many thought Innocents Lost might be the last of Jesse Stone movies in order due to budget issues but thankfully we got more installments of our favorite franchise.
| | |
| --- | --- |
| IMDb Rating: 7/10 | Rotten Tomatoes Rating: 55% |
Jesse Stone: Benefit of the Doubt (2012)
Jesse Stone is once again back as Paradise's chief inspector, though only for a limited time period, the audience loved to see him reprising the position. You might be wondering why and how. Our man was called back to assist in the complex case of the murder of two officers of the department.
The movie uses the cop humor of doubting everyone in a more cliche way and the only factor that makes it tolerable is the fact that the franchise has been around for years and has a loyal fan base. The story feels a bit repetitive when Stone once again finds himself in the web of some local mobsters while investigating the case. Nonetheless, if you have been a loyal fan of the franchise the movie will keep you entertained.
| | |
| --- | --- |
| IMDb Rating: 7/10 | Rotten Tomatoes Rating: 55% |
Jesse Stone: Lost in Paradise (2015)
We have come to the end of this list of Jesse Stone movies in order. The 2015 release Jesse Stone: Lost in Paradise, marks the last released Jesse Stone movie. The small town of Paradise now feels on track as there are no more interesting cases for Stone to solve. With more spare time in his hands now, Stone takes up the role of an unpaid investigator for one of his old acquaintances (or let me say flings).
The movie features an adorable bond between Stone and a thirteen-year-old girl who is having trouble dealing with her abusive mother. Some other emotional moments from the movie include the death of Stone's one and only long-term partner, his dog. Lost in Paradise Jesse Stone cast included Kohl Suddhuth, Gloria Reuben, William Sadler, Leslie Hope, and Mackenzie Foy.
| | |
| --- | --- |
| IMDb Rating: 7/10 | Rotten Tomatoes Rating: 55% |
Jesse Stone Movies in Order of Events
If you want to follow the Jesse Stone movies in order of the events that take place throughout the series, you can follow this list:
| | |
| --- | --- |
| Movies | Release Date |
| Night Passage | 2006 |
| Stone Cold | 2005 |
| Death in Paradise | 2006 |
| Sea Change | 2007 |
| Thin Ice | 2009 |
| No Remorse | 2010 |
| Innocents Lost | 2011 |
| Benefit of Doubt | 2012 |
| Lost in Paradise | 2015 |
Conclusion
From adapting from a novel to becoming one of the most loved detective movie franchises, Jesse Stone came a long way. We are expecting the tenth installment in the Jesse Stone movies in order as Selleck mentioned in an interview in 2022. The last released movie clearly left room for more installments but as per the actor, he is now old and does not seem to fit in the image of Jesse Stone. The future of Jesse Stone movies and novels is not predictable right now but we can hope for one more sequel with Selleck.