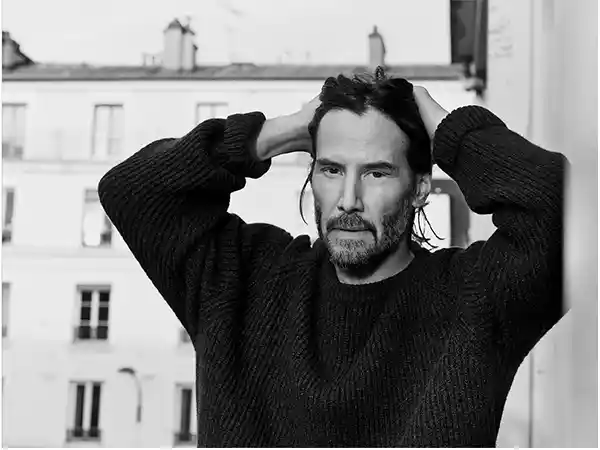 Actors have a certain charisma when they perform on screen and we can all agree that is because everyone puts effort to make the hero shine bright on screen. But when it comes to stars like Keanu Reeves, it feels like they are just born with it. Even if he was to not become an actor there's no way he would go unnoticed in a crowd.
The actor made his debut in the 1986 movie, Youngblood. Keanu has been one of the most versatile actors of all time who still doesn't seem to fit into a box. He is the perfect package of all things in one. We have seen him play soft roles and tough roles, romantic roles and villainous roles, puppy eyes and 'I can kill you with you my bare hands' eyes… you get the point right? We can go on and on about this gorgeous man but we are here to share with you some of the best Keanu Reeves movies.
The Matrix (1999)
It is safe to say that The Matrix was way ahead of its time with its concept of dual lives. Keanu plays the character of Neo who is a computer programmer during the day but during the night his identity shifts to a hacker. The movie will make you question everything about your online identity.
The filmography gives off a cyberpunk vibe that perfectly matches the whole concept. Though the movie was released years ago, it can still pass with the new generation and is still counted as one of the best Keanu Reeves movies.
| | |
| --- | --- |
| IMDb Rating: 8.7/10 | Rotten Tomatoes Rating: 83% |
Watch the trailer for The Matrix:
Speed (1994)
The movie might not have any unique concept or storyline but Speed definitely helped Keanu establish himself as a lead star. He played the character of Jack Traven alongside one of the most beautiful and famous actresses Sandra Bullock who played Annie. The movie also starred Dennis Hopper, Alan Ruck, and Jeff Daniels.
The movie is set on a bus with a ticking bomb on it that will explode if the speed goes below 50mph. Yes, that sounds nerve recking but the movie somehow manages to balance it out with some comic elements. The characters do not have a backstory or personal interest their only goal throughout the movie is to prevent the bomb from exploding.
| | |
| --- | --- |
| IMDb Rating: 7.3/10 | Rotten Tomatoes Rating: 95% |
Check out the trailer for Speed:
John Wick (2014)
We have three installments of the John Wick franchise but here we are talking about the very first John Wick which also happens to be Keanu Reeve's personal favorite. The movie performed so well that it gave birth to one of the most loved franchises in Hollywood.
Keanu was seen in an action role but let us remind you he is not your regular action hero. He plays the titular character of a former assassin who is finding it hard to cope with the death of his beloved wife. But when a Russian mob boss decides to steal his precious car and murder the pet dog that his wife gifted him before her death, John becomes a merciless murder machine.
| | |
| --- | --- |
| IMDb Rating: 7.4/10 | Rotten Tomatoes Rating: 86% |
Here is the trailer for John Wick:
Point Break (1991)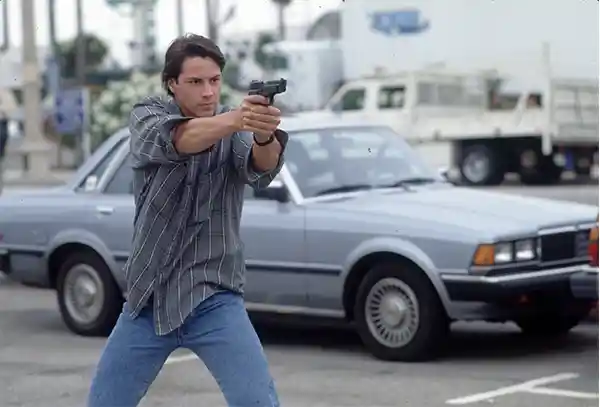 Point Break is one of the movies that helped Keanu shine on-screen and helped him establish himself as a mainstream action hero. Not to mention the huge amount of female fan following who were drooling over him (me included).
What happens when a cop is influenced by a group of criminals? Well, that is exactly what the movie is all about. When a young undercover agent is sent to investigate a group of surfers, he gets drawn toward the lifestyle and principles of their leader. The movie shows the conflicting thoughts of the undercover agent played by Keanu.
| | |
| --- | --- |
| IMDb Rating: 7.2/10 | Rotten Tomatoes Rating: 70% |
Trailer for the movie Point Break:
Bill & Ted's Excellent Adventure (1989)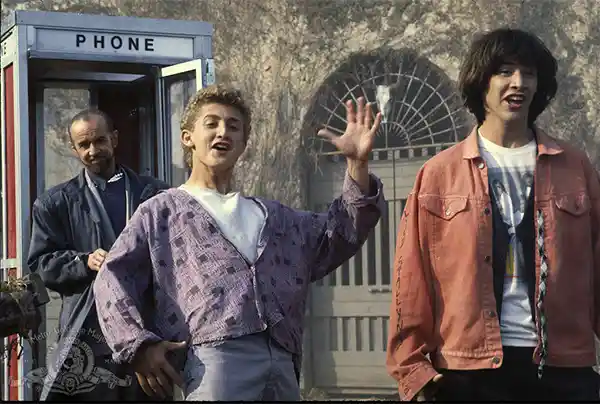 The 1989 release stars a young Keanu Reeves and not gonna lie he has our hearts. The plot revolves around two friends, Bill and Ted played by Alex Winter and Keanu Reeves respectively. The teenage duo dreams of starting a rock and roll band but unfortunately are finding it hard to get through high school.
They are desperate to clear their history exam because failing will mean they will get separated from each other. Just when they see no hope for the future a man appears out of nowhere with a time-traveling machine and helps them meet all the historic figures from the past. The movie has the perfect dose of goofiness mixed with some high school history syllabus.
| | |
| --- | --- |
| IMDb Rating: 6.9/10 | Rotten Tomatoes Rating: 82% |
Watch the trailer for Bill & Ted's Excellent Adventures:
River's Edge (1986)
This is one of the underrated gems of Hollywood. This is one of the rare movies from the early days of the actor who does not see him in a comic role. The gloomy and bleak cinematography might be a reason for the movie's limited popularity but being a Keanu Reeves fan this should be on your watch list.
The plot revolves around a group of friends who are split after one of the friends named Samson kills another friend, Jamie. While some feel that the matter should be reported and Samson should be punished others feel that as friends they should help cover up the matter.
| | |
| --- | --- |
| IMDb Rating: 6.9/10 | Rotten Tomatoes Rating: 88% |
Check out the trailer for the movie River's Edge:
My Own Private Idaho (1991)
Released in the same year as Point Break this one shows the versatility of the actor. While Point Break was an action movie, My Own Private Idaho is a somber and emotional film inspired by Shakespeare's Henry. The plot revolves around Mike and Scott played by River Pheonix and Keanu Reeves respectively.
The movie explored the concept of sexuality in a very tender manner and to top it up was the perfect on-screen performance of both the actors. Mike and River meet each other and instantly form a connection. But the young minds are still confused and scared about their feelings for each other. What follows is a heartwarming story that explores various aspects of the society we live in.
| | |
| --- | --- |
| IMDb Rating: 7/10 | Rotten Tomatoes Rating: 80% |
Enjoy the trailer for My Own Private Idaho:
The Devil's Advocate (1997)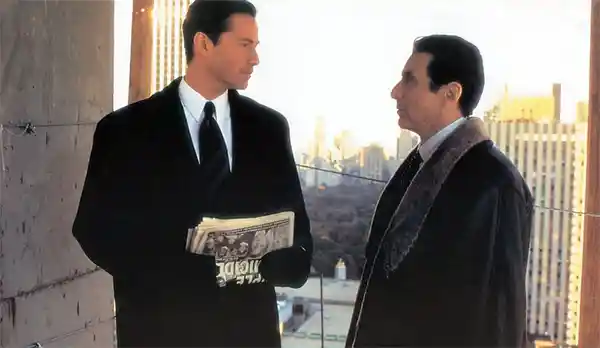 The movie had a contrasting combination of Keanu Reeves and Al Pacino. While Al Pacino is known for his extra-expressive way of acting, Keanu keeps it powerful in a subtle way. The latter can be seen playing an exceptionally good lawyer, Kevin Lomax, who has never lost any case.
But when he signs a deal with one of the most established law firms in New York City he is not aware that he is in for a hell ride, quite literally. Pacino is the boss of this law firm and is literally a devil who is about to suck the life out of Kevin.
| | |
| --- | --- |
| IMDb Rating: 7.5/10 | Rotten Tomatoes Rating: 64% |
Trailer for The Devil's Advocate:
Constantine (2005)
The 2005 cult classic is a superhero horror film starring Keanu Reeves as John Constantine, a cynical exorcist. The movie was a huge box-office success but was not well-received by the critics.
The movie successfully amalgamated the concept of hell and heaven with the modern world. Constantine has a reputation for dealing with mystical creatures and hence is approached by Angela who lost her sister but refuses to believe that she took her own life. While digging deep into the case he realizes that some demons from hell are trying to enter the human world.
| | |
| --- | --- |
| IMDb Rating: 7/10 | Rotten Tomatoes Rating: 46% |
Watch the trailer for Constantine:
Parenthood (1989)
Parenthood will take you on an emotional rollercoaster ride. One second you will be laughing till your stomach hurts and the other second you will be teary-eyed for some emotional scenes.
The movie is a multi-starrer and revolves around the Buckman siblings who are trying to raise their respective children. The movie shows how unresolved doubts and traumas can affect even future generations. The audience was impressed with the movie and Keanu proved his ability to shine on-screen even with an ensemble of cast.
| | |
| --- | --- |
| IMDb Rating: 7.1/10 | Rotten Tomatoes Rating: 92% |
Enjoy the trailer for Parenthood:
Conclusion
Keanu Reeves as an actor has entertained us for over 30 years now. He has always tried to deliver his best with whatever was offered to him. Picking the 10 best Keanu Reeves movies is like picking one favorite from your children, but here we are. Hope you found your favorite on the list and are ready for your next movie date.