It is not common for movies to get recognized by the name of directors but a few names like Tim Burton have showcased their unique artistic take on cinemas. As soon as we hear Tim Burton we know we are in for a whimsical gothic fantasy adventure. Thanks to him I have never run out of ideas for a Halloween costume party!
Apart from the gothic aesthetics and unique outcast characters, one thing that has been constant in Tim Burton movies is Johnny Depp. The duo is known to deliver some cult classics like Edward Scissorhands, Corpse Bride, and Charlie and the Chocolate Factory. The best movies of Johnny Depp are always incomplete without Tim Burton's directorial. Tim Burton's movies have always stood out from the crowd as he has made sure to not compromise on his way of thinking and creativity hence making a niche for himself which the audience has always welcomed with open arms.
Ed Wood (1994)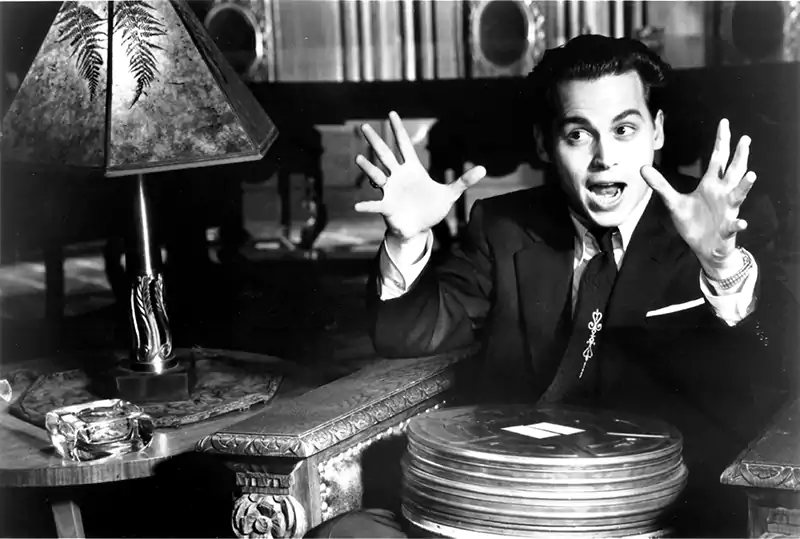 Who would have thought the story of one of the most unsuccessful directors of Hollywood would become the stepping stone for another director's career? But looking at Burton's movies and his love for outcast characters, Ed Wood is not surprising. One of the most loved Tim Burton movies to date stars Johnny Depp as the titular director.
Johnny Depp convincingly brings out the emotional and sympathetic story behind a person who decides to trust himself despite what the whole world tells him. Burton's idea and Depp's execution are what made the movie a cult classic today. Though the movie was not received well at the time of its release, the movie gained recognition with time.
| | |
| --- | --- |
| IMDb Rating: 7.8/10 | Rotten Tomatoes Rating: 93% |
Edward Scissorhands (1990)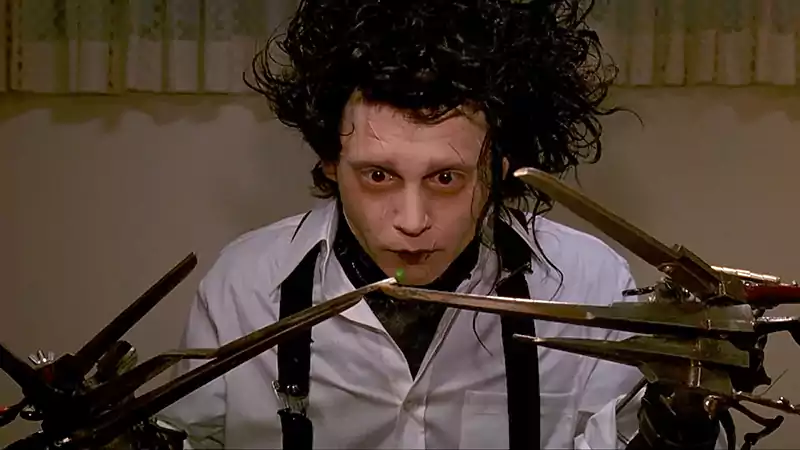 The 1990 movie feels way ahead of its time with the perfect gothic appeal to it. Not to mention Johnny Depp's convincing portrayal of a misfit character with dangerous scissors in his hands. Tim Burton's movies are known to bring out the magic on-screen with his unique way of storytelling, and this one is no different.
Edward Scissorhands is about an artificial man who lives in an isolated house. His maker died before he could complete Edward's hands, and hence, the poor man is left with huge scissors instead of hands. The movie explores the irony of the human world as the seemingly well-groomed people have messy minds while Edward, who is not that well-kept physically, has an innocent heart that is capable of true love.
| | |
| --- | --- |
| IMDb Rating: 7.9/10 | Rotten Tomatoes Rating: 89% |
Beetlejuice (1988)
Tim Burton films have a special demand now but movies like Beetlejuice paved the way for Burton's quirky characters. A haunted house where the people hire another ghost to get rid of the old ghost. Only Burton's mind can up with such eccentric ideas (I wouldn't be surprised if the government decides to preserve his brain one day).
Beetlejuice is a cinematic masterpiece with the perfect mix of everything from drama to slapstick to horror to emotions. The movie starred Michael Keaton and is one of his personal favorites among all his movies. The story is about a couple (well, a ghost couple) who live in a house they spent their entire lives decorating and adoring. But when a family decides to move into the house, the ghost couple tries to scare them away but instead is faced with another evil spirit hired by the family to get rid of the couple.
The movie has a such strong impact on the world of cinema that after three decades Beetlejuice is ready to make make comeback with Beetlejuice 2, ready to hit the theatres in 2024.
| | |
| --- | --- |
| IMDb Rating: 7.5/10 | Rotten Tomatoes Rating: 86% |
Batman (1989)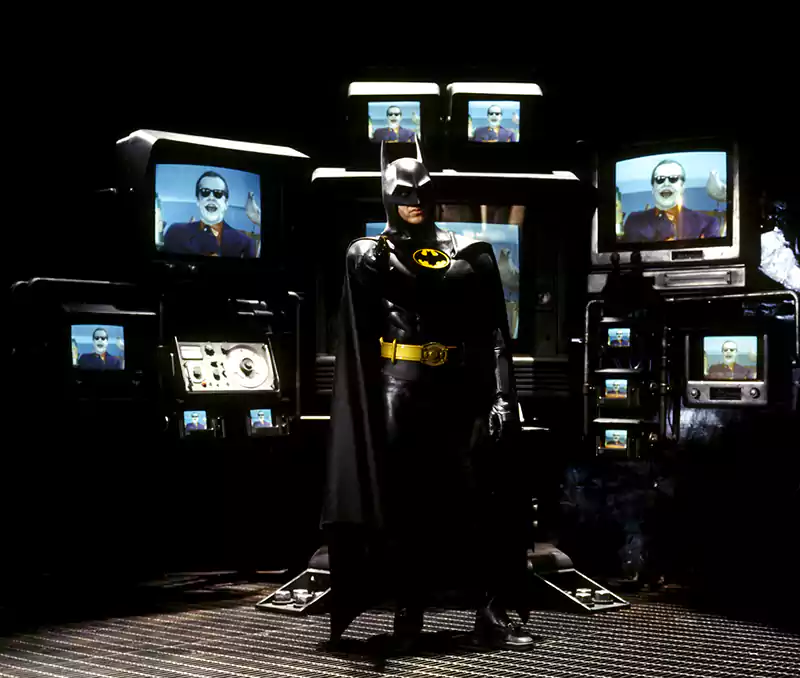 The very first movie that gave a modernized twist to the classic old superheroes was Tim Burton's Batman released in 1989. Among all Batman movies released to date, this one has a special place in our hearts as it laid the foundation for the gothic nature of Batman movies. Starring Michael Keaton as Batman fans were initially skeptical about the movie but it clearly became a favorite soon after its release.
The movie was a huge box office success among all the Tim Buton films till then while also bagging the Oscar for Best Art Direction. Tim Burton's movies list will always be incomplete without mentioning his contribution towards laying the foundation for our DC superhero.
| | |
| --- | --- |
| IMDb Rating: 7.5/10 | Rotten Tomatoes Rating: 76% |
Batman Returns (1992)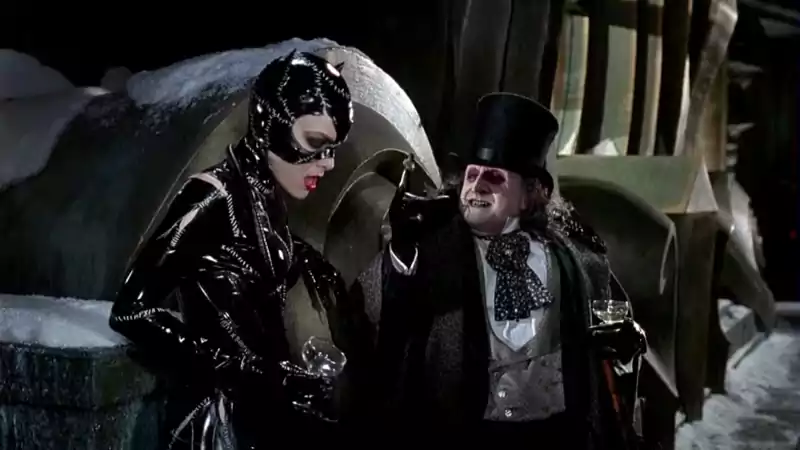 The mass success of Batman assured the comeback of Burton and Keaton with a sequel titled Batman Returns. Burton did not treat the movie as an extension of the 1989 release but rather stepped up his gothic game and left a lifelong mark in the world of the DC superhero. The movie turned out to be a bit too dark for the audience back then but later became a cult classic.
Burton once again introduced a societal outcast character, Penguin, who lives in the sewers of Gotham City. Penguin, played by Danny DeVito worked as the perfect antagonist for our beloved caped crusader and the movie followed his villain origin story.
| | |
| --- | --- |
| IMDb Rating: 7.1/10 | Rotten Tomatoes Rating: 81% |
Pee-Wee's Big Adventure (1985)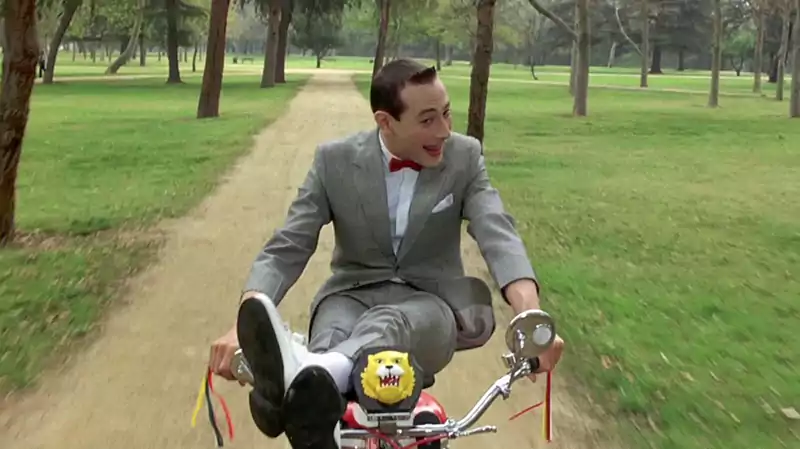 In The Tim Burton filmography, Pee-Wee's Big Adventure marked the full-length directorial debut of Tim Burton and the audience got the addictive taste of his unique cinematography and his love for quirky and adorable characters. The cult classic starred the late Paul Reuben in the titular role and the actor very well executed Burton's idea on-screen.
The movie was a parody take on the 1948 release Bicycle Thieves and safe to say the audience loved Burton's creative mind. The movie is about a man-child, Pee Wee, and his adorable and adventurous journey to retrieve his stolen bike. He tries to man up to get back his beloved bike and we can't help but fall in love with his innocent dedication.
| | |
| --- | --- |
| IMDb Rating: 7/10 | Rotten Tomatoes Rating: 88% |
Mars Attacks! (1996)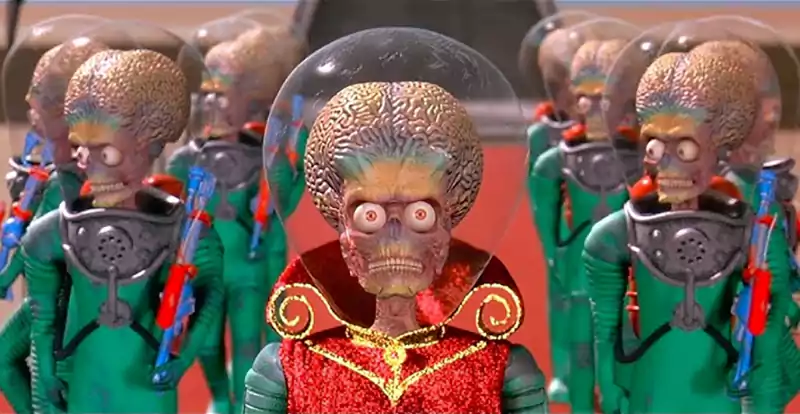 The 1996 sci-fi release has to be the goofiest on the Tim Burton movies list. Mars Attacks! features big-brained aliens who visit Earth and try to invade the human population with their not-so-deadly weapons. The movie failed to perform well domestically but later gained much-deserved recognition.
The story of Mars Attacks! goes beyond what meets the eye and has a deeper message that Burton has tried to convey through most of his movies. A new world taking over the existing one seems tempting through the eyes of Burton and we can't help but side with the wobbly head creatures. There is a reason why movies by Tim Burton have a cult-like following and his imaginative mind has always been way ahead of time just proves why he deserves the fame he has today.
| | |
| --- | --- |
| IMDb Rating: 6.4/10 | Rotten Tomatoes Rating: 56% |
Sweeny Todd: The Demon Barber of the Fleet Street (2007)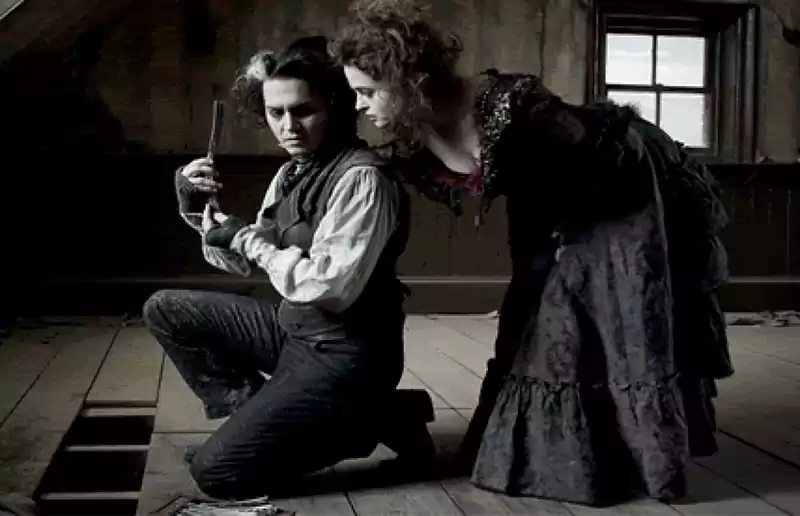 Unlike the rest of the Tim Burton movies mentioned till now, this one saw a careful and calculative side of Tim Burton. Sweeny Todd: The Demon of the Fleet Street is the movie adaptation of Stephen Sondheim and Hugh Wheeler's renowned stageplay. This can be a reason for Burton's carefully crafted masterpiece. The cherry on top is the casting of Johnny Depp as the titular barber.
The movie is pure perfection in every aspect and earned the Oscar for Best Art Direction. The movie retells the tragic tale of revenge where a barber is wrongly accused by a judge for the ill motive of gaining custody of his gorgeous wife. When the barber returns after years of imprisonment he learns that his beloved wife took her life. He then disguises under the name of Sweeny Todd to take revenge on the judge.
| | |
| --- | --- |
| IMDb Rating: 7.3/10 | Rotten Tomatoes Rating: 86% |
Corpse Bride (2005)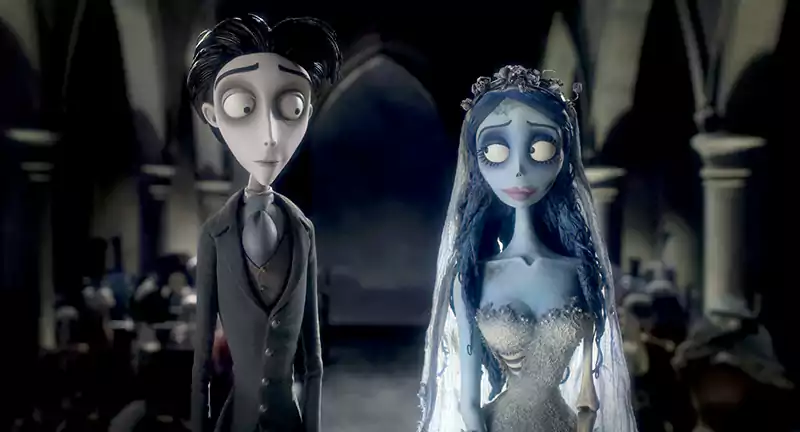 Burton's cinematic marvels go beyond live-action movies and Corpse Bride is the prime testimonial to what Tim Burton stop motion movies are capable of. Before some of you argue that the movie was not a full-fledged Tim Burton directorial let me remind you the whole movie screams TIM BURTON from the characters to the spooky ambiance and even the casting of his regular man, Johnny Depp. There is no way Corpse Bride could be missed on this Tim Burton movies list.
| | |
| --- | --- |
| IMDb Rating: 7.3/10 | Rotten Tomatoes Rating: 84% |
Big Eyes (2014)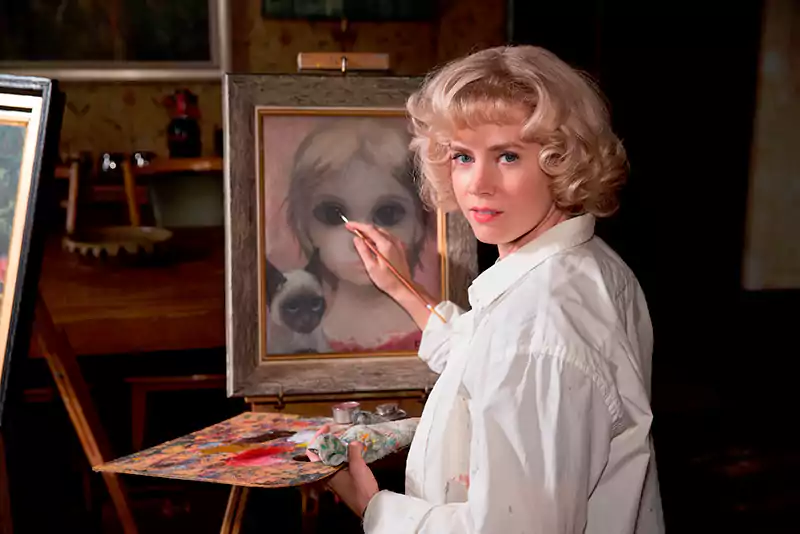 With Big Eyes Burton consciously shifted the focus from high-end artistic directorial to the rawness of the actors. This is one of the rare movies by Tim Burton that relied heavily on the characters and the actor's ability to pull off the characters. The movie is a biopic of an American artist Margaret Keane who is known for paintings of children with big eyes.
The casting of Amy Adams as Margaret Keane was appreciated by the critics as she was nominated for various awards and won the Golden Globe Award for Best Actress. This is considered one of the best Amy Adams movies for her stellar performance. Look out for Keane in the movie as she makes a cameo appearance for one scene. The movie represented feminism and can easily pass as a feminist movie even today.
| | |
| --- | --- |
| IMDb Rating: 7/10 | Rotten Tomatoes Rating: 72% |
Sleepy Hollow (1999)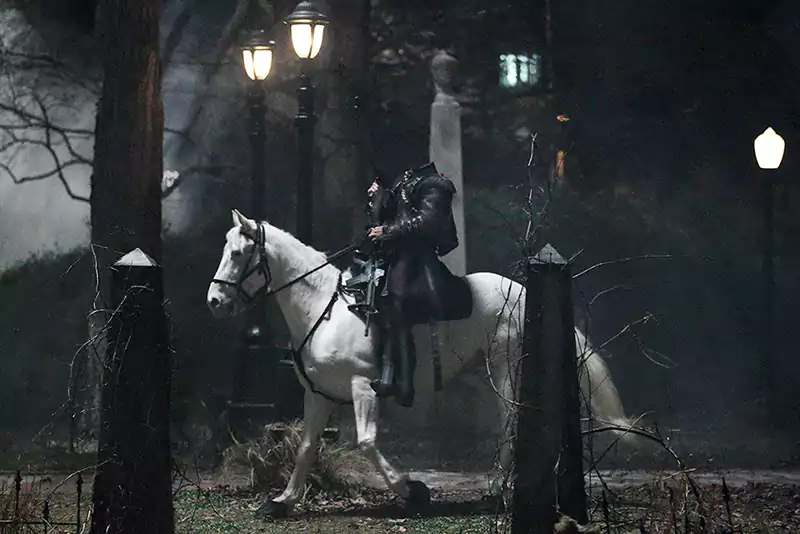 Burton has always played around with spooky characters and storylines, but Sleepy Hollow marks the only straightforward horror film in Tim Burton's movies list. The movie is a loose adaptation of the short story "The Legend of the Sleeping Hallow." The movie once again saw Johnny Depp as the quirky lead for Burton as he transforms into a detective who is sent to investigate the ghoulish beings with his scientific skills.
| | |
| --- | --- |
| IMDb Rating: 7.3/10 | Rotten Tomatoes Rating: 70% |
Big Fish (2003)
The 2003 release Big Fish is a sentimental masterpiece with the fantasy magic world of Burton. Big Fish revolves around an estranged father and son duo, Edward and Will. The main reason behind their rough relationship is Edward's habit of narrating exaggerated fanciful tales all the time. His stories have everything from a grand circus to a witch to a friendly giant.
Will has to go back to his father with his wife and son as Edward is in his death bed and this might be Will's last chance to get to know his father better. He is determined to unravel the truth behind all the stories either directly from Edward or through any other source. Big Fish is a delight to watch as well as an emotional rollercoaster.
| | |
| --- | --- |
| IMDb Rating: 8/10 | Rotten Tomatoes Rating: 75% |
Frankenweenie (2012)
I don't know about you all but Frankenweenie never fails to touch the strings of my heart. The black and white animation gives spooky vibes but carries a heart-touching softness. The movie also has a special place in Tim Burton's career as he got a chance to remake his 1984 Frankenweenie which was dismissed for being too spooky for kids. He finally got the Disney-sized budget to frame his vision of Frankenweenie properly.
The movie is about the bonding of a boy and his pet dog who dies in a car accident. The boy gets devastated and tries and successfully retrieves his dead dog. But when the news of a dead dog being revived gets out, it creates mayhem as everyone tries to retrieve their dead pets and loved ones.
| | |
| --- | --- |
| IMDb Rating: 6.9/10 | Rotten Tomatoes Rating: 88% |
Charlie and the Chocolate Factory (2005)
The 90s kids have fond memories of Charlie and the Chocolate Factory which also marked the second most successful Tim Burton movie internationally. The movie is based on Roald Dahl's novel and safe to say the movie did full justice to the creative work. It is surprising how Burton brings together an engaging and eye-popping magical world effortlessly. It is surprising how the movie did not win an Oscar for Best Production Design but nonetheless won over our hearts.
| | |
| --- | --- |
| IMDb Rating: 6.7/10 | Rotten Tomatoes Rating: 83% |
Dumbo (2019)
As someone who grew up reading Disney comics, I can't thank Burton enough for revamping the story of Dumbo with his creative mind. The movie has a lot of moments that will make you go aww, not to mention the character of Dumbo who is a bundle of sunshine, you can't help but fall for him at first sight. The movie was criticized for lacking emotional depth but keeping in mind the fact that Dumbo is a kids-oriented movie it did pretty well.
The plot revolves around the titular baby elephant who is born with bigger-than-usual ears and the circus decides to keep him hidden due to the fear of people's reaction to such deformity. But when it is revealed the big ears help Dumbo to fly, they must safeguard him from their rival who will go to any extent to monetize Dumbo's special ability. The plot and the outcast lead character scream Tim Burton movie but not many were impressed with the safe play this time.
| | |
| --- | --- |
| IMDb Rating: 6.3/10 | Rotten Tomatoes Rating: 46% |
Alice in Wonderland (2010)
Alice in Wonderland had sky-high expectations from Burton. The movie theaters were packed not to watch Mia Wasikowska as Alice but to watch what Burton's creative mind could do with the beloved fantasy tale. The movie received a mixed review as it did improvise the storyline and bring out the magic that Tim Burton's movies are known for but somewhere lost the original essence of the story.
| | |
| --- | --- |
| IMDb Rating: 6.4/10 | Rotten Tomatoes Rating: 51% |
Miss Peregrine's Home For Peculiar Children (2016)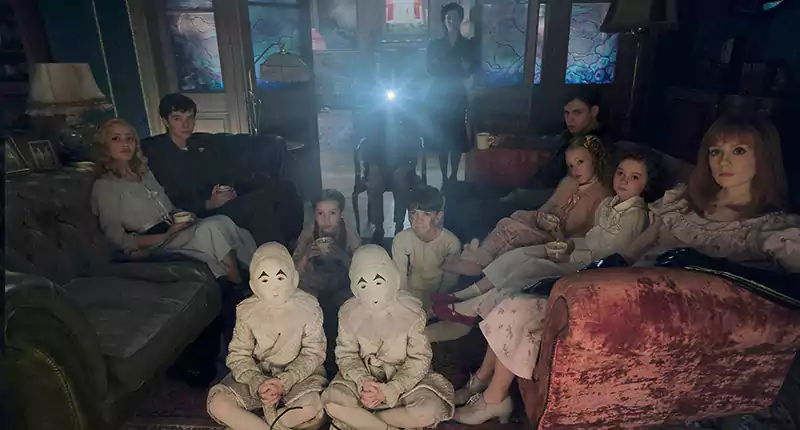 The 2016 release is not among the most memorable Tim Burton films as it feels like something he came up with in his sleep. Miss Peregrine's Home For Peculiar Children is not a bad movie but does not meet the expectations for a Tim Burton movie. It feels like the director took up some movies on auto-pilot mode during the time and now has to carry them around in his filmography.
The plot revolves around a school where all the children have some superpowers. When a boy Jacob learns about the school he is in for an adventure of his lifetime. The movie is visually pleasing and does qualify as a quality fantasy movie, but a Tim Burton fantasy? Well, that's a bit doubtful.
| | |
| --- | --- |
| IMDb Rating: 6.7/10 | Rotten Tomatoes Rating: 64% |
Dark Shadows (2012)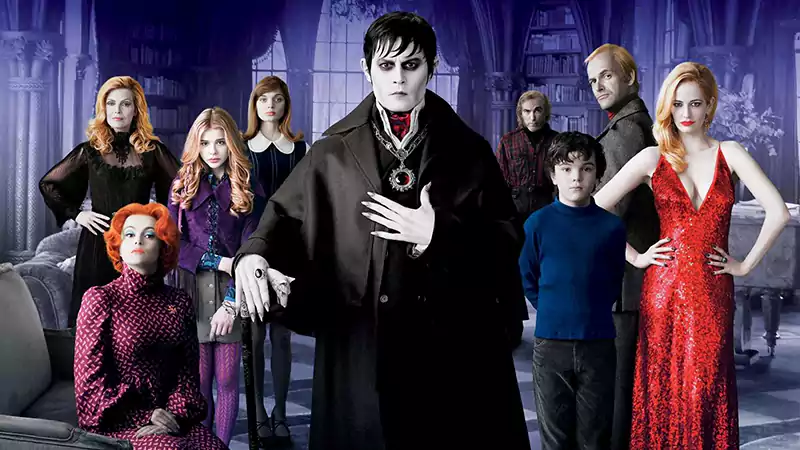 Dark Shadows is Burton's take on the renowned soap opera from the 1960s of the same name. The movie once again stars Johnny Depp as the lead who has been turned into a vampire after he rejects the love advances of a witch. The movie is an entertainer and balances between the humorous encounters of a vampire with the modern world and spine-chilling moments.
The movie was loved by Burton fans worldwide as it served the quirky vibe that the director is known for. You have to be a hardcore fan to enjoy Dark Shadows without being judgemental as to what genre the movie is trying to fit into.
| | |
| --- | --- |
| IMDb Rating: 6.2/10 | Rotten Tomatoes Rating: 35% |
Planet of the Apes (2001)
The sci-fi franchise trusted Burton's directorial in 2001 and Mark Wahlberg starrer Planet of the Apes was released. The movies often skip my mind whenever I talk about Tim Burton films and the reason is that they did not register as the director's creative work. He tried hard to get creative with a not-so-unique storyline and hence the whole movie feels forced. The movie might impress you if you do not know that it is a Tim Burton directorial but for me it's a pass.
| | |
| --- | --- |
| IMDb Rating: 5.7/10 | Rotten Tomatoes Rating: 44% |
All 7 Movies Produced by Tim Burton
| | |
| --- | --- |
| Movies Name | Release Date |
| Cabin Boy | 1994 |
| Batman Forever | 1995 |
| James and the Giant Peach | 1996 |
| 9 (animated film) | 2009 |
| Abraham Lincoln: Vampire Hunter | 2012 |
| Alice Through the Looking Glass | 2016 |
Conclusion
Over the years, Burton has created a loyal fanbase for himself and has successfully created his own niche with his quirky characters. He might not have had a smooth start but he showed the power of staying true to oneself. There is a lot we can learn from movies by Tim Burton as well as his personal life. Even after years, the enthusiasm for Tim Burton movies remains the same among the fans and we hope Hollywood's favorite director gets more recognition with time.