I know you must have heard the name quite a lot but haven't gotten the chance to start with this movie franchise yet. Well, your timings couldn't be better, because now that you've finally decided to watch the movie, it's better you watch them all in perfect order, isn't it? And luckily, I have here gathered all the parts of Twilight movies in order which will help you get started with them one by one.
The Twilight movies are one of the most watched and famous movie franchises of Hollywood, all the movies are quite old yet have the same fan base, just like The Vampire Diaries. So without wasting another second, let's move ahead and get to know all about Twilight movies in order.
Twilight (2008)
The first of the Twilight movies starts with the name Twilight itself, the movie begins with Bella (Kristen Stewart) moving to Forks, Washington to live with her father. There, she is immediately drawn to Edward, a vampire played by Robert Pattison when starting her new school. As she tries to find out what he thinks about her, his hot and cold attitude intrigues and annoys her at the same time. However, he soon reveals that he is a 100 years old vampire and not a 17-year-old teenager like her.
Despite their weird situation, they both fall in love introducing Bella to the dangerous supernatural world. Edward introduces her to his family which makes her aware of his parental figures. But that's not it, it also leads to Bella being introduced to another vampire family who targets Bella.
| | |
| --- | --- |
| IMDb- 5.3/10 | Rotten Tomatoes- 43% |
Watch Twilight Trailer Here:
The Twilight Saga: New Moon (2009)
The story of Twilight continues with the New Moon. While the movie left on a positive note, this one made us encounter heartbreak pretty soon. Edward's family throws a birthday party for Bella where she gets a paper cut and Jacob (Jackson Rathbone) loses his control and tries to drink her blood but she is somehow saved. Through this, Edward realizes how dangerous he and his family are for Bella so he leaves town and distances himself from her.
The story takes an interesting turn when she becomes friends with Jacob (Taylor Lautner) who helps him get out of her depression. Her life becomes happy again and she starts to enjoy it. However, soon Jacob becomes ill and she finds out the truth about him that he is a werewolf.
By the end of the movie, Edward and Bella are reunited, and the story goes on.
| | |
| --- | --- |
| IMDb- 4.8/10 | Rotten Tomatoes- 29% |
Watch The Twilight Saga: New Moon Trailer Here:
The Twilight Saga: Eclipse (2010)
Each of the Twilight movies has been dropped every year to keep the fans engaged enough. This one deals with Bella and Edward's relationship where they are struggling to make it work. Edward is convinced that she should be turned because of her knowledge of the vampire world. Edward agrees to turn Bella into a Vampire if she agrees to marry him. Before she could make any decision, Victoria (Rachelle Lefevere) arrives with an army of newborn vampires to seek vengeance on Bella.
Edwards' family agrees to fight Victoria's tribe in order to protect Bella. Meanwhile, Bella, Edward, and Jacob escape the tribe and go camping where Jacob overhears them discussing their marriage and storms out in rage. Bella stops him by kissing him and she realizes that she loves them both.
| | |
| --- | --- |
| IMDb- 5.1/10 | Rotten Tomatoes- 47% |
Watch The Twilight Saga: Eclipse Trailer:
The Twilight Saga: Breaking Dawn – Part 1 (2011)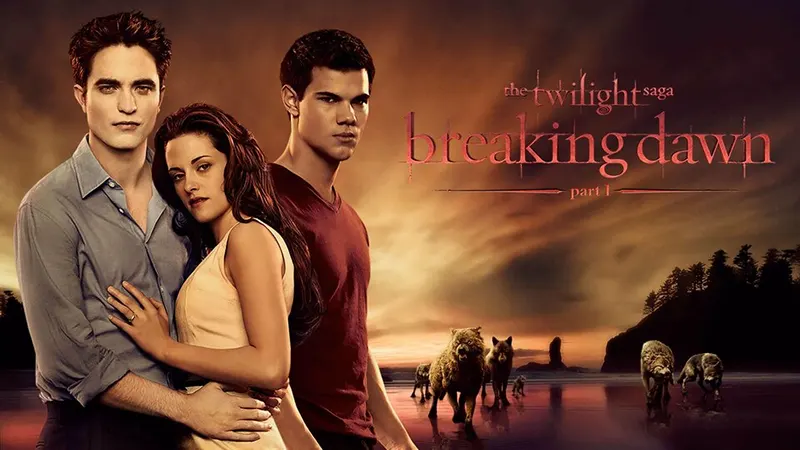 This installment of the Twilight series in order contains the first part of the fourth book of the series. The movie opens after a few months of the previous part and starts with Bella and Edward's marriage. Jacob surprises Bella by coming to their wedding until he finds out that they are planning to consummate their marriage on their honeymoon before Bella's transformation that could possibly kill her.
Bella doesn't die but becomes pregnant with a hybrid child who is a mix of vampire and werewolf. They name the child Rensemme (Sarah Clarke) who grows at an alarming rate deteriorating Bella's health.
Bella nearly dies during the birth, Jacob becomes furious with this and storms in to kill the child but as soon as he lays eyes on her, he realizes something and leaves.
| | |
| --- | --- |
| IMDb- 4.9/10 | Rotten Tomatoes- 25% |
Trailer for The Twilight Saga: Breaking Dawn – Part 1:
The Twilight Saga: Breaking Dawn – Part 2 (2012)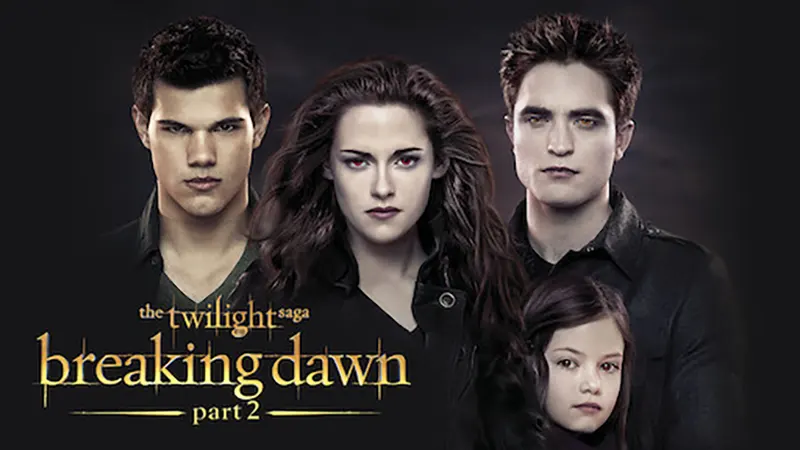 And here comes the final installment of the movie franchise. The movie begins with Bella waking up after giving birth and is now a vampire. Edward changed her to save her, and on the contrary, she takes to this change exceptionally well. Bella is initially furious to find out that Jacob is her daughter's soulmate and what will happen in the future, but things start to change soon.
Bella and Edward's daughter, Renseme continues to grow at an alarming rate while they think that she is an immortal child who is a vampire but remains eternally frozen in physical and mental states. The thing about immortal children is they are an absolute taboo, so Volturi comes to destroy her.
Now Bella and Edward recruit allies to prove to Volturi that their child is not what she thinks, she is a hybrid vampire and human, and totally different from immortal children. Fortunately, Alice was able to convince Volturi that it's not what she thinks it is and asks her to leave them alone.
| | |
| --- | --- |
| IMDb- 5.5/10 | Rotten Tomatoes- 45% |
Click for The Twilight Saga: Breaking Dawn – Part 2 Trailer:
And these are the Twilight movies in Chronological order. I know you are excited to watch the incredible Twilight movies and explore the relationship between humans, vampires, and werewolves. You'll get all that you need to know after watching this amazing movie franchise.