There is no one who hasn't watched a Nicolas Cage movie and not fallen in love with his work. His love for his profession reflects in his work which in return has earned him various prestigious awards including a Golden Globe Award, Academy Award, and Screen Actors Guild Award.
The audience has always been in awe of Nicolas Cage, not just for his acting but also for his good looks, his sense of fashion, and not to forget his evergreen memes. The most recent addition to the internet's favorite memes community includes a scene from his and Pedro Pascal's movie, The Last of Us.
When we say Nicolas Cage movies it is a given that there will be something for everyone. He has always tried to be as versatile as possible with his work without compromising on the quality he serves. Naming 10 Nicolas Cage movies is not a hard task but to list his best 10? Difficult is an understatement here. But we gotta do what we gotta do! So here is a list of his best movies to date.
Adaptation (2002)
Many of you might agree with us for listing Adaptation on top of this list and for those who don't agree, seriously guys? The movie is based on the real-life struggles of screenwriter Charlie Kaufman when he was trying to adapt Susan Orlean's book 'The Orchid Thief' on screen.
The movie is a raw portrayal of the struggles a writer faces both personally and professionally. Kaufman is someone who struggles with low self-esteem and has a hard time even confessing to a girl he loves. The same reflects in his work when he is too scared and doubtful to take the steps necessary for the progress of his project.
| | |
| --- | --- |
| IMDb Rating: 7.7/10 | Rotten Tomatoes Rating: 91% |
Watch the trailer for Adaptation:
Leaving Las Vegas (1995)
Let us warn you beforehand that this Nicolas Cage movie is not an easy watch. The 1995 release deals with self-destruction, alcoholism, and depression. The movie was considered way ahead of its time because of the way it dealt with the complex matter.
Nic plays the lead character of Ben Sanderson, a screenwriter who visits Las Vegas for the sole purpose of drinking his heart out as he struggles to deal with family issues and professional failure. There he bonds with a prostitute named Sara who is also dealing with major life problems. The actor won his first and only Academy Award for his impressive work in the movie.
| | |
| --- | --- |
| IMDb Rating: 7.5/10 | Rotten Tomatoes Rating: 91% |
Check out the trailer for Leaving Las Vegas:
Moonstruck (1987)
The timeless rom-com Moonstruck is from the golden era of Nicolas Cage and was released in 1987. The movie also starred Cher, Danny Aiello, and Olympia Dukakis. The movie won three awards at the 60th Academy Awards.
The movie revolves surround three individuals, Loretta, her boyfriend Johnny, and his brother Ronny. Johnny and Ronny are not on good terms and when Loretta comes to know that Ronny has a prosthetic hand due to Johnny's one careless accident she sympathises with Ronny. Soon they develop feelings for each other while Johnny is out of town.
| | |
| --- | --- |
| IMDb Rating: 7.1/10 | Rotten Tomatoes Rating: 92% |
Here is the trailer for the movie Moonstruck:
Valley Girl (1983)
Valley Girl as the title suggests is about a valley girl, Julie, played by Deborah Foreman, and a city punk, Randy, played by Nicolas Cage. Despite being from different worlds they end up falling for each other, pretty predictable right?
But there's more to the movie than their romance story. The character development of Julie and Randy is beautifully portrayed which is sometimes relatable and sometimes will force you to sympathise with them. This was the first movie Nic starred as the lead and since then became the romance hero of Hollywood.
| | |
| --- | --- |
| IMDb Rating: 6.4/10 | Rotten Tomatoes Rating: 83% |
Trailer for the movie Valley Girl:
Raising Arizona (1987)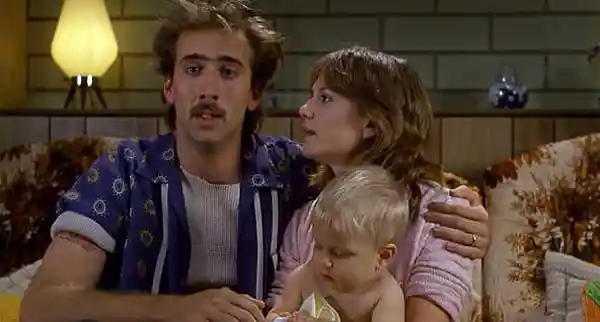 The 1987 release is a heartwarming comedy about kidnapping a child. Confused? The movie is about an ex-convict and a policewoman, played by Cage and Holly Hunter, falling in love with each other. Adorable till now? But when they learn that they can't conceive a baby, they decide to kidnap one of the triplets. *judgemental side eye*
Cage proved that he can pull off comedic roles in his own way and win over the audience. The sweet and cartoonish chemistry between both the actors was loved by the audience and made the movie a box office success.
| | |
| --- | --- |
| IMDb Rating: 7.3/10 | Rotten Tomatoes Rating: 90% |
Watch the trailer for Raising Arizona:
Mandy (2018)
The action horror movie starring Nicolas Cage and Andrea Riseborough premiered at the Sundance Film Festival. Mandy stood out for various reasons one being the dark, gothic, and violently gripping filmography.
Red and his girlfriend, Mandy are leading a secluded life in the woods but their peaceful life changes for the worst when a religious cult leader, Sandy, is attracted to Mandy's beauty. He goes to extreme extents and asks a cannibalistic biker club to bring Mandy to him at any cost. What follows is a series of brutal murders for revenge and love.
| | |
| --- | --- |
| IMDb Rating: 6.5/10 | Rotten Tomatoes Rating: 90% |
Check out the trailer for Mandy:
National Treasure (2004)
The movie was released in 2004 starring Nicolas Cage, Sean Bean, Diane Kruger, and Justin Bartha. The plot revolves around finding a hidden treasure. Ben has to track the treasure before his accomplice Ian can reach it as he might misuse it.
The movie is an adrenaline-filled cat-and-mouse chase set in different scenic locations. Ian decides to steal the 'Declaration of Independence in the hopes of finding some crucial clues but when Ben learns about his plans he does his best to stop Ian. The commercial success of the movie led to a sequel in 2007 and the third installment in the franchise is awaiting release.
| | |
| --- | --- |
| IMDb Rating: 6.9/10 | Rotten Tomatoes Rating: 46% |
Watch the trailer for National Treasure:
Ghost Rider (2007)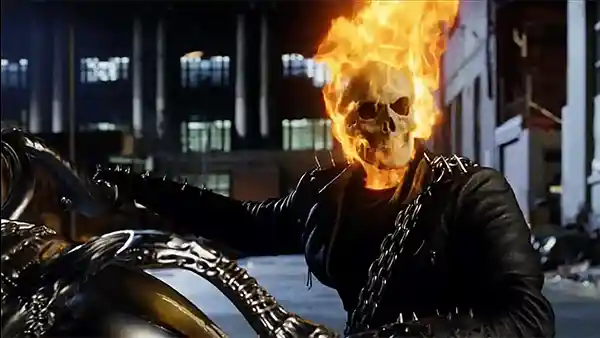 Ghost Rider is one of a cult classic Nicolas Cage movies that needs no introduction. The fiery rider and the bike pop into our minds as soon as we hear Ghost Rider. The movie is based on the Marvel Comic character of the same name.
Cage played the lead character of Johnny Blaze, a motorcyclist who trades his soul with the Mephistopheles in return for his father's life. Mephistopheles uses Johny to end all the evil spirits on earth so that the devil, Blackheart's, plan of bringing hell on earth fails.
| | |
| --- | --- |
| IMDb Rating: 5.3/10 | Rotten Tomatoes Rating: 27% |
Enjoy the trailer for the movie Ghost Rider:
Pig (2021)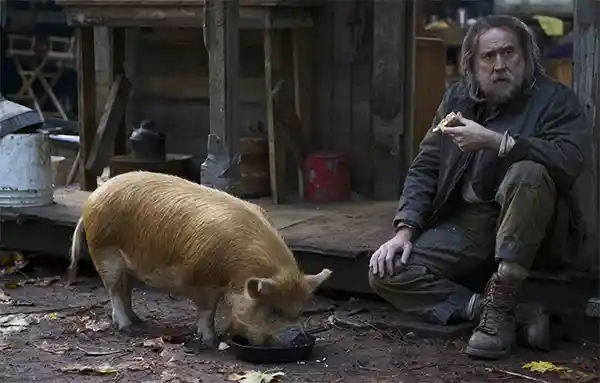 We love all of the Nicolas Cage movies but which one is his favorite? It's the 2021 release of Pig. This should be more than enough to convince you about the film. The movie is a heart-touching story of a truffle hunter, Rob, played by Cage, and his beloved pig who helps him in the hunt.
The movie follows a heart-touching storyline and Cage has done an excellent job of portraying the emotions of love, separation, and acceptance. When he learns that one of his acquaintances was behind the kidnapping of his beloved pig, he is devastated but also tries to understand the situation and eventually accepts it.
| | |
| --- | --- |
| IMDb Rating: 6.9/10 | Rotten Tomatoes Rating: 97% |
Watch the trailer for the movie Pig:
Color Out of Space (2020)
A cinematic masterpiece. Yes, that is what Nicholas Cage's Color Out of Space is. If you enjoyed Mandy, this one will have your heart. The movie falls into the lesser-known genre of cosmic horror and can be a perfect introduction if you are not aware of the genre.
The plot revolves around The Gardners family who is stuck by a cosmic meteor that seems to contaminate everything with some otherworldly colors. Horror follows when the family realizes that this force is mutating everything that falls under its light including the family members.
| | |
| --- | --- |
| IMDb Rating: 6.2/10 | Rotten Tomatoes Rating: 86% |
Enjoy the trailer for Color Out of Space:
Conclusion
Phew! It was not easy to squeeze the best Nicolas Cage movies into a list of the top 10. But hey, all of them are worth watching and you have my word for it. He is the definition of an 'audience's actor' and even after years of stardom still pushes himself for betterment which makes us fall in love with him even more. The actor has four projects lined up for next year, namely, Dream Scenario, Sand and Stones, Longlegs, and Arcadian.