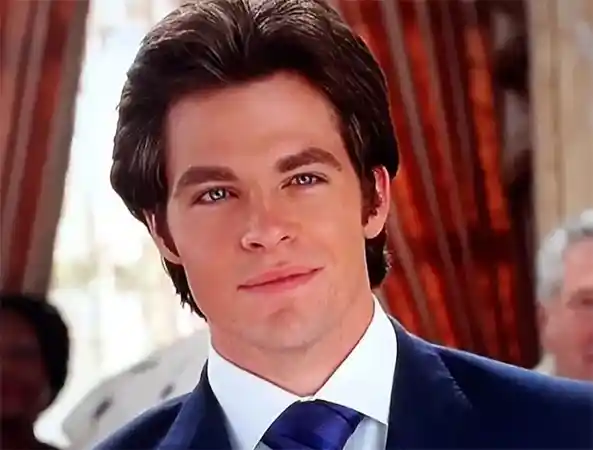 The Hollywood actor, Chris Pine needs no introduction! Although the rising star has several megahit movies in his bag, he is popularly known for his blockbuster film Star Trek. He rose to prominence after appearing in this superhit franchise and skipped the heartbeat of many by giving his high-voltage performance. As not only his parents but his grandmother was also an amazing actor, we can say that he got this talent inherently.
Some of the famous work of Chris Pine includes the DC Extended Universe films Wonder Woman and Wonder Woman 1984, the Star Trek reboot film series, Dungeons & Dragons: Honor Among Thieves, Unstoppable, and Hell or High Water. Apart from all these, there are various other works as well which made his fans lose their marbles due to the breathtaking plot, high visual effects, and animation. Let's learn everything about the 12 best Chris Pine movies by delving into this post.
Spider-Man: Into the Spider-Verse (2018)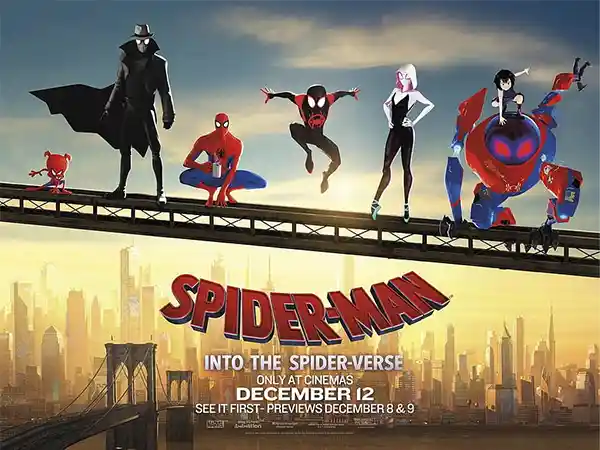 Spider-Man: Into the Spider-Verse is one of the most celebrated works of Chris Pine. Released on December 2018, it is an animated superhero film that despite being made with a small budget received immense love from the audience and made huge box office earnings. It marked the first installment in the Spiderman series and became the first non-Disney/Pixar film to win the Best Animated Feature Film at the 91st Academy Awards.
This film follows the story of a Brooklyn boy named Miles Morales who got unimaginable powers after being bitten by a radioactive Spiderman. This incident transformed his life completely and he became a superhero who remains confused about how to use his powers at the beginning but later saves the world.
| | |
| --- | --- |
| Rotten Tomatoes Rating: 97% | IMDb Rating: 8.4/10 |
Click below to Watch Spider-Man: Into the Spider-Verse Movie Trailer-
Love, Antosha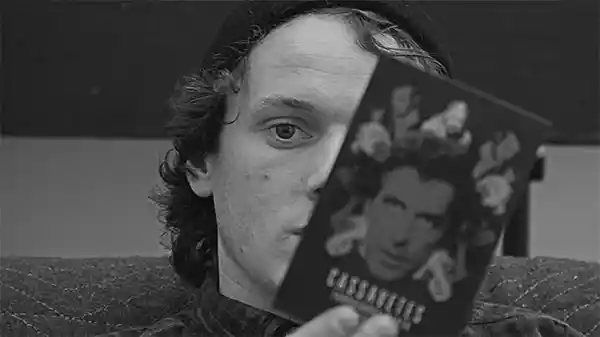 The next Chris Pine movie we've added to our list is Love, Antosha. Directed and produced by Garrett Price, it is a documentary film. This film is based on the life of the late American actor, Anton Yelchin who suffered from cystic fibrosis for a long time but never gave up his dreams and achieved great things in his life and career.
The maker of this movie, Garret Price made this masterpiece after deeply observing the life of Anton Yelchin by keenly reading his writings and journals and meeting with his family, friends, and colleagues.
| | |
| --- | --- |
| Rotten Tomatoes Rating: 97% | IMDb Rating: 8.1/10 |
Here is the Love, Antosha Movie Trailer-
Hell or High Water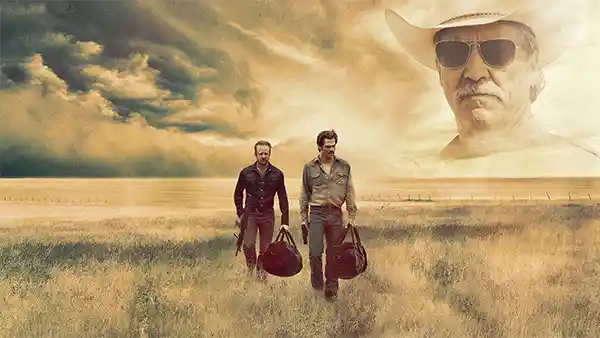 Directed by David Mackenzie and produced by Sidney Kimmel, Peter Berg, Carla Hacken, and Julie Yorn, the Hell or High Water movie was released in 2016. It shows the story of a divorcee named Toby Howard who lives with his two sons and decides to rob the Texas Midlands Bank after the release of his brother, Tanner from prison to pay the loan so that he can save his family ranch. Additionally, he dreams of giving a better life to his sons.
Chris Pine gave an applaudable performance in this film and makes a lot of effort to make this movie a big success. In addition to getting a lot of positive comments, this neo-western crime drama film received numerous nominations in various prestigious awards, including Oscar.
| | |
| --- | --- |
| Rotten Tomatoes Rating: 97% | IMDb Rating: 7.6/10 |
Watch the Hell or High Water Trailer Now-
Star Trek 
Star Trek is a science fiction media franchise and one of the popular Chris Pine movies created by American television screenwriter, and producer, Gene Roddenberry. This popular franchise began with a television serial and ended up becoming the highest-grossing media franchise of all time that includes several films, television series, comic books, novels, and video games.
This film shows the adventurous journey of the crew of the starship USS Enterprise created by the United Federation of Planets in the 23rd century to find a new world where life exists. But their collision with the Romulan commander, Nero puts the entire world in the threat of destruction. After performing well at the box office and getting oodles of love around the globe, the name of this franchise was added to the Guinness Word Record in 2016 as the most successful science fiction television franchise in the world.
| | |
| --- | --- |
| Rotten Tomatoes Rating: 94% | IMDb Rating: 7.9/10 |
Click Here to Watch the Star Trek Trailer-
Wonder Woman
Based on the DC comic character of the same name, Wonder Woman is a superhero film. It shows the wonderful tale of the Amazon Princess, Dianna who turns into a wonder woman after knowing the condition of the outside world by a pilot named Steve Trevor whose plane crashes on the warriors' secluded island paradise.
This 2017 film marks the fourth installment in the DC Extended Universe and serves as a prequel to Zack Snyder's superhero movie, Batman v Superman: Dawn of Justice. It made a remarkable earning in the first week of its release but faced a huge drop in its second week.
| | |
| --- | --- |
| Rotten Tomatoes Rating: 93% | IMDb Rating: 7.4/10 |
Watch Here the Wonder Woman Trailer Now
Dungeons & Dragons: Honor Among Thieves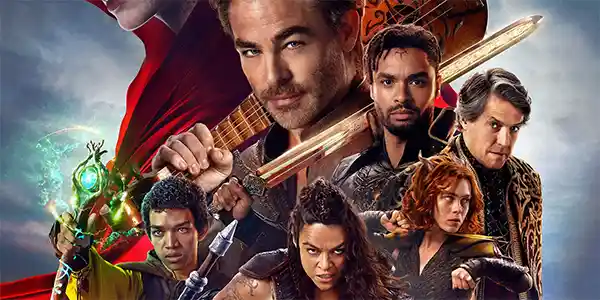 Chris Pine new movie Dungeons & Dragons: Honor Among Thieves was
released this year in March. Based on the tabletop role-playing game Dungeons & Dragons, this movie stars Chris Pine, Regé-Jean Page, Michelle Rodriguez, Hugh Grant, Sophia Lillis, and Justice Smith. Although this film received positive reviews, failed to make a remarkable collection and earned only $208 million worldwide with a budget of $150 million.
Set in a world full of creepy crawly, dangerous wizards, dark secrets, and black magic, this fantasy heist comedy film follows the story of a thief and a band who embarks on a mission to retrieve the relic that has been lost but fall into trouble after getting into conflict with the wrong people.
| | |
| --- | --- |
| Rotten Tomatoes Rating: 90% | IMDb Rating: 7.3/10 |
Dungeons & Dragons: Honor Among Thieves Movie Trailer-
Stretch
Among all the Chris Pine movies, Stretch is a comedy crime film that shows a completely different side of the handsome hunk Chris Pine. Apart from him, it stars Patrick Wilson, Jessica Alba, Ed Helms, Brooklyn Decker, and James Badge Dale in the lead roles.
The plot of this film revolves around a man named Stretch played by Patrick Wilson who acted as a hard-luck limo driver struggling to pay off the heavy debt that he has taken from some dangerous people. He agrees to drive the car for an eccentric millionaire who has connections with underworld gangsters because it is the last chance for him to collect the money.
| | |
| --- | --- |
| Rotten Tomatoes Rating: 88% | IMDb Rating: 6.5/10 |
Click Here to Watch the Stretch Movie Trailer-
Unstoppable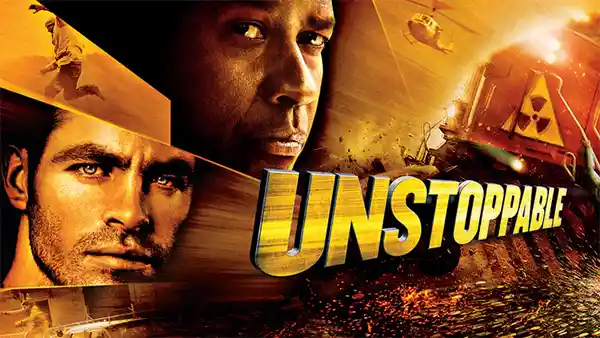 Unstoppable is a fully action-packed movie that is loved by many. It marks the fifth collaboration between the director Tony Scott and the well-known actor Denzel Washington who played the lead in this movie with Chris Pine.
Inspired by real-life incidents, it shows the attempt of two personalities– a veteran engineer (Denzel Washington) and a young conductor (Chris Pine) who tries to stop the runaway freight train called CSX Locomotive #8888 and later named Crazy Eights which carries a cargo of toxic chemicals. They attempt to control it before the train gets derailed from the track and the toxic chemical spill out and devastates the town.
| | |
| --- | --- |
| Rotten Tomatoes Rating: 87% | IMDb Rating: 6.8/10 |
Watch the Unstoppable Movie Trailer Now-
Star Trek Beyond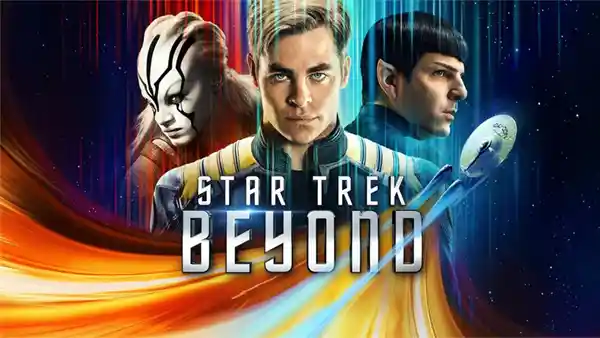 The science fiction action film, Star Trek Beyond premiered on July 2016. Based on the television series Star Trek, it is the third installment in the reboot series that contains six parts of the Star Trek movies with Chris Pine. This film shooked the film industry and broke several previous records after grossing over $343.5 million. Along with Chris Pine, this movie featured John Cho, Simon Pegg, Zachary Quinto, Idris Elba, Anton Yelchin, Karl Urban, and Zoe Saldana.
The protagonist of this movie, Kirk played by Chris Pine and his crew meet with a lizard-like creature named Krall in outer space who usually gets powers by sucking the life of an individual. That creature makes a surprise attack on them and tries to crash-land their spacecraft in a mysterious place.
| | |
| --- | --- |
| Rotten Tomatoes Rating: 86% | IMDb Rating: 7.0/10 |
Click Below to Watch the Star Trek Movie trailer-
Z for Zachariah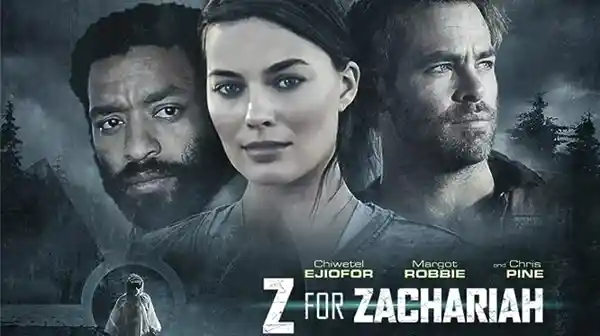 Z for Zachariah film is the adaptation of the posthumously-published novel by Robert C. O'Brien. Made under the direction of Craig Zobel, this apocalyptic science-fiction film was released in September 2015. This Chris Pine movie received positive reviews and got a quite good Rotten Tomatoes rating.
Set in the post-nuclear landscape, this film revolves around the lead character Ann Burden who considers herself to be the last person on this earth and the only survivor of the nuclear war in which she has lost his family and becomes an orphan. She spares from the explosion due to her farm environment and the only one who accompanies her is her dog Faro. After living one year lonely, she meets a black engineer and a white man, and a love triangle forms between them.
| | |
| --- | --- |
| Rotten Tomatoes Rating: 78% | IMDb Rating: 6.0/10 |
Watch Here the Z for Zachariah Movie Trailer-
Rise of the Guardians
Based on the book series The Guardians of Childhood and the short film The Man in the Moon by William Joyce, the movie Rise of the Guardians is a 3D animated action-adventure film. Its punching lines, memorable plot, and marvelous animation became successful in winning the hearts of countless audiences and it grossed $306.9 million with a budget of $145 million.
In this superhit movie, the immortal guardians including Jack Frost, Santa Claus, the Easter Bunny, the Sandman, and the Tooth Fairy united to safeguard the children around the world from the evil plans of the Boogeyman named Pitch Black who wants to engulf the world into darkness.
| | |
| --- | --- |
| Rotten Tomatoes Rating: 74% | IMDb Rating: 7.2/10 |
Click Here to watch the Rise of the Guardian Trailer-
Carriers
After A few months after the release of the megahit Star Trek movies of Chris Pine, Carriers was released and received positive reviews. Directed by Alex and David Pastor, it is a post-apocalyptic film that only grossed $5.8 million but its name is taken in the wonderful movie projects of the American actor Chris Pine.
Chris Pine played the lead role of a young guy named Brian in this film who tries to elude the pandemic that has spread worldwide due to a deadly virus known as 'The World Ender Virus' with the help of his brother Danny, girlfriend Bobby, and friend Kate. These four personalities dream of making a plague-free haven and struggles to make it a reality.
| | |
| --- | --- |
| Rotten Tomatoes Rating: 66% | IMDb Rating: 6.0/10 |
Watch the Carriers Movie Trailer Now-