Even if you are not a Hollywood movie buff, there is a limited chance of you not hearing about Amber Heard. Amber Heard was in the limelight after her infamous defamation case with her ex-husband and actor Johnny Depp.
Apart from all that went down in her personal life, Amber Heard has had an impressive enough acting career that she is considered to be one of the top Hollywood actresses of all time.
Like most of the stars, she started her career as a supporting actress and moved on to lead roles as she impressed her audience with her skills.
The first film of Amber Heard movies career is 'All The Boys Love Mandy Lane.' She has never looked back since then. Amber Heard's portrayal of Mandy Lane's complex character left a long-lasting impression on the audience. The actress has, since then, explored a variety of genres and proved her versatility as an actor.
Since she is one of the hottest actors in Hollywood, we have curated Amber Heard movies list in which you will find her best movies that you can enjoy in your leisure time.
Aquaman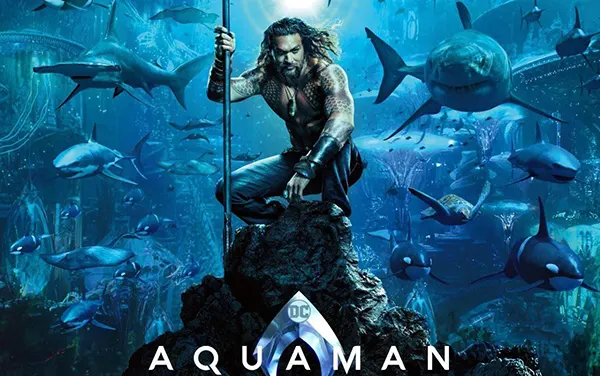 The first movie that we've added to the Amber Heard movie list is Aquaman which was released in 2018 and is part of the DC Comics franchise. Jason Momoa plays the role of Aquaman, and Amber plays the role of Aquaman's love interest, Mera. Aquaman has to save the underwater world of Atlantis from the hands of his malicious half-brother, Orm. Vulko is the political advisor of Atlantis, who, along with Mera, helps Aquaman in his mission to save Atlantis.
Here is the official trailer for the movie:
With the sequel Aquaman and the Lost Kingdom set to release at the end of this year, fans are eager to see Amber Heard return to the big screen.
All The Boys Love Mandy Lane
Next movie that comes to Amber Heard movie list is All The Boys Love Mandy Lane. This horror thriller movie marked her debut as a lead actor in 2006.
The plot of this movie revolves around a teenager named Mandy Lane, played by Amber. Mandy becomes the center of attraction after the summer break as she attracts a lot of male attention.
She, along with her best friend Emmet, attends a pool party of one of her classmates, Dylan. Emmet is bullied and humiliated at the party by Dylan, and as revenge, the former manipulates a drunk Dylan to jump off a roof leading to his death. This incident marks the beginning of all the unfortunate events that follow.
Emmet sets on a spree to kill all his bullies one after another. It is revealed later that Mandy has been involved in his plan all along, and they both had a suicide pact together. In the end, Emily goes back on her words which makes Emmit furious, and he tries to kill Emily. Both of them get into a physical fight which leads to Emily killing Emmit. To date, this ranks as one of Amber Heard's best movies from her career.
Here is the official trailer of the movie:
The Rum Diary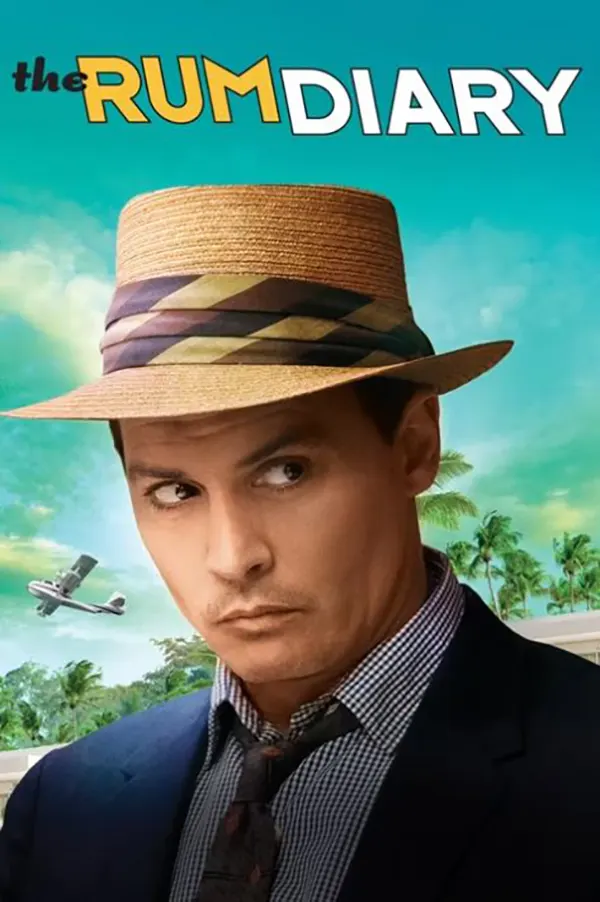 Although all of Amber Heard movie roles are quite applaudable, she has done a remarkable job in the comedy-drama film The Rum Diary which also stars
Johnny Depp. The movie was released in 2011 and received mixed reviews from both the audience and the critic. It is based on Hunter S Thompson's novel of the same name.
The plot revolves around the story of a journalist, Paul Kemp, who moves to Puerto Rico, an island, after ditching his monotonous life in New York. There he is smitten with Chenault, played by Amber Heard. Chenault is the fiancee of a businessman named Sanderson. Paul later discovers some of Sanderson's shady business and decides to bring him down for the sake of the beautiful island and its innocent population.
This Amber Heard movie is the first one that she has done with Johnny Depp.
Here is the official trailer of the movie:
3 Days To Kill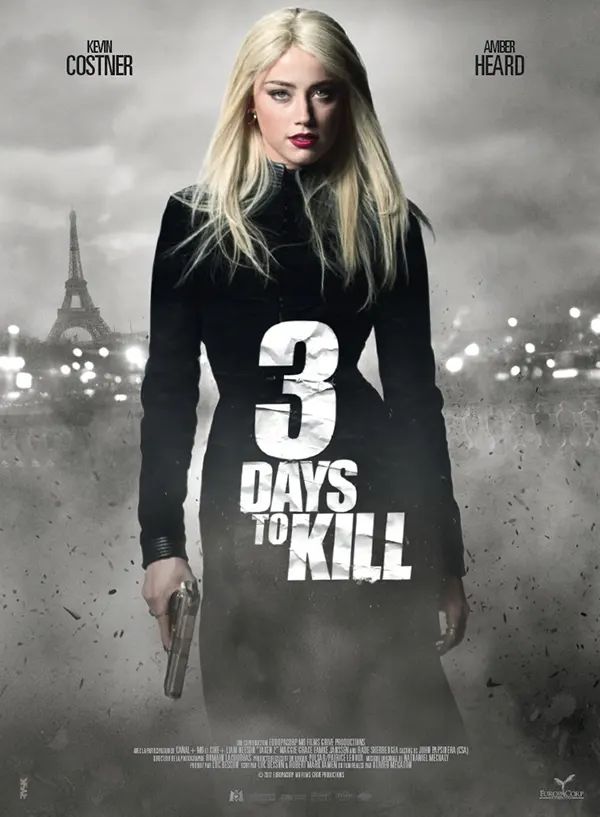 One of the superhit movies Amber Heard, 3 Days To Kill is a crime fiction that also stars Kevin Costner. Kevin plays the character of a terminally ill international spy, Ethan Renner, who decides to spend his last days reconciling with his family. Amber Heard can be seen as Vivi Delay, one of the CIA's elite assassins.
Ethan has always maintained a safe distance from his family due to his work, but after being diagnosed with cancer, he decides to take a break. He has to complete one last mission before he can take a break, and it involves one of his toughest missions.
He has to go after the world's most ruthless terrorist while also searching for his teenage daughter, who has been missing for almost ten years. Renner survives the timeline given by his doctor and promises his wife to quit work and retires happily.
Here is the official trailer of the movie:
Drive Angry
Among all of Amber Heard movie roles, the actress has been most loved in the action fantasy movie Drive Angry, released in 2011. The movie stars Nicolas Cage as John Milton opposite Amber Heard, who plays the character of Piper Lee.
Milton steals Satan's gun and escapes hell to save his granddaughter. His daughter is murdered, and his infant daughter is kidnapped by a cult that plans to kill her as a sacrifice to Satan. On his way, he comes across Piper Lee, who works as a waitress and joins him for the mission, unaware of his true identity.
When she learns about the whole story, she promises Milton to stay by his side. After saving his granddaughter, Milton has to return to hell. Piper assures him to take care of his granddaughter for him.
Here is the official trailer of the movie:
The Ward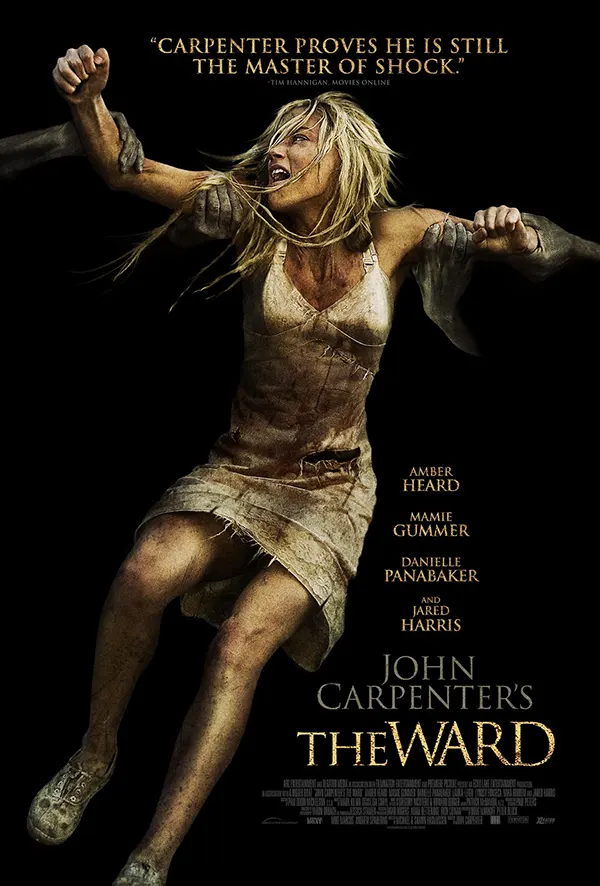 Let's jump to the next we've mentioned in our Amber Heard movies list. The Ward is a psychological horror thriller that was released in 2010. The movie witnessed Amber Heard's intense acting and earned her praise from fans and critics equally.
The story revolves around a young girl named Kristine who is admitted to Coos Bay Psychiatric Hospital after she sets fire to an abandoned farmhouse. Upon reaching the hospital, her stranger encounters with supernatural beings begin. No one believes her when she tries to explain her supernatural encounters, and she is forced to go through shock therapy.
She discovers that the ghost's name is Alice Leigh Hudson, and she has been killing the girls at the hospital one by one. Kristine decides to save her friends but fails terribly. She decides to sneak into Dr. Stringer's office and finds Alice's file along with the files of other patients.
At that moment, it is revealed that Alice is Kristen's real identity and that she created all the other personalities to cope with her traumatic past. Alice created 'Kristine' in an attempt to protect all her other personalities.
Here is the official trailer of the movie:
Paranoia
Paranoia is one of the most successful movies Amber Heard starring Liam Hemsworth. Paranoia is based on Joseph Finer's novel of the name. Liam Hemsworth plays the character of Adam Cassidy, a regular corporate guy who works for Wyatt's company.
Adam's seemingly everyday life is hindered when he is forced to work as a spy agent for the company he works with. He receives training to steal the trade secrets of the rival company run by Jock Goddard. During his mission, he meets Emma Jennings, played by Amber Heard, the Director of the rival company Adam is trying to steal data from.
Adam initiates a relationship with Emma to get his hands on some data and information on Goddard's company. Adam is later given a timeline and threatened to steal a prototype. He is fighting against the time when he uses Emma's fingerprint from a spoon and gets access to the company's security.
Before he can complete his mission, he is confronted by Goddard, who tries to use Adam's spy activities as a way to take over Wyatt's company. Adam carefully plots a plan to escape from the risky corporate web. Everyone involved gets arrested, and Adam shifts to Brooklyn to start his new venture and reconciles with Emma.
Here is the official trailer of the movie:
Never Back Down
Amber Heard movie, Never Back Down is an action-packed drama film that was released in 2008. The film depicts the life of a high schooler, Jake Tyler, played by Sean Faris, whose father dies in a car accident which leads to his miserable life in school. Amber Heard plays the character of Baja Miller, who Jake Tyler has a crush on.
Baja invites Jake to a party where he is forced to fight the school's professional MMA fighter, Ryan McCarthy, who is also Baja's boyfriend. Ryan very easily beats Jake, and he is humiliated in front of the whole school.
Eventually, Jake comes in touch with an MMA instructor Roqua through his friend Max. Roqua decides to train Jake once he is convinced that Jake is physically fit for his training. Jake's video of getting involved in a road rage fight goes viral in their school, and Jake regains his social status in school.
Ryan gets agitated and challenges Jack to an underground fight tournament. Baja breaks up with Ryan, which eventually leads to Jake and Baja's relationship. Ryan gets disqualified from the competition, which leads to Jake and Ryan's face-off in the parking lot in which Jake beats Ryan.
Here is the official trailer of the movie:
London Fields
Another blockbuster Amber Heard movie is London Fields. It is a neo-noir film released in the year 2018.
Her character, Nicola Six, can foresee the deaths of people, including her own. She plays a risky game of coning three men at a time as she has to figure out which one of them is going to kill her. Samson Young is a terminally ill writer who finds his muse in Nicola and convinces her to be the main character of his novel.
Keith Talent is a crude who excels at darts and starts flirting with Nicola as soon as he sees her. Guy Clinch is a family man who is stuck in a loveless marriage with an unstable child. She lays a plan and goes out with both Keith and Clinch at the same time.
On her 30th birthday, she finally learns that Samson is the one who will kill her. Since there is nothing much that she can do, she decides to accept her fate and gets killed. After killing Nicola, Samson prints his novel and dies beside Nicola. Later Mark finds the novel and publishes it under his name, which turns out to be a bestseller.
Among all of Amber Heard movie roles, this one captured the audience's heart as she portrayed the depth of her character like no one else ever could.
Here is the official trailer of the movie:
Adderall Diaries
Last but not the least, the film that we've included in the Amber Heard movie list is Adderall Diaries. It is based on the true crime memoir book of the same name. It is about a successful writer, Stephen Elliot, who has had a traumatic past with his abusive father and uses drug abuse as a coping mechanism.
Stephen, in his 30s, accepts a deal to write a book about a software guru, Hans Reiser. While he is working on this book, his completed book, which is his autobiography, is set to release. When he mentions his abusive father, Neil Elliot, in a press conference, Neil straight up accuses Stephan of lying and making up fake scenarios.
It is later revealed that Stephan was falsely remembering some of his past experiences. Though Neil was not a perfect parent, he was never downright abusive. On the other hand, he has to attend the trials of Hans Reiser, whose wife has gone missing, and all the evidence is against Hans. Amber Heard play, Lana Edmond, who is the trial reporter of this case and love interest of Stephen.
Though Amber's role is limited in the movie, her character creates an impact that shines through.
Here is the official trailer of the movie:
Amber Heard became a household name around the world after her infamous court case with Johnny Depp, which also led to her image getting tarnished. She has served some of the best plots in Hollywood. Amber Heard movie roles are proof of her being one of the best in the business. Amber has explored all kinds of genres, from romantic comedies to psychological thrillers, and hence has something for everyone.
Suggested Articles: