When it comes to a good romance movie, there are a few who have mastered the art of romance without falling into the cliche category. Hollywood is known to adapt many novels into movies and has done so for years. Talk about the best romance movies and you are sure to find at least one of all Nicholas Sparks movies in the list. If you are not a book person, we have got you covered with all the movies based on the Nicholas Sparks books.
There are 11 movie adaptations of the New York Times best-selling author and each movie is considered a masterpiece with its heartouching storyline and emotional connection. The Notebook, published in 1996 was his breakthrough novel which became the New York Bestseller. Ever since he has never looked back and Hollywood has never missed an opportunity to utilize his creative works.
Also Suggested: Top 25 Michael Madsen Movies List
Nicholas Sparks Biography
Born in 1965 in the United States, Sparks attended the University of Notre Dame. You might be shocked to find that his initial plan was to become an athlete and even had a scholarship with him. But things changed when he had an injury that put a break to his athletic dreams. Eventually, he resorted to writing and published his first novel.
Though he is known for his romance novels, Sparks has always denied the title of 'romance novelist', and many experts agree with him. Though the main focus of his stories has always been romance it deals with many other factors as well like grief, depression, and loneliness. Guess that is what makes him the best in the game.
Unlike his books, Sparks has not been lucky enough in his real love life. Though his love story with his ex-wife Cathy started off in a magical way, the duo got separated in 2015. He has never shied away from expressing his admiration for Cathy and has revealed that many of the female lead characters are inspired by her. The duo are still in touch and respect each other but refrain from talking much about the split for the sake of their children.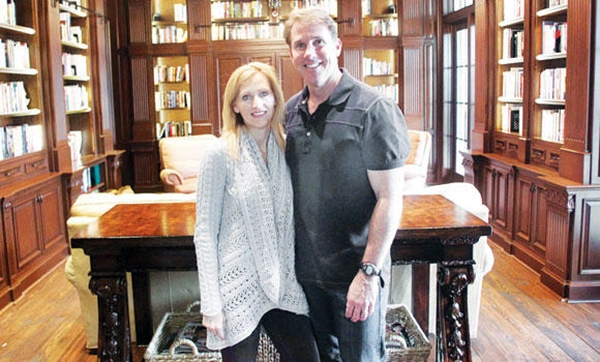 There is no doubt that Nicholas Sparks movies have never failed to make us all feel gushy and somewhere wish to have a love life just like his creative world. So to pay tribute to the world's favorite author, we have listed below all the movies based on the Nicholas Sparks books.
11. Nights in Rodanthe
Among all the Nicholas Sparks movies, Nights in Rodanthe can be classified as a more mature romance story. The plot feels like it was targeted at a certain group of audience who feel too old to find new love in their lives. The movie was released in 2008 and stars one of the favorite on-screen pair, Richard Gere and Diane Lane.
Adrianne is going through a hard time dealing with her divorce and a rebellious teenage daughter when she decides to give herself a break. She offers to look after a friend's inn in Roadanthe, North Carolina. Fate has some other plans when a surgeon, Paul Flanner, checks in for the weekend. They instantly connect with each other while sharing their pasts.
Quote: "The greater the love, the greater the tragedy when it's over."
IMDb Rating: 6/10
Trailer for the movie Nights in Rodanthe:
Also Read: Top 10 Peter Sellers Movies: That Are Must-Watch
10. The Last Song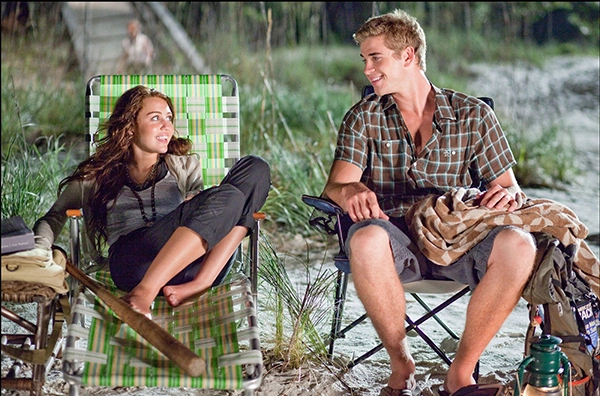 The 2010 coming-of-age movie was in the headlines as it sparked real-life romance between the ex-couple Miley Cyrus and Liam Hemsworth. It is one of the best Liam Hemsworth movies. The Nicholas Sparks movie worked as a stepping stone for both the stars as they were widely appreciated for their work in the movie. The readers were slightly disappointed to find that a lot of charming moments from the book didn't make it to the movie adaptation.
Miley Cyrus plays the character of Ronnie who visits her father to spend the summer. There she meets Will, played by Liam Hemsworth, and the two start to connect with each other. Ronnie has an estranged relationship with her father after her parent's divorce. Will plays an important role in bringing back the father and daughter duo together.
Quote: "Love is fragile. And we are not always its best caretakers. We just muddle through and do the best we can. And hope this fragile thing survives against all odds."
IMDb Rating: 6/10
Enjoy the trailer for The Last Song:
9. Message in a Bottle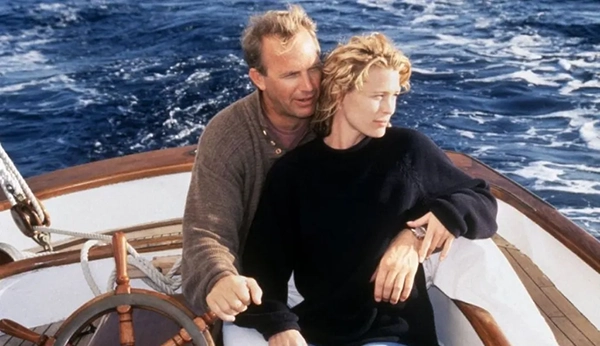 The 1999 movie was the first Nicholas Sparks movie and was a box office hit. The movie stars, Robin Wright, Paul Newman, and Kevin Costner who is famous for his baseball movies. The movie was not appreciated much by the critics at the time of release. The movie does not exactly have a happy ending like you would expect in a romantic movie, but the storyline and the characters will have you wanting more.
Theressa is a journalist who comes across a bottled message to a lady named Catherine and is intrigued to find out more about the letter. With the help of her team, she manages to reach the sender, Garret, who lives quietly in the Outer Banks of North Carolina. Things get complicated when they start developing a mutual liking for each other.
Quote: "You've gotten so caught up in being alone that you're afraid of what might happen if you actually find someone else that can take you away from it."
IMDb Rating: 6.2/10
Watch Here the trailer for Message in a Bottle:
8. Dear John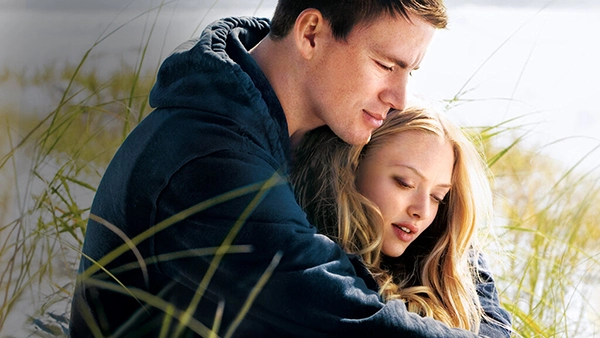 The romantic war drama movie, Dear John, was released in 2010 and managed to top the charts replacing Avatar with the number one spot. John, played by Channing Tatum, is a soldier who has to cut short his leave after the 9/11 tragedy and return to the army. While on the break, he meets Savannah, played by Amanda Seyfried, a college student who is working for an NGO. They both connect instantly and promise to write letters to each other when John has to leave.
The true essence of the movie is letters shared by the couple and takes you to make in the good old days of romance. Though fans who read the book were disappointed with the movie as the adaptation altered the original story. Nonetheless, the movie performed well in terms of box office collection.
Quote: "No matter where you are in the world, the moon is never bigger than your thumb."
IMDb Rating: 6.3/10
Watch the trailer for Dear John:
7. The Lucky One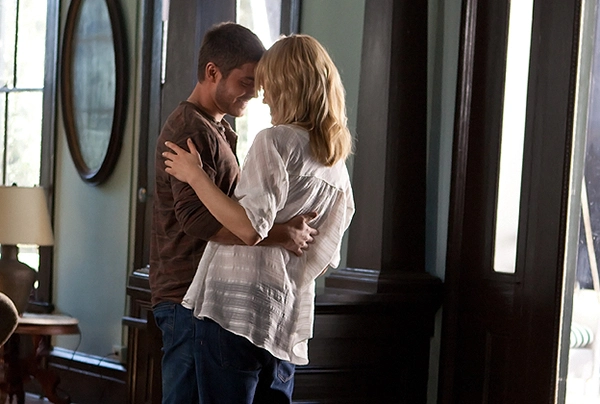 The 2012 movie starred well-known faces, Zac Efron and Taylor Schilling as Logan and Beth respectively. Logan is a US marine who happens to find a photograph of Beth in a critical life-saving moment and believes her to be his guardian angel. When he returns from his service, he sets to find out the lady in the photograph.
His search leads him to Lousiana, where he meets Beth who lives alone with her son. It's not easy for him to initiate anything with Beth as she is dealing with a lot in her life but he decides to stand strong by her side and eventually, they both fall in love with each other.
Quote: "Everyone has their own destiny. Not everyone makes the choice to follow it. And I'm lucky I did."
IMDb Rating: 6.4/10
Check out the trailer for The Lucky One:
6. The Choice
The 2016 romantic drama, The Choice, was the most disappointing Nicholas Sparks movie in terms of box office collection. The movie starred Benjamin Walker and Teressa Palmer in the lead as Travis and Gabby respectively. The movie was considered very immature and for the teenage audience by the critics.
The plot begins when Gabby and Travis become next-door neighbors. Travis is a handsome young man who is very successful with women while Gabby is a medical student. Travis instantly falls in love with Gabby but the problem is they both are in a relationship with someone else. But circumstances change and they both start dating each other and the movie obviously has the Nicholas Sparks trademark tragedy.
Quote: "How far should a person go in the name of true love?"
IMDb Rating: 6.5/10
Trailer for the movie The Choice:
Also Read: Top 15 Maggie Grace Movies List: Her Best Performances
5. Safe Haven
The 2013 movie Safe Haven is slightly different from other Nicholas Sparks movies as it has an antagonist whose evil intentions are actively visible throughout the story. The movie stars Julianne Hough as Katie and Josh Duhamel as Alex.
Erin flees from her abusive husband to Southport, North Carolina, and starts living under a fake name, Katie. She decides to lead a low-key life until she meets Alex, a widowed father, and falls in love with him. The ending had a divided opinion though the movie kept the original ending of the book.
Quote: "When she looked up at him, it was suddenly easy for her to imagine that her fears were pointless. That he would love her no matter what she told him, and that he was the kind of man who loved her already and would love her forever."
IMDb Rating: 6.6/10
Watch the trailer for Safe Haven:
4. The Best of Me
The romantic tragedy, The Best of Me, starring James Marsden and Michelle Monaghan was released in 2014 and is one of the Nicholas Sparks movies that was not well received by the audience. The lead actors did their best with their convincing acting and on-screen chemistry but it could not make up for the plot. The tragic ending feels somewhat forced and repetitive.
Amanda and Dawson were high school sweethearts who had to split due to complicated reasons. After a long gap of two decades, the duo reunites following the death of one of their close friends. Amanda being in an unhappy relationship is split between her feelings for Dawson and their complicated past.
Quote: "You want me to fall back in love with you. How do I do that when I haven't ever stopped?"
IMDb Rating: 6.6/10
Here is the trailer for The Best of Me:
3. The Longest Ride
The 2015 movie, The Longest Ride, focuses on the lives of two couples. One present-day couple, Luke and Sophia, and one couple from the 1940s Ira and Ruth. Luke is a professional bull rider and Sophia is an art student. They both fall in love with each other but feel they can't become a couple due to their different lifestyles and preferences.
The duo comes an elderly man, Ira, who has lost his wife, Ruth. Ira helps them guide through the relationship with his own experience with his late wife. The movie is a beautiful tale of how with the right person only true love seems to matter.
Quote: If we had never met I think I would have known my life wasn't complete. And I would have wandered the world in search of you, even if I didn't know what I was looking for.
IMDb Rating: 7/10
Check out the trailer for The Longest Ride:
Also Read: Guide to the Best and Must-Watch Amy Adams Movies List
2. A Walk to Remember
If you believe movie adaptations can never do justice to books, A Walk To Remember is here to prove you wrong. The romantic tragedy was released in 2002. The only change made in the movie was that the plot was set in the late 1990s, unlike the book which was set in the 1950s. Believing that the audience might not find the setting relatable, the makers made the decision which turned out to be favorable.
The Nicholas Sparks movie experimented with the lethal combination of tragedy and romance which worked well for the audience. Jamie, played by Mandy Moore, and Landon, played by Shane West, had extraordinary chemistry on screen which contributed to the mass success of the movie. Jamie is a cancer patient with not much time to live while Landon is a spoilt rebel. Despite their opposite personalities they connect with each other and bring change to each other's lives.
Quote: "Jamie saved my life. She taught me everything. About life, hope, and the long journey ahead. I'll always miss her. But our love is like the wind. I can't see it, but I can feel it."
IMDb Rating: 7.3/10
Here is the trailer for A Walk to Remember:
1. The Notebook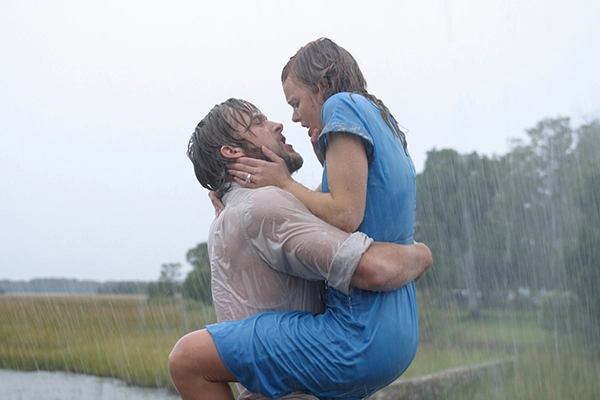 If you have not watched The Notebook, we are sorry to break it to you but society won't accept you. Just kidding! The Notebook is hands down the most famous Nicholas Sparks movie ever. There is a reason why it is considered a must-watch among cinema enthusiasts.
The movie starring Ryan Gosling and one of the hot Hollywood Actresses Rachel McAdams was released in 2004 and became a cult movie. The story is set in the 1940s when two young individuals belonging to different classes of society fall in love with each other. The movie is narrated by an elderly man in a flashback manner from a notebook. Noah, played by Ryan Gosling, is instantly attracted to Allie, played by Rachel McAdams but can their summer love survive the seasons or is it meant to wash away?
Quote: "We fell in love despite our differences, and once we did, something rare and beautiful was created."
IMDb Rating: 7.8/10
Watch the trailer for The Notebook:
Conclusion
Nicholas Sparks has impressed his audience as a novelist, screenwriter, and film producer for years. If you are not a true-blue romance movie enthusiast, there must be at least one Nicholas Sparks movie that will strike your liking. We have covered all the movies based on the Nicholas Sparks books and hope to see more of such masterpieces in the future.
Also, Check Out: