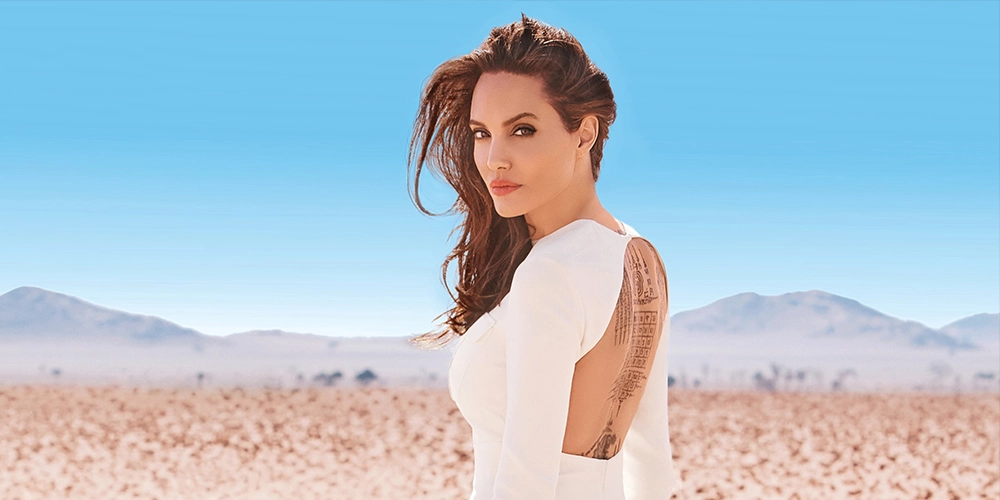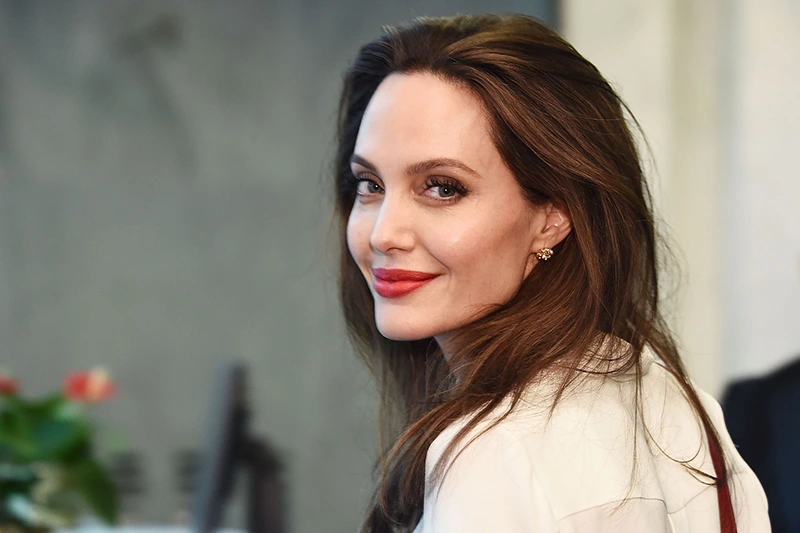 It's quite impossible to find someone who has not had a crush on Angelina Jolie. But can we blame anyone? She is a literal goddess! An award-winning actress and filmmaker with decades of experience in front of and behind the camera, she continues to capture audiences around the world with her impressive talent and unrivaled beauty.  
The actress is one of the hottest Hollywood actresses and influential personalities as not only has she made a mark in the entertainment industry but has been involved in a lot of humanitarian work for years. She is the definition of "beautiful inside out." She has emerged as the most recognized Hollywood celebrity as she proved her talent both on-screen and off-screen. Let's go through the Angelina Jolie movies list that made her the star we see today.
Girl, Interrupted (1999)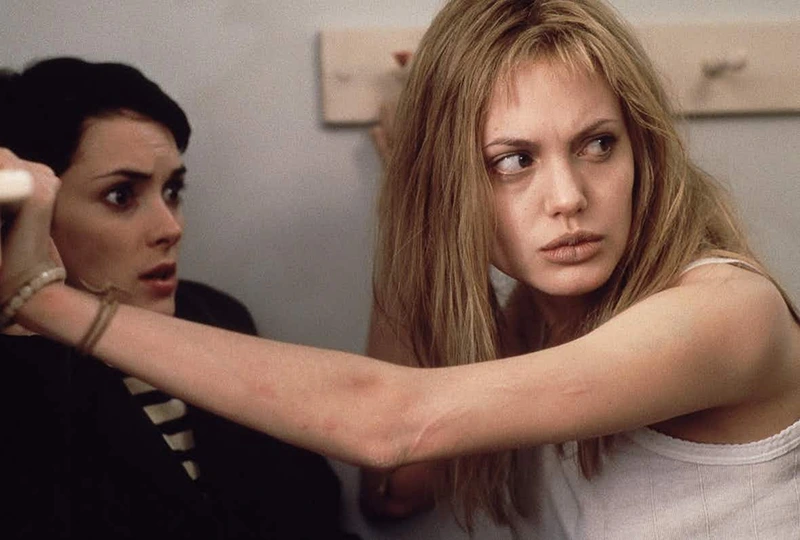 | | |
| --- | --- |
| Rotten Tomatoes Rating | 53% |
| Release Date | 8 December 1999 |
| Directed By | James Mangold |
The 1999 release has to be at the top of Angelina Jolie movies list as it features her star-making performance. Girl, Interrupted was an essential stepping stone to her success as a leading lady in Hollywood. Her remarkable acting propelled her career forward and cemented her status as one of the most bankable actresses.
A compelling drama that follows Susanna Kaysen, played by Winona Ryder, and her journey in the mental institution after attempting suicide. Along the way, she befriends Lisa Rowe, portrayed by Angelina Jolie, an alluring yet rebellious patient who acts as her confidant throughout this transformative experience. Jolie won The Golden Globe, the SAG award, and also an Oscar in the best supporting actress category.
Pushing Tin (1999)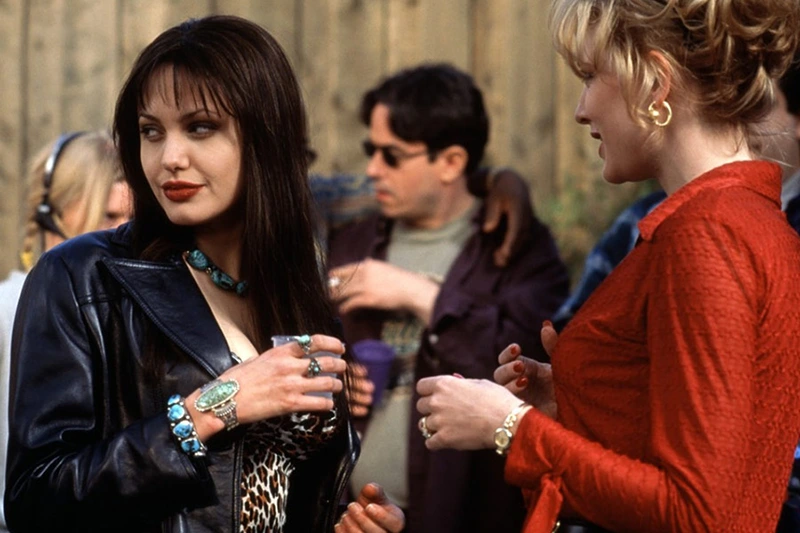 | | |
| --- | --- |
| Rotten Tomatoes Rating | 48% |
| Release Date | 23 April 1999 |
| Directed By | Mike Newell |
Mike Newell's 1999 movie, Pushing Tin is one of the best comedy dramas on this Angelina Jolie movies list. It stars John Cusack and Billy Bob Thornton as air traffic controllers. Their lives are filled with hilarious moments, meaningful relationships, and a never-ending competition with each other.
In the movie, Jolie stars as Mary Bell, the wife of Russell Bell, played by Billy Bob Thornton. He is an alcoholic who loves to live life on his terms and finds himself in a bitter rivalry with Nick Falzone played by John Cusack, a controller famous for thinking fast and staying calm while under intense pressure. Not only is Pushing Tin a must-watch as a fan of Angelina Jolie but it also it also gives an insight into the intriguing world of air traffic control and its high-pressure work environments.
Related Post: The 12 Best John Cusack Movies of All Times
Lara Croft: Tomb Raider (2001)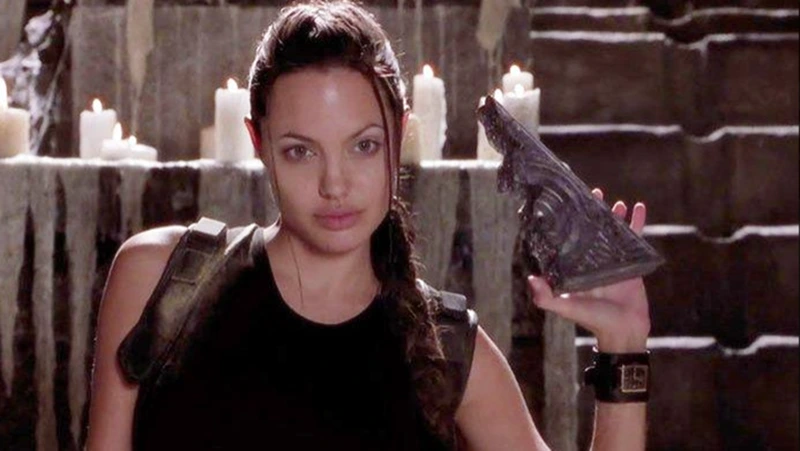 | | |
| --- | --- |
| Rotten Tomatoes Rating | 20% |
| Release Date | 11 June 2001 |
| Directed By | Simon West |
The 2001 action-adventure movie is based on the world-renowned video game franchise "Tomb Raider." The plot follows Jolie's titular character, Lara Croft, as she fights her way to uncover powerful ancient artifacts. In the movie, Lara must expertly traverse treacherous terrain and outmaneuver her adversaries to rescue the world from destruction.
Reviews for the film were mixed, as some lauded Angelina Jolie's compelling performance in her role of Lara Croft while others critiqued its narrative and lack of character growth. Despite this criticism, it was a remarkable commercial success with an impressive $274.7 million earned globally; thus helping to fortify Angelina Jolie's position as Hollywood's leading action star.
Playing By Heart (1998)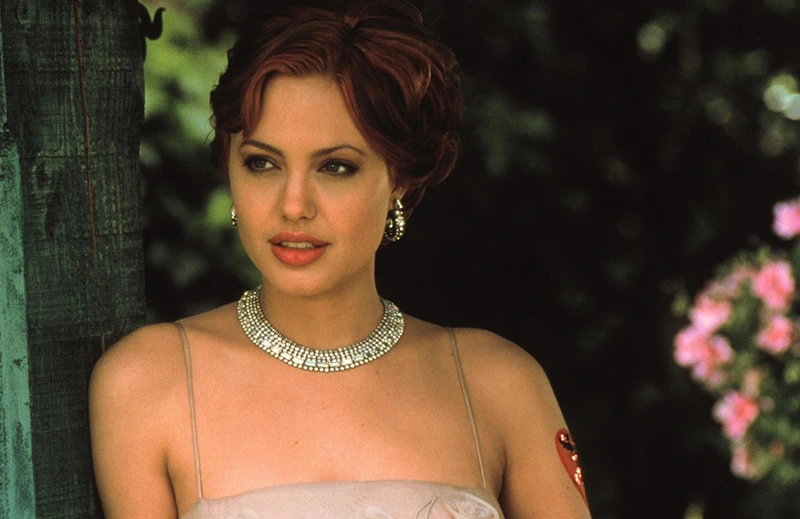 | | |
| --- | --- |
| Rotten Tomatoes Rating | 60% |
| Release Date | 18 December 1998 |
| Directed By | Willard Carol |
The 1998 romantic drama Playing By Heart features Jolie's earliest lead roles. She portrays the role of Joan, a young actress who is on her quest to find love and fulfillment. Intertwined with this narrative are several other narratives that follow different characters in their journey as they grapple with the many sides of relationships: from romance to heartbreak. The film also stars an esteemed ensemble cast including Sean Connery, Gillian Anderson, Ellen Burstyn, and Jay Mohr among others.
Angelina Jolie gave an astonishingly moving performance as Joan, with her convincing portrayal of the character's depths and complexities being particularly well-received. Her ability to express such emotion was widely applauded by critics and audiences alike and even after years is considered one of the best Angelina Jolie movies.
Mr. & Mrs. Smith (2005)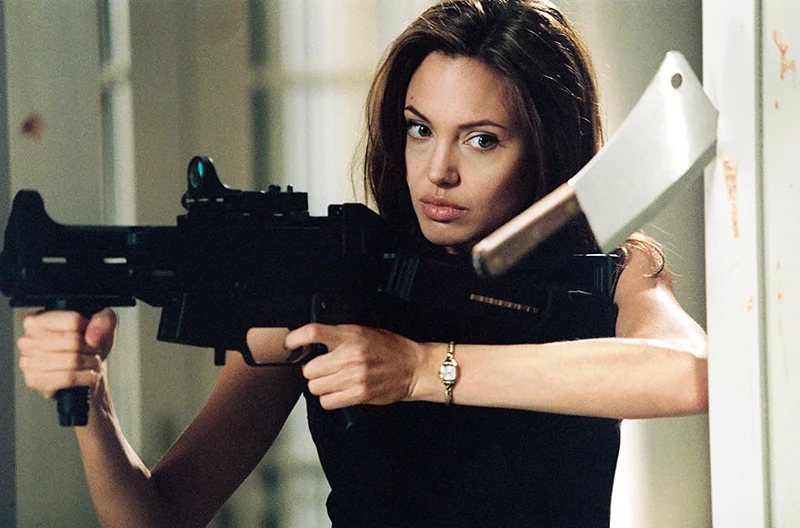 | | |
| --- | --- |
| Rotten Tomatoes Rating | 60% |
| Release Date | 10 June 2005 |
| Directed By | Doug Liman |
Featuring one of the most iconic pairings of Brad Pitt and Angelina Jolie, Mr. &  Mrs Smith remains the most memorable of all on this Angelina Jolie movies list. They play a seemingly ordinary couple with an extraordinary secret. When they are assigned to eliminate one another by their respective employers, the truth of their relationship comes out. 
Now to survive while embracing their newfound knowledge, they must fight for both themselves and also salvage what remains of their marriage. Praised for its invigorating action sequences and the on-screen chemistry between Pitt and Jolie, Mr. & Mrs. Smith is often credited with aiding the two actors in their real-life relationship–and it's easy to see why!
Eternals (2021)
| | |
| --- | --- |
| Rotten Tomatoes Rating | 47% |
| Release Date | 5 November 2021 |
| Directed By | Chloe Zhao |
Angelina Jolie became part of the renowned Marvel franchise with the 2021 release, Eternal. The movie can be best enjoyed if you watch Marvel movies in order. Jolie starred as one of the Eternals named Thena. No one could have been a better choice than her to play a god-like human character and she did full justice to the role. Eternals is one of the most recent of all on this Angelina Jolie movies list.
A Mighty Heart (2007)
| | |
| --- | --- |
| Rotten Tomatoes Rating | 79% |
| Release Date | 22 June 2007 |
| Directed By | Michael Winterbottom |
Who would have thought Jolie could step out of her glam image and carry a character so well? In 2007, Michael Winterbottom directed the emotionally stirring drama film A Mighty Heart, starring Angelina Jolie as Mariane Pearl. The movie retraces the journey and immense efforts of Mariane to find her husband Daniel after he was kidnapped and murdered in 2002 while on assignment in Pakistan, determined to bring his captors to justice.
A Mighty Heart was heralded by critics and commended for its evocative depth and sensitivity in depicting the abduction and death of Daniel Pearl. Jolie's performance as Mariane Pearl garnered particular praise from viewers due to her nuanced expression of the character's emotions. Despite being a smaller-scale film, A Mighty Heart gained immense critical acclaim with accolades directed towards both the overall impactful story-telling and Angelina Jolie's impressive portrayal of Marianne Pearl.
Wanted (2008)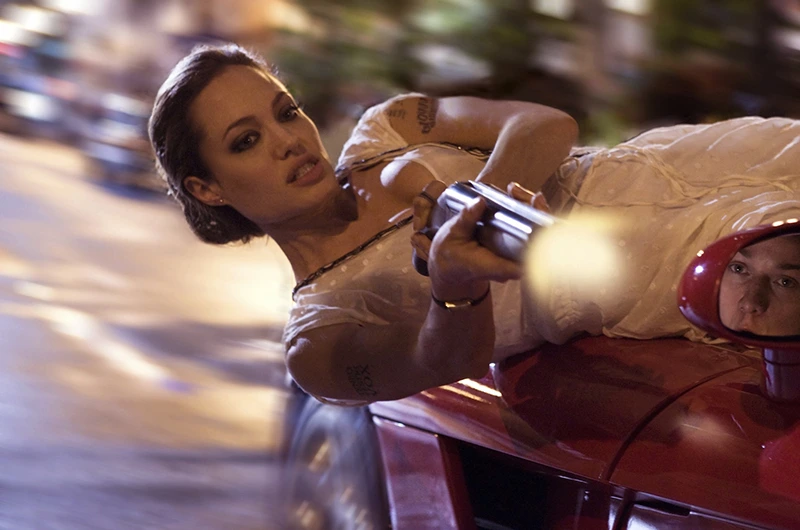 | | |
| --- | --- |
| Rotten Tomatoes Rating | 71% |
| Release Date | 27 June 2008 |
| Directed By | Timur Bekmambetov |
Wanted is an action-packed, heart-stopping story that features breathtaking visual effects and received overwhelming acclaim from both viewers and critics alike. Angelina Jolie's masterful portrayal of Fox was commended for its intensity and physicality. The film propelled Angelina Jolie into stardom as one of Hollywood's leading action stars, ensuring it remains one of her most well-received films in this genre even today.
Starring James McAvoy as Wesley Gibson, an office worker who discovers his true identity as the son of a professional assassin and is recruited to join a secret society, this movie will take your breath away. Fox is an experienced and lethal assassin tasked with teaching Wesley how to master the art of assassination. Out of all the movies on this Angelina Jolie movies list, this one will have you wanting for more of her action avatar.
Changeling (2008)
| | |
| --- | --- |
| Rotten Tomatoes Rating | 62% |
| Release Date | 24 October 2008 |
| Directed By | Clint Eastwood |
The 2008 release is a compelling historical drama based on the true story of Christine Collins, played by Jolie. Collins is a mother whose son was suddenly taken from her in 1928 and replaced with an imposter. The movie takes us through Christine's journey as she fights against the corrupt Los Angeles police department to uncover what happened to her real son while simultaneously reclaiming him as her own.
Changeling was widely commended for its authentic recount of the unfortunate events it portrays and for showing the corrupt misuse of authority that occurred in Los Angeles law enforcement during this period. Like every other Angelina Jolie movies, she did full justice to the character of Christine Collins.
The Bone Collector (1999)
| | |
| --- | --- |
| Rotten Tomatoes Rating | 62% |
| Release Date | 2 November 1999 |
| Directed By | Philip Noyce |
There is something about watching Angelina Jolie in action thrillers. The Bone Collector is yet another masterpiece where she plays a homicide detective, Amelia Donaghy. The movie also has significant importance in Jolie's filmography career as it marked her first starring lead in a major movie. The title of the movie indicates the serial murderer whose signature style is extracting bone shards from his victims.
The Good Shepherd (2006)
| | |
| --- | --- |
| Rotten Tomatoes Rating | 56% |
| Release Date | 22 December 2006 |
| Directed By | Robert De Niro |
Robert De Niro's acclaimed 2006 espionage thriller The Good Shepherd stars Matt Damon as Edward Wilson, a top-level CIA official. Notable performances include Angelina Jolie, William Hurt, and of course the director himself in an essential supporting role. 
Uncover the tale of Edward Wilson's journey to success in The Good Shepherd, as it illuminates his ascension through the ranks of the Central Intelligence Agency and showcases his participation in its most pivotal operations. Angelina Jolie's masterful portrayal of Clover Wilson, Edward's wife, adds depth to the story. Her nuanced performance brings a heightened emotionality and complexity that enriches the narrative.
The Tourist (2010)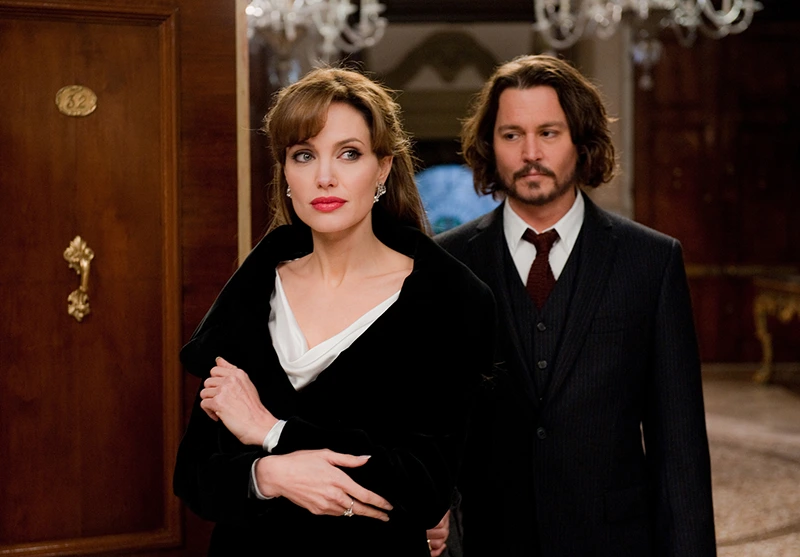 | | |
| --- | --- |
| Rotten Tomatoes Rating | 21% |
| Release Date | 10 December 2010 |
| Directed By | Florian Henckel von Donnersmarck |
The Tourist is a romantic thriller starring Angelina Jolie as Elise – an enigmatically seductive woman who ensnares the unsuspecting American tourist Frank, played by Johnny Depp, on a train ride from Paris to Venice. Depp's performance received a lot of appreciation and is often counted as one of Johnny Depp's best movies.
With mysterious motives and masterful schemes, Elise lures Frank into a complex web of deception and deceit where he soon finds himself being manipulated as part of her dangerous game. Some felt dissatisfied with the movie due to its complex plotline and lack of substantial content but nonetheless, this Angelina Jolie movie was a commercial success.
Related Post: Johnny Depp Upcoming Movies List- Take A Look at Johnny Depp Filmography (1984-2024)
Maleficent (2014)
| | |
| --- | --- |
| Rotten Tomatoes Rating | 54% |
| Release Date | 30 May 2014 |
| Directed By | Robert Stromberg |
Can you ever fall for a villain? Yes, if it's Angelina Jolie. Robert Stromberg's live-action film, Maleficent, retells the classic tale of "Sleeping Beauty" from a novel perspective – that of its villainous antagonist! Starring Angelina Jolie as Maleficent herself, this epic movie unveils what transpired to cause her to cast the fateful curse upon Princess Aurora.
A visually stunning reimagining that showcases compelling storytelling and intricate character development; Maleficent is an unforgettable experience for audiences of all ages. This has to be my personal favorite on this Angelina Jolie movies list. She offers an immersive, dynamic portrayal of the much-misunderstood sorceress; her captivating performance exhibits both her versatility as a performer and her talent for adding unique layers to the iconic villainous character.
By The Sea (2015)
| | |
| --- | --- |
| Rotten Tomatoes Rating | 35% |
| Release Date | 13 November 2015 |
| Directed By | Angelina Jolie |
Angeline Jolie and Brad Pitt once again blessed their fans with their on-screen pairing as Vanessa and Roland respectively. They play a couple embarking on an unforgettable journey to France. As they arrive in a picturesque town along its tranquil shoreline, their mission is clear: repair their quickly deteriorating marriage by any means necessary.
Vanessa and Roland's bond is challenged as they confront their psychological dilemmas. The reviews for "By the Sea" have been mixed, with some criticizing its visual artistry and Jolie and Pitt's performances as highlights, while others argued that it is too languorous and shallow. By The Sea remains one of the most timeless of all in this Angelina Jolie movies list.
Alexander (2004)
| | |
| --- | --- |
| Rotten Tomatoes Rating | 35% |
| Release Date | 24 November 2004 |
| Directed By | Oliver Stone |
In 2004, Director Oliver Stone brought to life the exciting story of Alexander the Great with his historical drama Alexander. Starring Colin Farrell in a captivating lead role and gratified by the impressive supporting cast of Angelina Jolie, Val Kilmer, Rosario Dawson, and Jared Leto – this epic historical masterpiece excelled on every level.
Drawing from history, Alexander chronicles the captivating journey of Alexander the Great as he forges one of the most famed and grand empires across three continents through a series of remarkable military campaigns. In the movie, Angelina Jolie impressed the audience as Olympias, Alexander's mother. Her scenes are powerful and captivating. The movie also featured one of the best performances by Jared Leto.
Maleficent: Mistress of Evil (2019)
| | |
| --- | --- |
| Rotten Tomatoes Rating | 39% |
| Release Date | 18 October 2019 |
| Directed By | Joachim Rooning |
Jolie's titular character in Maleficent received so much appreciation that it demanded a comeback and hence she reprised her titular role in the 2019 sequel, Maleficent: Mistress of Evil. Released five years after its predecessor, this fantasy film promises a captivating adventure filled with thrilling suspense and awe-inspiring visuals.
In the highly-anticipated sequel, Jolie returns to her iconic role as Maleficent – a dark fairy and powerful protector of the Moors. As Princess Aurora confronts new dangers in this magical world, she must grapple with an ever-evolving relationship with Maleficent full of tumultuous obstacles. Her make-up and costume to date remain one of the most iconic looks from all of Angelina Jolie movies.
Salt (2010)
| | |
| --- | --- |
| Rotten Tomatoes Rating | 62% |
| Release Date | 23 July 2010 |
| Directed By | Phillip Noyce |
In 2010, Philip Noyce directed the action-packed spy film Salt, starring Angelina Jolie as Evelyn Salt, a CIA agent framed for espionage against her own country. To save herself and expose an even darker scheme beneath the surface, she must go on the run and fight to prove her innocence. 
In the action-packed film, Salt must tap into her intelligence and training to stay ahead of the CIA and other agencies as she searches for truth in the accusations against her. The movie was a huge success both critically and commercially with Angelina Jolie's mesmerizing performance at its core, garnering over $290 million worldwide. Besides confirming Jolie's star power, Salt affirmed that she was one of Hollywood's most electrifying leading stars in action movies.
Suggested Post: Top 17 Radha Mitchell Movies List: Glimpse of Cinematic Journey
Kung Fu Panda (2008)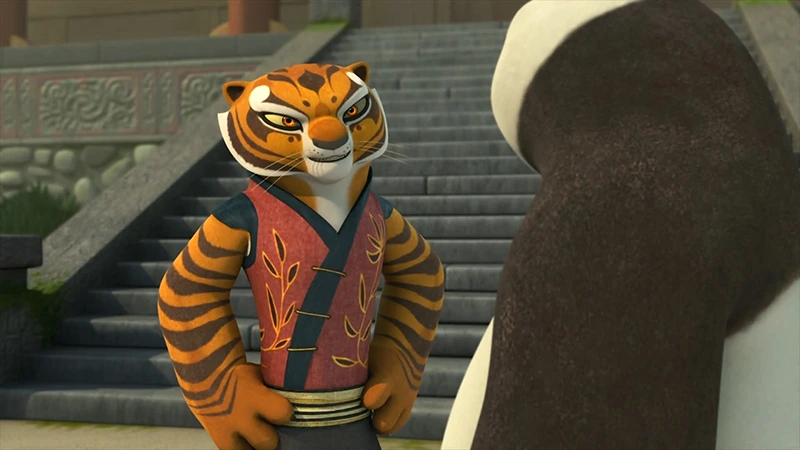 | | |
| --- | --- |
| Rotten Tomatoes Rating | 87% |
| Release Date | 6 June 2008 |
| Directed By | John Stevenson, Mark Osborne |
Featuring Angelina Jolie's iconic vocal performance as Tigress, the masterful martial artist of The Furious Five, Kung Fu Panda is a visually stunning animated action comedy movie. This 2008 release instantly grabbed the attention of the audience, especially the younger audience, and paved the way for one of the most beloved animated movie franchises.
The movies introduced us to our beloved characters, the titular Panda, Po who loves Kung Fu and laze around his parents' noodle shop, and the legendary Furious Five. When Po learns that he has been chosen to fulfill a prophecy and has to be part of the Kung Fu gang, he is ready to give his best. On this Angelina Jolie movie list, this one features her as a voice actor.
Those Who Wish Me Dead (2021)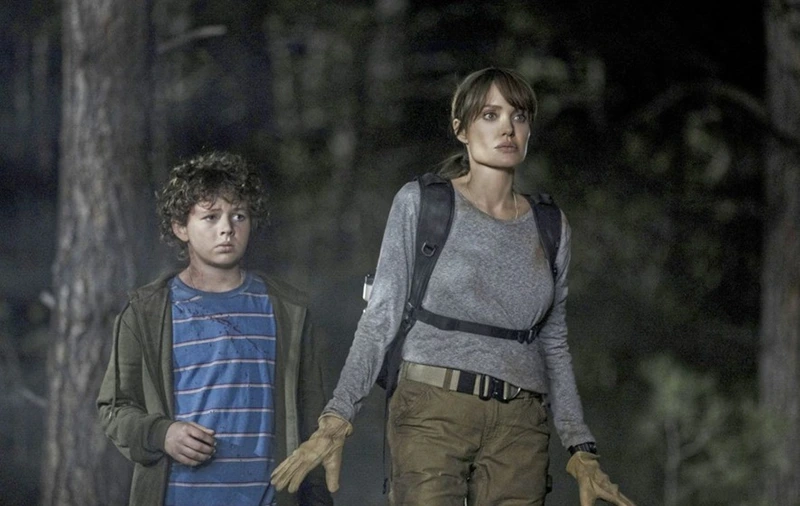 | | |
| --- | --- |
| Rotten Tomatoes Rating | 62% |
| Release Date | 14 May 2021 |
| Directed By | Taylor Sheridon |
The 2021 release once again saw Jolie in an action avatar. Over the years she has played characters that have emotional depth and vulnerability but at the same time are strong-headed, Those Who Wish Me Dead is no different. The actress has often stated that such characters resemble her real-life personality and hence are easy for her to portray.
Jolie stars as Hannah Faber, a daredevil firefighter who is appointed at a remote fire lookout tower after a mistake she commits due to her poor judgment. She suffers from PTSD and now feels left out as her skills are not being put to good use anymore. But her life changes once again when she finds herself protecting a young boy, Connor, from a group of deadly assassins.
Beyond Borders (2003)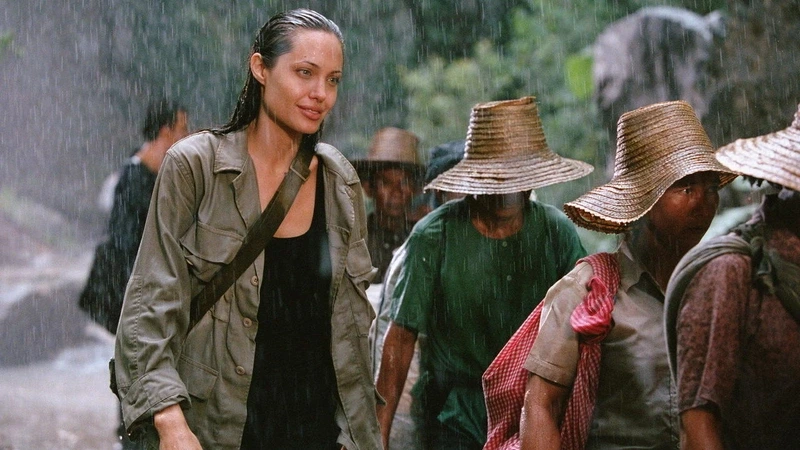 | | |
| --- | --- |
| Rotten Tomatoes Rating | 14% |
| Release Date | 24 October 2003 |
| Directed By | Martin Campbell |
Get ready to be swept away by the passionate romantic drama film, Beyond Borders, released in 2003 and directed by Martin Campbell. Featuring Angelina Jolie and Clive Owen in its lead roles, with Linus Roache and Teri Polo playing supporting ones – you're sure to experience an unforgettable cinematic journey.
Entangled in a gripping love story, Angelina Jolie stars as Sarah Jordan – an American socialite – in the Academy Award-nominated film Beyond Borders. She falls for Nick Callahan, played by Clive Owen, who is leading an international aid organization. This captivating drama follows their journey together and brings to light the struggles of countries less fortunate than our own.
Conclusion
Angelina Jolie, without a doubt, is an amazing actress and has starred in various genres of movies throughout her career. So if you're in the mood for a good drama, action-packed thriller, or even a sob story, you will find everything on this Angelina Jolie movies list. The actress has earned a name for herself as one of the most influential people in Hollywood and she continues to be one through her creative work as well as various philanthropic works. We can't wait to see what the future holds for this superstar.
Also, Check Out: