The supremacy of Mila Kunis can not be denied, as her acting skills have made her queen of cinema. She started with the TV series, That 70s Show, at the age of 14, and since then, there has been a significant increase in her fanbase, and became one of the Best Hollywood Actresses of all Time.
Having said that, keeping count of Mila Kunis movies and TV shows that are critically acclaimed is not easy. Her career graph has never seen a downfall or saturation because she knew the recipe for superhits, and acting has always been the main ingredient. One day she is acing a comedy role in Forgetting Sarah Marshall; another day, she is rocking a thriller like Black Swan.
If you are on the hunt for Mila Kunis best movies, here is the list that will make you admire her even more.
Black Swan (2010)
IMDb Rating: 8/10
Starting with one of the best in the list of Mila Kunis movies and tv shows directed by Darren Aronofsky, this psychological thriller earned Kunis critical acclaim for her performance alongside Natalie Portman. The nail-biting plot of the movie begins with Nina ( Natalie Portman), who is a dedicated ballerina in a ballerina company in New York City. She breathes ballet and lives for her passion. But, her passion soon turns into obsession when she gets a chance to star in Tchaikovsky's Swan Lake as a lead dancer.
But, she meets her competition, Lily (Mila Kunis), who is equally talented and complements Nina's White Swan as a Black Swan. But, for the role, the performer must manifest innocence and sensuality simultaneously. Nina now has to learn sensuality from Lily, but this bond results in Nina's fall.
Kunis has certainly made the audience scratch their heads with her mysterious performance, which is thus considered one of Mila's best.
Watch Black Swan Trailer Now-
Forgetting Sarah Marshall (2008)
IMDb Rating: 7.1/10
Forgetting Sarah Marshall is a popular comedy film directed by Nicholas Stoller, in which Kunis plays the love interest of the protagonist, played by Jason Segel. It is one of Mila's best romantic comedies and shows how she is the most versatile actress in the industry and can rock any genre. There is Peter Bretter (Jason Segel), who has a great life but is still not motivated. He is dating TV star Sarah Marshall (Kristen Bell), but she later dumps him and leaves him devastated.
Now, Peter goes to Hawaii after being forced to do so by his step-brother. Peter picks the hotel that Sarah once mentioned and ends up meeting Sarah with her new boyfriend, singer Aldous Snow (Russel Brand). Peter then meets hotel clerk Rachel (Kunis) and ends up falling for her, but it looks like Sarah is still into him. But who will Peter choose? Watch this fantastic movie by Mika Kunis to witness one of the best romantic comedies of all time.
Watch Forgetting Sarah Marshall Trailer Here-
Ted (2012)
IMDb rating: 6.9/10
A comedy directed by Seth MacFarlane, in which Kunis stars alongside Mark Wahlberg. The movie is about John (Mark Wahlberg), who has a talking teddy bear named Ted, who has come to life after Christmas. John wished him to be alive. Now he has to choose between his only friend and his girlfriend, Lori (Mila Kunis), whom he has loved for four years. But she leaves him after he behaves weirdly at a party. She wants Ted out of their house if John wants to move forward with the relationship. What happens next is worth watching, one of the best comedy movies and it is worth being on the list of Mila Kunis movies and tv shows. Mila has definitely stolen the show with her performance.
Click Here For Ted Trailer-
Bad Moms (2016) 
IMDb rating: 6.2/10
Kunis plays one of the lead roles in this comedy film, where she portrays the character of Amy, an overworked mother trying to balance her responsibilities. She has two other mom friends who are equally pressurized and want to liberate themselves. The trio decides to experience the freedom they always dreamed of, but they end up locking horns with the Queen Bee of the PTA group. The movie was so successful that it spurred a sequel named A Bad Moms Christmas, in which Kunis, Kristen Bell, and Kathryn come together to take a Christmas holiday.
Watch Bad Moms Trailer Now-
Friends with Benefits (2011)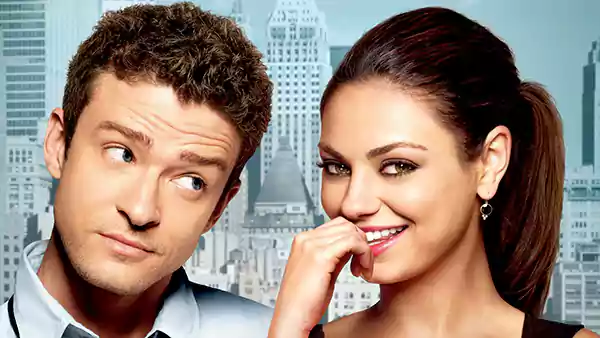 IMDb Rating: 6.5/10
A romantic comedy directed by Will Gluck, featuring Kunis and Justin Timberlake as friends who decide to have a casual relationship. Jamie Rellis (Kunis), who is a head-hunter, meets Dylan Harper (Justin Timberlake), as he is one of her clients. They then became good friends and soon decided to become friends with benefits or a sex-only couple, and they promised to have no feelings for each other. But will this pledge work? Or will they end up loving each other? Watch the movie Friends with Benefits if you want to witness one of the best performances by Mila Kunis.
Click For Friends With Benefits Trailer-
Oz the Great and Powerful (2013)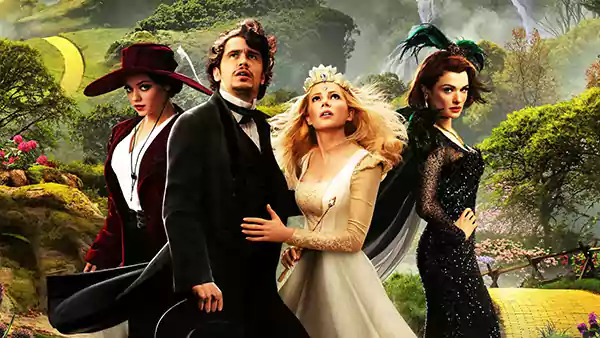 IMDb rating: 6.3/10
A fantasy adventure film directed by Sam Raimi, where Kunis plays the role of Theodora, a witch. The movie is a prequel to The Wizard of Oz. The role of Oscar "Oz" Diggs is played by James Franco. He is an illusionist who works in a circus, but one day he gets stuck in a tornado while hiding in a hot-air balloon. He lands in an unknown place where he meets Theodora (Mila Kunis); she is a nice witch and welcomes him wholeheartedly. She then finds out that OZ has a prophecy that can save everyone from the Wicked Witch. He is accompanied by Theodora and her other two sisters, who take him to Emerald City.
Watch Oz the Great and powerful Trailer Now-
The Book of Eli (2010)
IMDb rating: 6.8/10
In this post-apocalyptic action film directed by the Hughes brothers, Kunis stars alongside Denzel Washington. The movie is set in the post-apocalyptic neo-western era. Solara (Mila Kunis) is brought up in the post-nuclear world. Furthermore, she joins Eli (Denzel Washington) in his mission to ensure the safety of the book. The book is one of a kind and contains a copy of the Bible. A warlord named Carnegie also has his eyes set on this book. Now, Eli begins a quest to safeguard the Holy Book, which leads to a chase across the nation.
Click for The Book of Eli Trailer-
Luckiest Girl Alive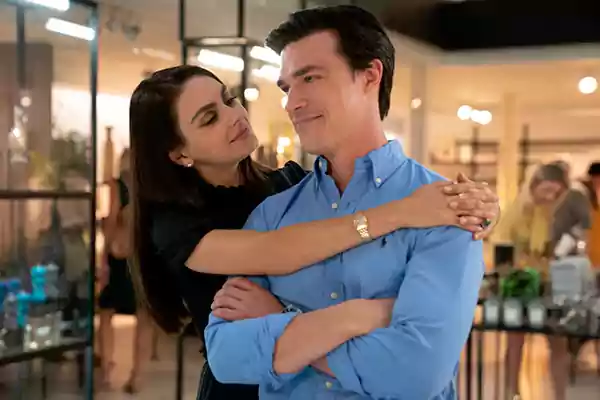 IMDb Rating: 6.4/10
This 2022 movie by Mila Kunis has again proven the versatility of the actress. The movie spans 2015, when Tiffani Ani Fanelli (Mila Kunis), who seemingly has a perfect life, is preparing to marry her fiancé, Luke Harrison (Finn Wittrock). Then, one day, she meets Aaron Wickersham (Dalmar Abuzeid), who wants to make a short film on the school shooting she survived. Dean Barton (Alex Barone), a former classmate of Ani, is also going to be part of the documentary. Ani refuses the offer because it reminds her of the horrific past. The movie is worth a watch and can be described as one of the Mila kunis best movies.
Watch The Luckiest Girl Alive Trailer-
This was all about the best and worth watching Mila Kunis movies and tv shows. I hope you already selected your next weekend's movie to watch in the list above.