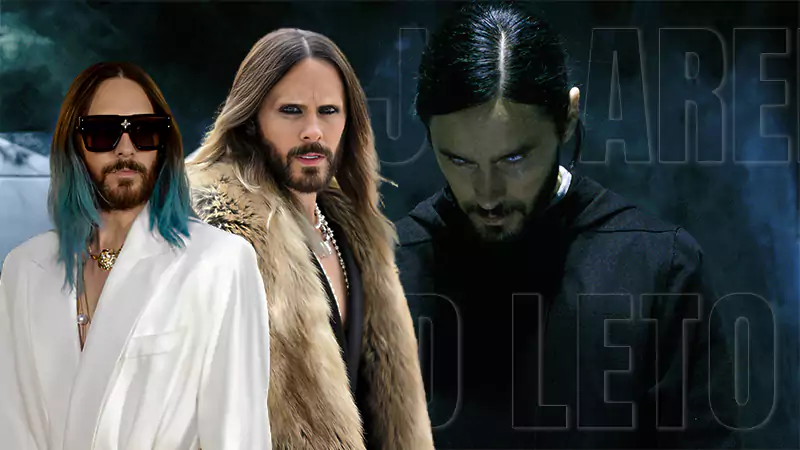 Jared Leto, as soon as the name is mentioned his face pops up in mind because he has a face that stands out in the crowd and will linger in your memory for a long time. The multi-talented star has earned a dedicated and loyal fanbase over the years with his method-acting and singing. The actor is also part of the renowned rock band Thirty Seconds To Mars.
Jared Leto debuted in the world of acting with the cult classic TV series My So-Called Life and quickly transitioned into movies with small but impactful roles. He is known for getting deep under the skin of all the characters he plays and his co-stars have always admired this quality of Leto. His renowned character includes Joker from Suicide Squad, the heroin addict from Requiem for a Dream, and the transgender prostitute from Dallas Buyers Club.
Take a look at the Oscar-winning actor Jared Leto movies list of his best work till now and beyond.
Dallas Buyers Club (2013)
The movie that got Jared Leto his first Oscar. Dallas Buyers Club was the comeback movie for Leto as he took a break from acting to focus on his rock band and made music and toured for seven years. The movie touched on the sensitive subject of AIDS and the struggles faced by the patients for timely medication.
The movie starred Jared Leto as a transgender prostitute who helps Matthew McConaughey's character, Ron, to help the medicines reach HIV patients so their life can be saved on time. The actor won an Oscar for his performance in the movie. He portrayed the layers and depth of emotions of the character that added value to the movie.
| | |
| --- | --- |
| IMDb Rating: 7.9/10 | Rotten Tomatoes Rating: 92% |
Enjoy the trailer for Dallas Buyers Club:
Requiem for a Dream (2000)
The movie is gloomy to the extent that it can be addictive. Well, that is exactly what this Jared Leto movie deals with- addiction. Requiem for a Dream shows the most brutal side of drug addiction through the lives of four characters, a widow Sara, her son Harry, his girlfriend Marion, and their friend Tyrone.
Leto plays the character of Harry who is a heroin addict and dreams of making a life out of being a drug dealer. Unknowingly he drags Marion into the world of drugs which hinders her dream of becoming a fashion designer while his mother, Sara, is addicted to some diet pills in hopes of feeling younger. How long does it take them to realize their addictions and act upon them?
| | |
| --- | --- |
| IMDb Rating: 8.3/10 | Rotten Tomatoes Rating: 78% |
Watch the trailer for Requiem for a Dream:
House of Gucci (2021)
Yes, this is the movie about the famous Italian fashion brand, Gucci. House of Gucci also stars Lady Gaga and Jared Leto *internal screaming*. Gaga stars as Patrizia, the daughter-in-law of the Gucci family who belonged to a humble family. When Maurizio Gucci goes against his family to marry Patrizia he is kicked out of the family business. But Patrizia who has now now become ambitious goes to extreme extents to be a part of the family wealth.
Leto plays the character of Paolo Gucci, the naive grandson of the Gucci founder who dreams of making it big as a designer despite not having enough skills. You will forget about the real actor's identity while watching Paolo, that is the perfection of his work.
| | |
| --- | --- |
| IMDb Rating: 6.6/10 | Rotten Tomatoes Rating: 61% |
Here is the trailer for House of Gucci:
Blade Runner 2049 (2017)
Among all the Jared Leto movies, he has played the villain in quite a few with remarkable performance that has a lingering effect on the minds of the audience. But with Blade Runner 2049, he set the bar too high as he went temporarily blind to immerse himself in the blind villainous character of Niander Wallace.
The neo-noir sci-fi movie also stars Ryan Gosling as 'K' the new blade runner L.A.P.D. who has discovered a massive secret that can affect the whole population. This is the kind of movie where the antagonist stole the show. The subtle but threatening persona of Niander sends a chill down the spine of the viewers.
| | |
| --- | --- |
| IMDb Rating: 8/10 | Rotten Tomatoes Rating: 88% |
Trailer for the movie Blade Runner 2049:
Mr. Nobody (2009)
The 2009 release Mr. Nobody shows how much Jared Leto is capable of getting into the character and transforming his real identity and molding into the character. The movie came up with the unique concept of quasi-immortality and Jared's titular character, Nemo Nobody, is the last mortal on earth.
The whole story is narrated in Nemo's flashback as he is interviewed at the age of 118. The interviewer is curious to know about human life before immortality but Nemo's memory is very faded and he struggles to recollect his past. The movie is set in different timelines where a single event has multiple outcomes. It very well portrayed how the human mind is always contradicted between decisions and how our reality gets altered with each step in life.
| | |
| --- | --- |
| IMDb Rating: 7.7/10 | Rotten Tomatoes Rating: 68% |
Enjoy the trailer for Mr. Nobody:
The Little Things (2021)
There is something addictive about Jared Leto playing the antagonist. The guy makes evil look so good we forget our morals. But are we guilty? Nah, more like guilty pleasures.
The Little Things is about a series of mysterious murders. CA Deputy Sheriff Deke and a LASD detective set out to investigate the crime while simultaneously dealing with their personal dilemmas. Their little pieces of evidence lead them toward a loner Albert Sparma who can be a potential criminal. In Leto's words, "Albert could be a bad or a good guy, but he's a fun guy." The actor was nominated for a Golden Globe Award for his performance in the movie.
| | |
| --- | --- |
| IMDb Rating: 6.3/10 | Rotten Tomatoes Rating: 45% |
Watch the trailer for The Little Things:
Suicide Squad (2016)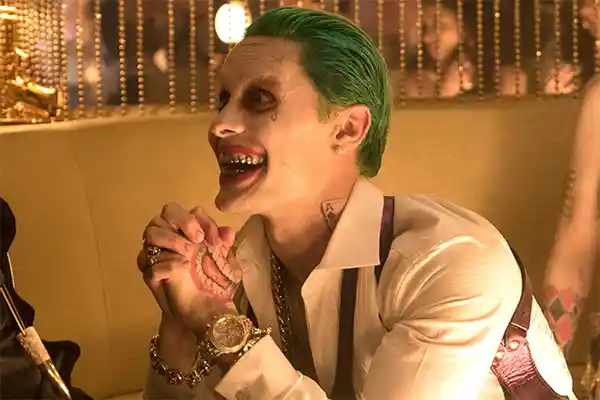 The only reason we have mentioned Suicide Squad is for the actors and their efforts and talent. The movie was heavily criticized for its script, direction, dialogue, and nearly everything, but we have to give it to the actors who played the supervillains with full sincerity. The movie starred Margot Robbie as Harley Quinn and is among the best movies of Margot Robbie.
Leto's character of Joker was noted by the audience and is to date one of the most discussed character. You are sure to find at least one person dressed as a Joker at Halloween parties, that is the impact of Leto's acting.
| | |
| --- | --- |
| IMDb Rating: 5.9/10 | Rotten Tomatoes Rating: 26% |
Enjoy the trailer for Suicide Squad:
Fight Club (1999)
The movie starred Brad Pitt and Edward Norton in the lead role of Tyler and Narrator respectively. Though Leto had a small role as 'Angel Face' he succeeded in creating an impact with the limited screen time.
When the Narrator comes across a support group, he decides to participate in it as a way to distract himself from his life. But when he comes across another participant who is just like him, he decides to confront her and make a deal. But one thing leads to another and he finds himself dragged into an underground fight club.
| | |
| --- | --- |
| IMDb Rating: 8.8/10 | Rotten Tomatoes Rating: 79% |
Here is the trailer for Fight Club:
Morbius (2022)
Morbius failed to impress the critics with its storyline and the concept of a lab-made vampire. But hey it stars Jared Leto as a vampire! Ain't no way we will make you miss this lethal combination.
Leto played the titular character of Dr. Morbius who suffers from a deadly blood disease. In a desperate attempt to save himself, he decides to mix his DNA with that of a vampire bat's DNA. But obviously, things don't go as planned and he turns into a blood-craving vampire who might be a threat to human existence.
| | |
| --- | --- |
| IMDb Rating: 5.2/10 | Rotten Tomatoes Rating: 15% |
Enjoy the trailer for Morbius:
Haunted Mansion (2023)
Haunted Mansion is the latest addition to the Jared Leto movies list. The movie got its theatrical release on July 28th and is a supernatural horror comedy by Walt Disney Pictures. Due to the intense competition from Ryan Gosling and Margot Robbie's movie, Barbie, Haunted Mansion struggled with the box office collection.
The plot revolves around Gabbie, a single mother, who bought a mansion to turn it into a bed and breakfast. But when she discovers that the mansion is haunted she has no other option but to get rid of the ghosts and continue her business there. Leto plays the character of a ghost named Alistair Crump who was killed in his adulthood by fellow socialites.
| | |
| --- | --- |
| IMDb Rating: 6.3/10 | Rotten Tomatoes Rating: 40% |
Check out the trailer for Haunted Mansion:
Conclusion
These were the best few in the Jared Leto movies list. He has proved that even minor roles are enough to get you recognition if you have a big enough talent. He has always taken up roles that were different from the mainstream characters. The audience now has high expectations from Leto and we can't wait to witness more of his unique characters on screen.