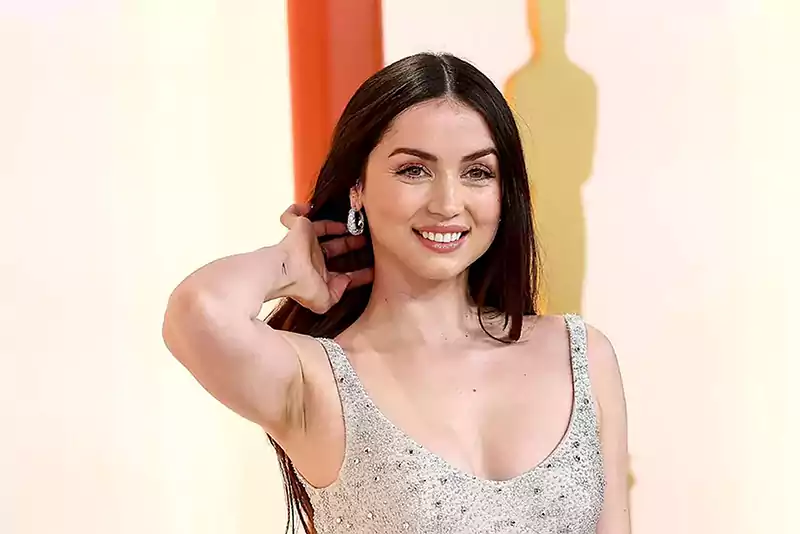 Ana de Armas is a talented Cuban actress who has achieved success on the silver screen in a short span of time. Ana de Armas all movies list speaks for her incredible talent and versatility, as she displays remarkable range in each character she brings to life. From comedy to drama, there seems no role too great or small for this magnetic starlet; it's easy to see why Hollywood can't get enough of her!
Ana de Armas has rapidly become one of the most dazzling figures in Hollywood with her unforgettable appearances in Knives Out and Blonde. In this blog, we'll dive into the best Ana de Armas movies that no fan should miss.
Best Ana de Armas Movies List
Ghosted (2023)
The latest addition to Ana de Armas all movies list is the 2023 release Ghosted. This marks the third time De Armas has paired with Chris Evans and fans once again loved the on-screen chemistry between the actors. The rom-com movie feels a bit cliche with the storyline but the action sequence and the perfectly timed comedy seem to sit perfectly with the audience. 
The movie is about a hopeless romantic, Cole, played by Chris Evans, and a spy, Sadie, played by Ana de Armas. When Cole meets Sadie he is unaware of her being a spy but one thing leads to another and Cole is abducted by a gang of arms dealers who confuse his and Sadie's identities. What follows is an adventure trip as Sadie rescues Cole from the abductors building the perfect plot for an action-romance.
| | |
| --- | --- |
| IMDb Rating: 5.8/10 | Rotten Tomatoes Rating: 26% |
Blonde (2022)
Blonde was one of the most awaited Ana de Armas movies. The movie is based on the novel of the same name which tells a fictionalised story of Hollywood's iconic actress Merlyn Monroe.  Blonde is a prime example of a polarizing movie as the story has extreme emotions and can not be everyone's cup of tea. 
The movie brilliantly showcases the turbulent life of Marilyn Monroe and the viewers get an intimate look into her journey as a sex symbol during the 50s/60s cinema – from relationships to fame struggles -and discover how it all shaped this timeless figure. Despite having divided opinions on the movie, everyone can agree on De Adams's groundbreaking performance as the lead. 
| | |
| --- | --- |
| IMDb Rating: 5.5/10 | Rotten Tomatoes Rating: 42% |
The Gray Man (2022)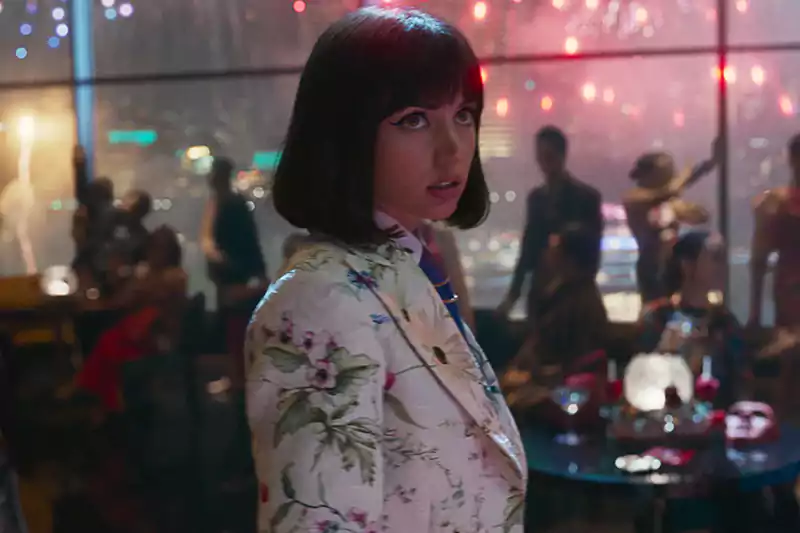 The Russo Brothers bring the action-packed thrill of The Gray Man to the big screen with an impressive star cast featuring Ryan Gosling and Chris Evans. Adapted from Mark Greaney's electrifying novel, this globe-spanning story follows a former CIA operative as he is relentlessly hunted by a team of professional assassins.
Gray Man is not the best work of The Russo Brothers and we have seen Ryan Gosling and Chris Evans in even better action but among the Ana de Armas all movies list, this one undoubtedly highlighted her. She stars as Dani Miranda and takes center stage with the pivotal character.
| | |
| --- | --- |
| IMDb Rating: 6.5/10 | Rotten Tomatoes Rating: 45% |
Deep Water (2022)
2022 was the year of Ana De Armas. She worked on multiple projects and showcased her versatility as an actor. Deep Water is a psychological thriller film based on the novel of the same name by Patricia Highsmith. The movie follows the story of a wealthy man who allows his wife to have affairs in order to avoid a divorce but becomes jealous and paranoid when one of her lovers goes missing.
Ana de Armas plays the character of Melinda, wife of Ben Affleck's character Vic. The actors convincingly portrayed the intense emotions of jealousy and insecurity. The movie showcased how such emotions can drive a person to extremes – leading this couple into a dark spiral of suspicion and paranoia.
| | |
| --- | --- |
| IMDb Rating: 5.5/10 | Rotten Tomatoes Rating: 35% |
No Time to Die (2021)
This Ana de Arams movie marked the 25th film in the James Bond series where the loved action character must use all his cunning and strength to rescue an abducted scientist. Joined by allies including Rami Malek and Ana de Armas, Bond embarks on a journey that will take him into a showdown with a powerful and mysterious villain. There is something about watching De Armas in an action role and No Time to Die does not disappoint the audience. 
The actress plays the character of a daring Cuban agent, Paloma, who sets out on her first mission alongside none other than iconic superspy James Bond. No one can look so gorgeous in dripping sweat and not to mention she makes the actions look so effortless there is no way we can stop ourselves from falling for her.
| | |
| --- | --- |
| IMDb Rating: 7.3/10 | Rotten Tomatoes Rating: 83% |
Wasp Network (2020)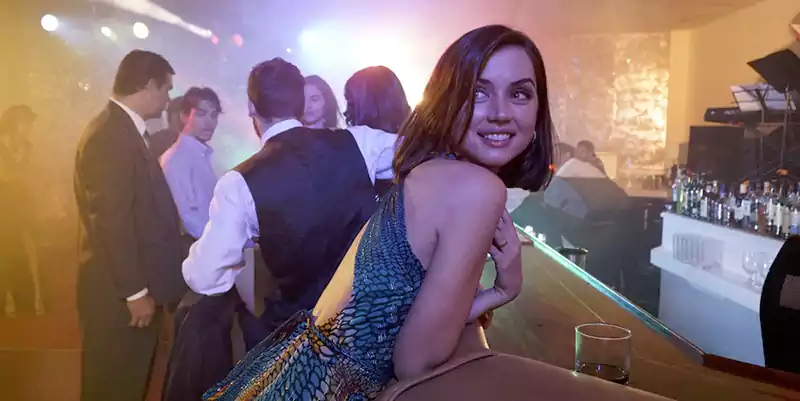 The 2019 drama Wasp Network brings to life the gripping story of a clandestine group of Cuban spies who risked all in order to uncover militant anti-Castro organizations. Among all the Ana de Armas best movies, this one is based on real events that took place during the 1990s and also features other major names in Hollywood like Penelope Cruz and Edgar Ramirez. 
Joining an ensemble of star cast, Ana de Armas stars as Olga Salanueva in the thrilling movie Wasp Network. She is married to René González (Edgar Ramírez), a Cuban spy who finds himself and his cohorts at odds with US authorities. A gripping espionage story of deception, courage, and political intrigue follows these courageous individuals on their mission for Cuba's government.
| | |
| --- | --- |
| IMDb Rating: 5.9/10 | Rotten Tomatoes Rating: 40% |
Sergio (2020)
In 2020, director Greg Barker brought to life the inspirational real-life story of Sergio Vieira de Mello with his biographical drama Sergio. Starring Wagner Moura, Ana de Armas, and Garret Dillahunt, this powerful film recounts the journey of a Brazilian diplomat whose commitment to human rights led him all around the world. Tragically, however; it was in Baghdad's Canal Hotel where he met an untimely end during a 2003 terrorist attack.
De Armas plays the role of Carolina Larriera, a journalist and Sergio's girlfriend. The film follows Sergio's professional as well as personal life and explores the complex and often tumultuous relationships he had with the people around him. The movie is worth watching for the immersive storytelling and the convincing portrayal of the characters.
| | |
| --- | --- |
| IMDb Rating: 6.2/10 | Rotten Tomatoes Rating: 44% |
The Night Clerk (2020)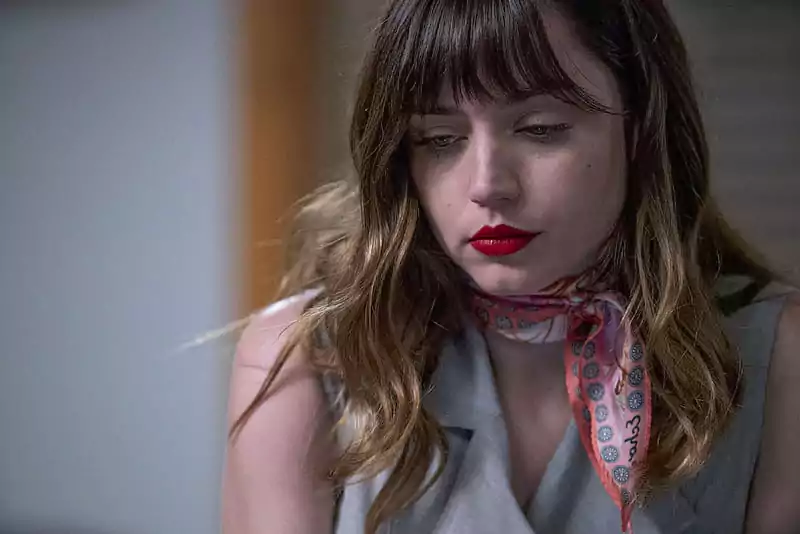 The Night Clerk is a thrilling 2020 suspense film. The plot revolves around a young hotel clerk named Bart Bromley, played by Tye Sheridan. Bart has Asperger's syndrome and hence has difficulty interacting with people. This is still one of Tyler Sheridon's best movies, as he plays a hotel night clerk.  The story takes a dark turn when a murder takes place in the hotel and Bart is the key suspect.
De Armas plays the character of Andrea who finds herself at the center of the gripping murder investigation when she checks into another hotel where Bart has been transferred. Among the Ana de Armas all movies list, this one feels a bit slow-paced and a bit predictable. With the star cast of talented young actors, the story had much more scope for improvisation but nonetheless is worth watching once.
| | |
| --- | --- |
| IMDb Rating: 5.6/10 | Rotten Tomatoes Rating: 37% |
Knives Out (2019)
The 2019 release Knives Out is a mystery suspense directed by Rian Johnson that will keep you on your toes till the last minute. This Ana de Armas movie follows an intriguing tale of deceit as a private detective attempts to uncover the truth behind the death of an affluent family patriarch in their estate. The brilliant cinematography adds to the mysterious yet royal charm of the movie.
De Armas brilliantly portrays the character of Marta Cabrera, the family's nurse who is integral in uncovering the truth behind her employer's mysterious death. As a key factor in solving this perplexing case and with an engaging performance, she takes center stage as audiences follow along on their journey of discovery.
| | |
| --- | --- |
| IMDb Rating: 7.9/10 | Rotten Tomatoes Rating: 97% |
The Informer (2019)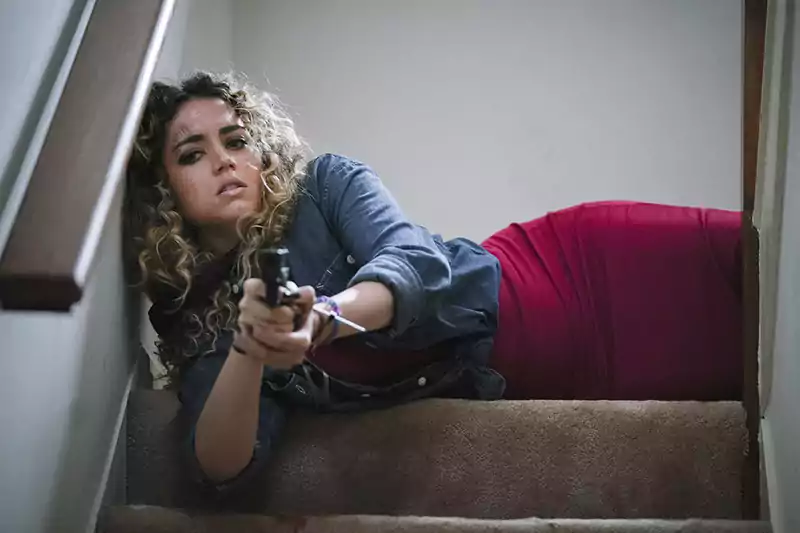 The Informer tells the thrilling story of a former special forces soldier who must go undercover to infiltrate an organized crime ring. Starring Joel Kinnaman, Rosamund Pike, and Ana de Armas, this 2019 action-packed thriller from director Andrea Di Stefano keeps viewers on their toes as they watch our hero risk it all for justice.
In the movie de Armas plays the role of Sofia, the passionate love interest of Joel Kinnaman's character, Pete Koslow. We see the actress in a strong-headed role who picks a gun when time and situation demands. The plot revolves around Koslow's mental struggle to maintain his loyalty to both sides – a difficult informant job and longtime criminal connections- while also not losing sight of those closest in his life. Will he be able to choose what is right for him?
| | |
| --- | --- |
| IMDb Rating: 6.6/10 | Rotten Tomatoes Rating: 64% |
Blade Runner 2049 (2017)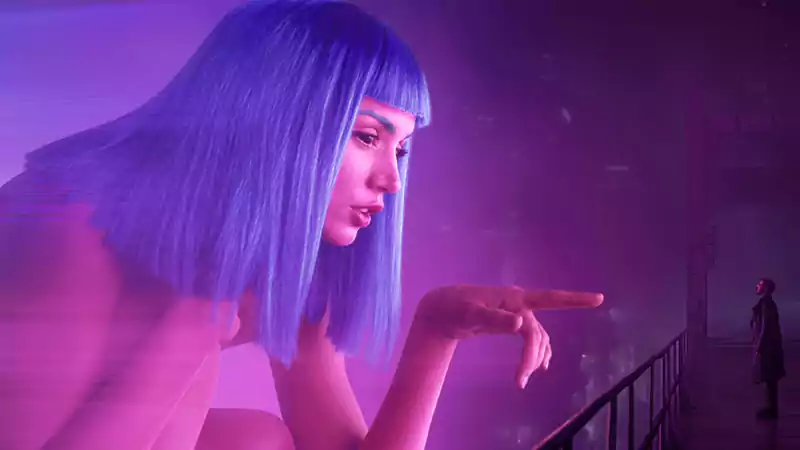 Denis Villeneuve's 2017 sci-fi sensation Blade Runner 2049 stars Ryan Gosling, Harrison Ford, and Ana de Armas in a visually spectacular journey that is both mind-boggling and mesmerizing. The movie is a continuation of the 1982 sci-fi classic titled Blade Runner, depicting an oppressive future where humans and replicants (humanlike AI) share the same world.
Ana de Armas stars as Joi in this blockbuster movie. Among all the Ana de Armas movies, her work in Blade Runner as to be the most unique as she plays an AI created to be K's (Ryan Gosling). She lent her talent to the movie, infusing her scenes with intense emotion and layered complexity. The movie also stars Jared Leto, one of the most versatile actors in Hollywood. The project is counted among the best movies of Jared Leto to date.
| | |
| --- | --- |
| IMDb Rating: 8/10 | Rotten Tomatoes Rating: 88% |
Overdrive (2017)
The 2017 release is an action thriller starring Scott Eastwood, Freddie Thorp, and Ana de Armas in the lead. Overdrive is about two car thieves, Andrew and Garett, who get into a life-threatening situation after stealing a mob boss's car. To escape the situation, they offer the idea to steal a rare and valuable Bugatti from another crime who is a rival to the mob boss. Like other Ana de Armas movies, this one does not have a full-fledged role as per her talent but the movie is worth watching. 
| | |
| --- | --- |
| IMDb Rating: 5.4/10 | Rotten Tomatoes Rating: 29% |
Hands of Stone (2016)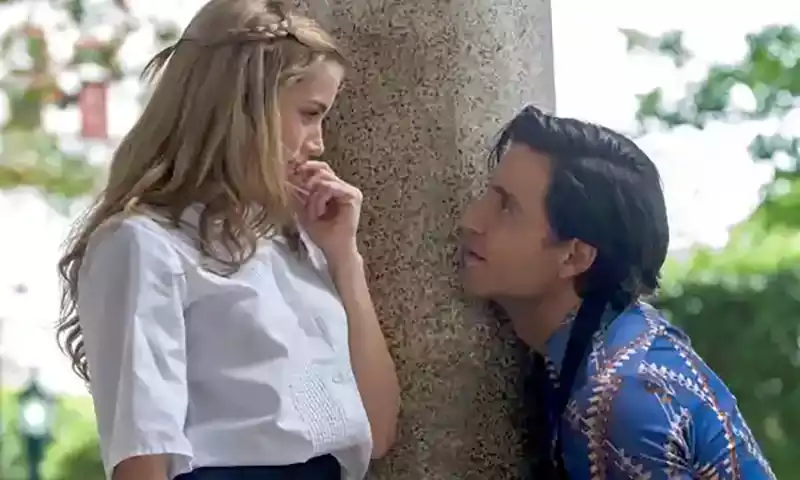 Hands of Stone tells the riveting story of Panama's iconic boxer Roberto Duran, portrayed by Edgar Ramirez. This enthralling tale offers a unique look into one man's struggles to rise against all odds to become the greatest boxing icon. The movie is a directorial masterpiece with its intimate way of storytelling and intact rawness.
In Hands of Stone de Armas plays the role of Felicidad, the wife of Roberto Durán. The film follows Durán's career as a boxer, from his early days in Panama to his rise to fame and his iconic fight against Sugar Ray Leonard (played by Usher). Though the actress is not the highlight of the movie, she does her part with full sincerity and gets deep into the skin of her character. 
| | |
| --- | --- |
| IMDb Rating: 6.6/10 | Rotten Tomatoes Rating: 44% |
Exposed (2016)
The 2016 Ana de Armas movie marked the second time pairing the actress with Keanu Reeves. The movie is not necessarily the best Keanu Reeves movie but it gave de Adams the chance to shine. Galban, played by Keanu is a detective whose partner is found dead under mysterious circumstances. He sets out to investigate the truth and meets Isabel, played by De Armas, and they both bond over some unresolved past. But can they both solve the mystery behind the death or are they in for more trouble? 
| | |
| --- | --- |
| IMDb Rating: 4.3/10 | Rotten Tomatoes Rating: 8% |
War Dogs (2016)
Yet another true story on Ana de Armas movies list, War Dogs is a thrilling story of two young entrepreneurs who defied all odds to land a staggering $300 million contract from the Pentagon. Starring Jonah Hill and Miles Teller as arms dealers in Afghanistan during the War on Terror era, this 2016 biographical war comedy film captivates the audience with its fast-paced narrative full of unexpected twists.
In War Dogs de Armas plays the role of Iz, the girlfriend of Miles Teller's character, David Packouz. The film follows Packouz and his business partner, Efraim Diveroli (played by Jonah Hill), as they navigate the dangerous and often chaotic world of arms dealing.
| | |
| --- | --- |
| IMDb Rating: 7.1/10 | Rotten Tomatoes Rating: 61% |
Knock Knock (2015)
There is no way we could miss the actress' debut movie on the Ana de Armas all movies list. The 2015 release Knock Knock is where de Armas' Hollywood journey began and what better way than a Keanu Reeves movie? The story begins when Keanu's character, Evan, is left alone for a weekend after his wife and children go on a vacation.
But soon his peace is disturbed when two young women, Genesis and Bel, played by Lorenza Izzo and de Armas respectively, come knocking at his doorstep. The women claim to have lost their way to a party and ask for help but looks like they have some other plans. The chaotic comedy ensues as soon as the duo steps into the house. 
| | |
| --- | --- |
| IMDb Rating: 4.9/10 | Rotten Tomatoes Rating: 37% |
Blind Alley (2011)
Blind Alley is a Spanish addition to Ana de Armas all movies list. The 2011 movie is a psychological thriller film directed by Antonio Trashorras that follows the story of a man who becomes obsessed with a young woman, Rosa, who lives in the apartment across from him and begins to stalk her.
The story soon takes an extreme turn when Rosa finds herself confronted with the terrifying stalker. She soon realizes the extent of his fixation and must use her wit to try to outrun him – but will she be able to escape unscathed?
| | |
| --- | --- |
| IMDb Rating: 4.4/10 | Rotten Tomatoes Rating: 17% |
Sex, Party & Lies (2009)
Another Spanish movie on this list of Ana de Armas movies is the 2009 release Sex, Party & Lies.  The comedy-drama film captures the humor and drama of college life on one wild weekend. The movie stars Mario Casas, Ana de Armas, and Yon González and follows their characters on this rollercoaster journey exploring friendship, secrets, and moral choices with moments both hilarious and heartbreaking.
In the movie "Sex, Party & Lies," de Armas shines as Carola – a young woman caught in a whirlwind weekend with her circle of friends. From complicated romances to career-driven ambitions, viewers follow Carola's journey as she makes decisions that will have lasting impacts on their lives and relationships.
| | |
| --- | --- |
| IMDb Rating: 3.9/10 | Rotten Tomatoes Rating: 44% |
Ana de Armas Biography
Ana de Armas hails from Havana, Cuba, and launched her career in Spain with a string of acclaimed Spanish films and television programs, propelling herself rapidly to fame. In 2006, she made her debut as an actress in the Spanish romantic and adventurous movie Virgin Rose which was a great success.
In 2015, Ana de Armas made a stunning entrance on the Hollywood screen with her star-studded movie Knock Knock co-starring Keanu Reeves. She has since starred in several blockbuster films such as Blade Runner 2049, Overdrive, and even the biographical feature film, Wasp Network, based on Hugo Chavez's life.
Conclusion
Ana de Armas movies showcase how she has grown as an actress and still continues to do so. She has a lot more interesting projects coming up in the future and we can't wait to watch what she brings to the table. Some of the upcoming Ana de Armas movies include Ballerina, Joint Security Area, and Waiting for Helen.