Some characters often establish themselves as one-of-a-kind actors and no one likes them. Robin Williams is one of them indeed. During those times, he certainly played some of the most prominent characters in the Hollywood universe and left a severe impact.
So are you here looking for the best Robin Williams movies of the time? Well, you landed on the right stop. Here's all you need to know about some of the best works of Williams and the top 10 movies of all time of his career.
Moscow on the Hudson (1984)
The story is about Vladimir who is a musician in a circus in Moscow. During his trip to New York, he escapes from his handlers and announces the Soviet Union publicly. Now in fear of returning home, he meets an immigrant officer who helps him establish citizenship in America and start a new life.
The idea of the movie came to the creator's mind when they came across some stories of the citizens living in America from Russia and how they adjusted to their new lives in the States.
| | |
| --- | --- |
| IMDb Rating- 6.5/10 | Rotten Tomatoes- 82% |
Watch Moscow on Hudson Trailer Now-
Dead Poet's Society (1989)
Well, who hasn't heard about this one? No one. One of the greatest contributions to Hollywood by Robin Williams movies to the world indeed. This one is especially for aspiring writers who should watch. The story is about Todd who is starting his third year at an all-male boarding school and meeting his new English Teacher John.
The unorthodox new teachers introduce the students to new horizons and enlarge their vision to focus on criteria they never did before because of traditional teaching methods. The movie was William's very first tragic dramatic movie in which he astonishingly served his role.
| | |
| --- | --- |
| IMDb Rating- 8.1/10 | Rotten Tomatoes- 84% |
Watch The Dead Poet's Society Trailer Now-
The Fisher King (1991)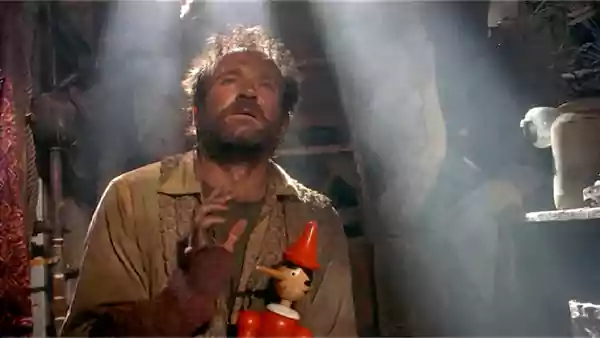 The story starts with a radio DJ, Jack causing a caller to turn a gun on a bunch of innocent people and turn into an alcoholic due to his loss of fame and everything. When Jack's life was almost a dead end, he meets Perry, a homeless man who is in search of the Holy Grail. Jack starts to feel responsible for this as he learns that Perry's wife is among those innocent people who were killed by the caller that he only provoked.
The movie is a masterpiece and a blend of humorous tales and heartbreaking scenes. The movie got both of the characters Oscar nominees.
| | |
| --- | --- |
| IMDb Rating- 7.5/10 | Rotten Tomatoes- 85% |
Watch the Trailer of The Fisher King-
Awakenings (1990)
The movie is about a neurologist who is working extensively day and night to be always available for his patients whenever they need him. One time he theorizes that his patients are experiencing a disease named Parkinson's extremely. Now his skeptical superiors somehow grant him the permit to treat those patients with a medicine that might have some bittersweet reactions.
The movie is based on the true story of Dr. Oliver Sacks who treated so many patients with what's known in today's language as sleeping sickness in the 1960s.
| | |
| --- | --- |
| IMDb Rating- 7.8/10 | Rotten Tomatoes- 84% |
Click For the Awakenings Trailer-
World's Greatest Dad (2009)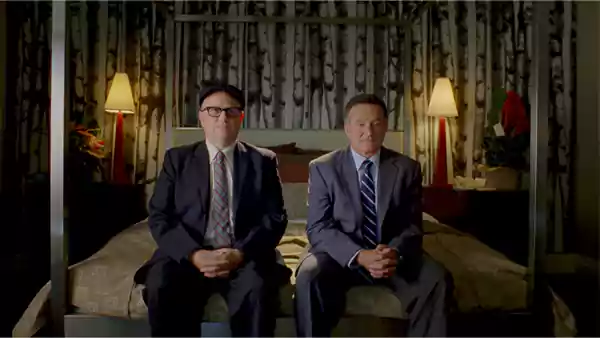 The movie revolves around an English teacher Lance who recently discovers that his son has accidentally killed himself in order to evade a scandal, and writes a fake suicide note too. The note publishes in the school paper reveals that the student's death is because of what Lance has always wanted, but his son was somehow unable to keep the lie no longer and ended up like this.
The movie is a dark, deadpan comedy written and directed by a comedian himself. Even though the movie failed at the box office, it was praised for its unique plot and the attention it brought to this uncomfortable subject.
| | |
| --- | --- |
| IMDb Rating- 6.9/10 | Rotten Tomatoes- 88% |
Watch the Trailer of The World's Greatest Dad Here-
Insomnia (2002)
The story starts when a teenage girl is killed in Alaska and two mastermind detectives are sent to help the local arthritis with the same. One of them comes across a suspect and now the two are set in an intense psychological game that could become a threat to the detective's state of mind.
William takes his first-ever appearance as a potential killer in this Christopher Nolan's Insomnia. The role is a drastic change from William's usual upbeat and comical characters which he nailed indeed.
| | |
| --- | --- |
| IMDb Rating- 7.2/10 | Rotten Tomatoes- 92% |
Watch Insomnia Trailer Here-
The Birdcage (1996)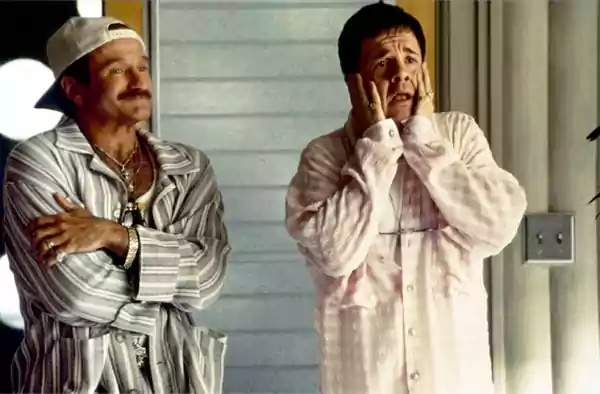 The movie revolves around Armand who is a club owner in Miami Beach. His life partner, Albert helps him manage the drag show they host every other day. However, their son soon becomes engaged with a daughter of a pretty conservative father. This is why Armand agrees to convince her parents that they're a traditional family and that nothing will go without their consent at the wedding.
The movie is a cheeky comical movie that portrays how people are still involved with their beliefs and see the world through their lens only. The movie is one of the best and must-watch Robin Williams movies.
| | |
| --- | --- |
| IMDb Rating- 7.2/10 | Rotten Tomatoes- 83% |
Watch The Birdcage Trailer-
Good Morning, Vietnam (1987)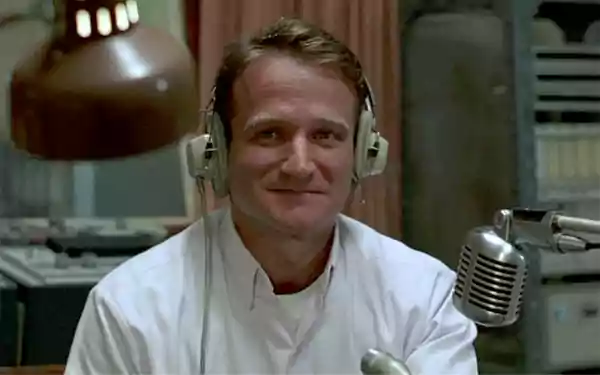 Well, I suppose this one you can guess from the name. A radio comedian, Cronour is sent to Vietnam to spread a wave of happiness through his comical skills via the radio. Even though he is a hit with his audience, his senior segment isn't really that much amused by him and his partner.
As the sergeant tries to throw him out of the air and the country, Cronour falls in love with a local woman who shows him the results of the horrific Vietnam War and how it has impacted the entire nation in the most harmful ways.
The movie was William's very first major break and it was after this movie only when he came to the supreme limelight and started to receive more film offers.
| | |
| --- | --- |
| IMDb Rating- 7.3/10 | Rotten Tomatoes- 89% |
Watch Here Good Morning, Vietnam Trailer-
Aladdin (1992)
You read that right, Aladdin is one of the best Robin Williams movies to date. The movie is about the lead character Aladdin who always has to fend for himself on the streets of Agrabah while he keeps on dreaming of living a life of a king. One day Aladdin finds the genie and wishes to be a prince to impress Princess Jasmine. However, Sultan's advisor announces taking over the Agrabah, and Aladdin and his friends assemble to set on a mission to save the kingdom.
Williams plays the role of Genie in Aladdin and it is indeed one of the best characters played by him and not just by him, Genie remains one of the most unforgettable characters.
| | |
| --- | --- |
| IMDb Rating- 8/10 | Rotten Tomatoes- 95% |
Watch Aladdin Trailer Now-
Good Will Hunting (1997)
Ah finally, here it is, the most iconic, the most watched, and the best works of Williams. The movie is about Will Hunting played by Matt Damon, who is a natural genius and is recently released from jail, he manages to get a job as a janitor at MIT University. When a professor finds out that it's the janitor who solved the extensive math problem, he offers to help him but soon only he realizes that he needs a therapist more than help.
Williams plays the role of Will's therapist and takes him out of that dark place where even he didn't know he was.
| | |
| --- | --- |
| IMDb Rating- 8.3/10 | Rotten Tomatoes- 97% |
Click Here For The Good Will Hunting Trailer-
Jumanji (1995)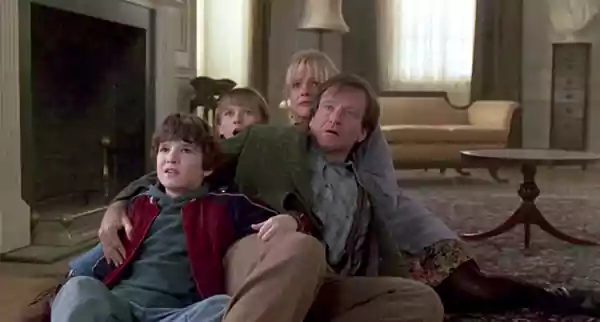 A 1995 Urban fantasy adventure film. The movie franchise is so famous that its franchise is still going on with new actors and other castes. The movie is about how a magical board game unleashes an adventure where the siblings take part and chooses the character they want to be.
While in the game, they find out that there's already someone in here who is stuck there but they manage to free him.
| | |
| --- | --- |
| IMDb Rating- 7.1/10 | Rotten Tomatoes- 52% |
Click Here For Jumanji Trailer-
Happy Feet (2006)
This one is an animated, kid's favorite movie. The story is about the little penguin Mumble, the son of Memphis and Norma who has big problems every day. The issue is, he can't sing a single note when there's a world where people need to sing from their hearts to attract people. This makes him feel like he doesn't belong there. Robin plays the voice of Ramon.
| | |
| --- | --- |
| IMDb Rating- 6.4/10 | Rotten Tomatoes- 74% |
Click Here For the Happy Feet Trailer-
Night at the Museum (2006, 2009, and 2014)
And the last one we have on our list is this incredible series. The movie is about dreamer Larry who truly believes that he is destined to do some great things in his life. However, his imaginative ideas never pay off and now he is desperate to find a job. In this search, he accepts the job to be the night security guard at the Natural History Museum. So during that watch, he makes an exceptional discovery that no one could have imagined. Night at the Museum is considered one of the best movies of Ben Stiller, but most people still watch it to see Robin Williams as Theodore Roosevelt, the 26th President of the United States.
| | |
| --- | --- |
| IMDb Rating- 6.4/10 | Rotten Tomatoes- 43% |
Click Here For the Night at the Museum Trailer-